Here are today's picks from my review pile: three books that are great for kids, whether your own or those who get gifts from you.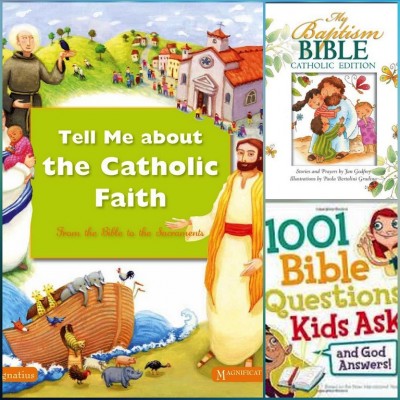 Tell Me about the Catholic Faith: From the Bible to the Sacraments (Ignatius Press, 2013)
My eight-year-old found this book in my review basket and claimed it. About a half-hour later, she told me to be sure to tell you that it gets 10 stars. (She didn't tell me the scale she was using, but I think it's a rave rec from her.)
This book is hardbound and beautifully illustrated. It's written at a middle grade reading level. It's also a nice large size for sharing with a kid on the couch or reading in bed. There are three sections: The Bible: The Great Book of Christians, The Christian Faithful: The History of the Church, and The Catholic Faith: The Beliefs and Sacraments.
I love the range of topics and how they're presented. I'm sure we'll be giving this book the Reinhard Home Book Love treatment and before long it will have a broken spine and some tears in our favorite pages.
Here's what the publisher says:
How do you answer your children's many questions about God, the Christian faith, and the Catholic Church? What if these topics could come to life in inspiring, easy-to-tell stories?

To tell the story of the Bible to children, to help them discover Jesus, to introduce them to the great history of Christianity, to explain the Catholic faith-all through beautiful illustrations and simple words-that is the goal of Tell Me about the Catholic Faith.

The whole Catholic world is presented in various parts: the Bible, the history of the Church, and the beliefs and sacraments of Catholics. This is a book of exceptional educational and inspirational quality. It includes the best Bible stories from both the Old and New Testaments; the great moments in Christianity, including the lives of important saints; and a joyous discovery of faith, exploring the richness of the Christian heritage for children.
My Baptism Bible: Catholic Edition (Pauline Books & Media, 2012)
Oh, I wish I could keep this! I wish I had a baptism soon! But this will make such a great gift when a friend or family member gives me the chance. It's hardcover and it has a few fill-in pages of fun facts and statuses for your memories.
Here's what the publisher says:
Celebrate baby's new life and Baptism with this treasured keepsake and prepare the way for a lifelong friendship with Jesus through introducing little ones to their first Bible stories and prayers.

To forever cherish baby's birth and Baptism, there are various beginning sections to personalize. Detailed information related to baby's birth, such as name, birthplace, and weight, are included in a fill-in-the-blank format. A basic ancestral birth tree extending to the grandparent generation captures familial bonds that little ones will become curious about as the years progress. Spaces for recording early milestones-baby's first smile, baby's first words-preserve once-in-a-lifetime moments to fondly look back upon.

These personalized sections lead into Biblical stories. Endearing, calming illustrations are interspersed throughout each two-page Bible story spread. A table of contents clearly defines the page numbers for various stories from creation to Jesus' birth and death, enabling easy access to favorites. Basic, kid-friendly sentences, immersed in dialogue, will keep young ones intrigued. At the conclusion of these stories, children are introduced to their first Catholic prayers, including The Sign of the Cross, Our Father, Hail Mary, a few bedtime prayers, and blessings.

My Baptism Bible Catholic Edition is not only a precious memento, but a gift that will impress the faith upon our little blessings as they grow in God's love.
1001 Bible Questions Kids Ask and God Answers (Zonderkidz, 2012)
My oldest is just getting old enough to really appreciate this style of book. Granted, this isn't a specifically Catholic book. That said, I love it anyway. I'm a bit of a freak enough to want to read it with my eight-year-old, mind you. My bet is that 80-90% of this book is good for Catholics...the other 20% is a conversation opportunity (I'm a catechist: everything is a conversation opportunity!).
From the publisher:
The Bible is God's Word to his people, so it has some important things to say! But let's be honest ... it can also be sort of puzzling. Now you can get relief for your confused cranium. Here's how: Pick up this book, based on the NIV translation. Look up your questions. Learn about heaven, earth, angels, sin, creation, and more. Understand what the creator of the universe---your creator---is saying to you!
Be sure to check out our Book Notes archive.
Copyright 2013, Sarah Reinhard
About the Author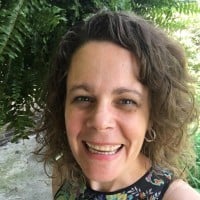 When she's not chasing kids, chugging coffee, or juggling work, Sarah Reinhard's usually trying to stay up read just one…more…chapter. She writes and works in the midst of rural farm life with little ones underfoot. She is part of the team for the award-winning Catholic Mom's Prayer Companion, as well as the author of a number of books. You can join her for a weekday take on Catholic life by subscribing to Three Shots and follow her writing at Snoring Scholar.