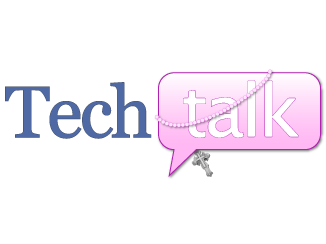 Thomas McDonald didn't intend to be a Catholic Techie. It just sort of happened when he was trying to pay the bills as a writer and he landed gigs writing about technology and gaming for some major magazines.
That turned into a whole career as a technology journalist, covering emerging tech and entertainment for dozens of magazines, newspapers, and websites. He's been Editor-at-Large for Games Magazine since the late 90s, and he's also done the Game Theory column for Maximum PC for more than 15 years (since back in the day when they were called "CD-ROM Today" because CD-ROMs were the future of technology).
Thomas returned to the Catholic Church about ten years ago after being lapsed for about 15 years, and began serving as a catechist in the Diocese of Trenton. Since 2008, he's written for venues like National Catholic Register, Our Sunday Visitor, Catholic News Service, and, most recently, Patheos. On his blog, God and the Machine, he explores how technology and faith intersect and how to walk with Christ in the digital age. He notes, "I wander pretty far afield from that mandate, covering culture, history, and other shiny things that catch my eye, but I always try to return to that issue: what does it mean to be a "wired Christian"?"
So, with that, meet Thomas McDonald!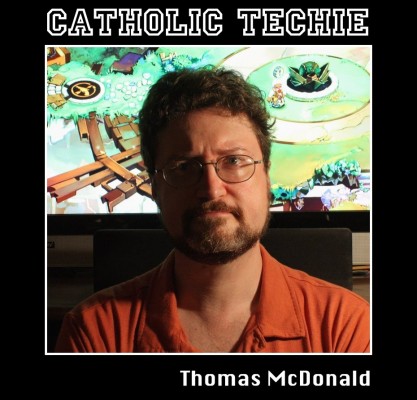 Tell us about yourself in five words or less.
Husband, father, catechist, writer.
Of your pursuits, what's your favorite?
I'd say the thing I love to do most, which I didn't mention above, is to just play real table-top games with my family. I get more pleasure from conventional card and board games than I do from electronic games. A few years ago when I started my game blog I began doing more research into simple playing cards, and found a rich and deep vein of lore attached to them. My original field of study was anthropology, and I still have that interest in the way cultures are manifested in things like story and song, and games work the same way. Cultures develop their own games and traditions, and they can vary greatly from place to place.

My family started learning the old card games, and I started writing about them more and more. (I'm working on a story right now about reclaiming Tarot for its original purpose: playing trick-taking card games.) In addition, we love what's conventionally known in the trade as "Eurogames." Most people are already familiar with the big names of the genre like Settlers of Catan and Ticket to Ride, but there is much more, and they are so much better than dull-as-dishwater fare like Monopoly, Risk, and the rest of the traditional American lineup (with the exception of Scrabble). Seriously, I love to see families retire that wretched Monopoly board and buy a copy of Settlers or Ticket. And get a deck of Bicycle playing cards and teach kids Rummy, Hearts, Spades, Cribbage, and others. These are things you can have for a lifetime.
When you think of the New Evangelization from your approach as a "Catholic Techie," what excites you? What makes you want to continue?
For me, the new evangelization has two parts. As a Catechist, I know that I'm essentially now in mission territory, with only about 20% of my students even attending mass. That creates a different set of demands for a teacher, and I'm still working out the best way for us to catechize both parents and kids. As a Techie, my role in the new evangelization is simply a matter of being. As a writer for a couple of mainstream magazines, I simply witness right where I am by discussing places where faith issues might play a role, as I did with the problematic ending of the otherwise-excellent game BioShock Infinite. As a Christian, I can show parents and fellow-Christians that their fears about things like Dungeons & Dragons or certain games are unfounded, and that in fact there may be a spiritual richness in electronic entertainment. I can also steer them away from other things that ARE problematic by discussing content from the perspective of a Catholic parent. One thing about the new digital arena--gaming, internet, mobile, social--is that parents need to do much more homework and stay connected to what their kids experience.
What's the most rewarding aspect of your work?
I work at home, I see all the new toys first, I spend time with my family, and I get to write about it. That's pretty much a dream job. There's also the reward of being able to look at certain things in tech from a perspective which most people in tech do not consider. There's a strong vein of cyberlibertarianism in the tech field, and I try to send up a warning flare from time to time reminding them that this approach can easily turn to cyberfascism. I try to remind them that we need to stay grounded in the unique nature of the human being as beloved creation of intrinsic worth. Technology is always on the fine line of obliterating our human qualities. People of faith need to be there as witnesses to keep that from happening.
In your spare time, what are we likely to find you doing?
For the past two years I've been working on my Masters in Theology at the request of my parish, so I can train and certify catechists. That's taken a lot of the extra time I would usually have for other hobbies, like reading, non-work gaming, and old movies. Since much of my job involves covering video, mobile, and computer games, that's really not something I often do for pleasure any more. I know something is really, really good when I return to it after I've filed my coverage. The last time that happened, however, was Skyrim. Since then, I just write about the latest game and then move on to the next. There's no time to really linger.

My undergraduate degree is a split major in film production and English, and movies and reading have remained my main interests for most of my life. If I have time down from theology reading, I'm either reading English lit (Anthony Trollope lately), history, vintage comics (DC, Popeye, Disney) and pulp fiction, or watching movies. My greatest achievement lately has been to introduce my kids to the Thin Man series and have them adore it. My daughter has now asked to see all of them twice in a couple months. I'm so proud of that. There's something about classic film that brings you into another time and another visual and narrative language: a language that speaks to you in a very different way. In particular, I find silent film utterly hypnotic. It's like looking through a window a hundred years into the past.
Do you have a gadget in hand or do you go native and screenless?
I try to carve out time to shut everything down and leave it aside for a while. I'm very wired, and I don't see a problem with that if it's kept to its proper order. It's a tool, and a remarkably useful one, but no more, and we cannot let it become more. I've spent a lot of time experimenting with different ways to interface with tech so that I use it and it doesn't use me. I work between a laptop, an iPad, and an iPhone, and I've set it up so that everything I do is always everywhere I am. I've moved away from paper notetaking to using Drafts, which allows me to dictate anything from phone numbers to entire drafts of stories and then push it over to Evernote and Dropbox. I've written columns in the car just by dictating them into Drafts on my phone, pushing them off to my Scrivener directory, polishing them, and submitting them.

I'm also starting to lose patience with using printed books for study, which is odd since I have a large dedicated library that houses my book collection. I use both Kindle and Verbum for all my theology and scripture study. This allows me to highlight and annotate, and then have those notes appear on all my platforms right away. I'm writing papers each week and doing detailed studies drawing on dozens of sources. There's just no sense in going to printed books for that if you can avoid it.

Verbum in particular is a Godsend. I can pull up hundreds of citations in seconds; search by word; do deep word studies in Latin, Greek, and Hebrew; and highlight, annotate, and export text. I find connections between texts that I never would have found by conventional means. It almost feels like a cheat. Our forebears had to master and recall so much, and in many ways that made them better thinkers and analysts than those of us with digital crutches. However, those forebears were a relatively small portion of Christendom able to dedicate an entire lifetime to study. Tools like Verbum open much of this learning up to people who can't make that level of time commitment, but still want to explore our faith and its rich traditions. I think that's a good thing. I respect the scholar who can devote a lifetime to study, but he shouldn't be part of some exclusive academic priesthood. The knowledge and tools for study should be available to everyone, and now they are. And there's very little I can do on Verbum PC that I can't also do on Verbum iPad, which means I can take it anywhere, and I do.

The other thing is my breviary, as well as a reminder to pray it and the Angelus. I use the Universalis app for Lauds, Vespers, and readings. I've never even owned the books. Sticking with books and ribbons is just an exercise in nostalgia.

Not that I mind nostalgia: one of my hobbies is old time radio shows. I used to collect them, first on tape, then on MP3. Now I use the Vintage Radio app to stream them all. It's insane how easy it's gotten. It almost takes some of the fun out of it: we've lost the thrill of the chase for the collector looking for a rare item. There are no more rare items. It's all out there.

So, when you ask, "Do I unplug?" The answer is: sometimes. Since much of my work and pleasure comes from the written word, and I find my written words more on a screen than the page, I mostly stayed plugged in. But I still need to get away, play a regular game, spend time with the family, take care of the chickens, and sometimes just close the lid and look at the sky.
Read more of our Tech Talk columns.
Copyright 2013 Sarah Reinhard
About the Author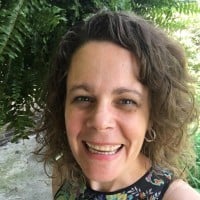 When she's not chasing kids, chugging coffee, or juggling work, Sarah Reinhard's usually trying to stay up read just one…more…chapter. She writes and works in the midst of rural farm life with little ones underfoot. She is part of the team for the award-winning Catholic Mom's Prayer Companion, as well as the author of a number of books. You can join her for a weekday take on Catholic life by subscribing to Three Shots and follow her writing at Snoring Scholar.