It was not you who chose me, but I who chose you… John 15:16
Ever heard the saying, a picture's worth a thousand words? The lovely young lady in the picture is my 16 year old daughter Shannon and let me tell ya, it's certainly worth a thousand words!
My Grandma Thelma reminded me when she held my sons that our babies were God's precious gift and our job was to love them hard, pray for them harder and do everything we could to help them get to heaven. Grandma died just short of her 90th birthday so she didn't get to hold my daughter and offer her prayerful reminder but as God would have it, Shannon was born on the very day we would have celebrated that special birthday. Every September 16th as we celebrate Shannon's birthday, I remember Grandma's birthday and her words of instruction. I pray for Shannon's Great Grandmother's intercession as I try to stumble my way through mothering. I'm grateful for the Communion of Saints in Heaven and the Saints in the making on earth who help mothers and fathers do everything they can to get their children to heaven.
Shannon had the marvelous opportunity to be surrounded by a whole troop of vibrant, faithful, Catholic teachers, role models and peers at Franciscan University in Steubenville, Ohio. Shannon spent a week on campus as a participant in the Franciscan LEAD program. LEAD stands for Leadership, Evangelization And Discipleship. It was an amazing experience for her and I am so grateful for all the wonderful people involved. One of the many prayerful, faith forming things the participants did during the training was to learn to tell their witness story. A true disciple, they were taught, is able to share the way God has worked in their life and encourage others to believe and trust in the love and will of the Father. Each of the students practiced telling their witness story and Shannon was chosen to share her story on stage in front of 2,200 teenagers at the Steubenville Youth Conference the following weekend. I was impressed, inspired and amazed as I watched my 16 year old daughter speak passionately, articulately, humorously and honestly about her love for Christ and her awareness of His presence and His mighty work in her life. As I sat watching and listening (and I'm not gonna lie; crying) I was overwhelmed with gratefulness to all the saints and angels in her life who helped her become such a beautiful, strong, faithful child of God. Mostly that night, I was just really proud that I could say God chose me to be her mom!
I am so grateful to the amazing folks at Franciscan University who helped inspire and ignite the fire of Christ burning in her heart. Shannon attended her first Steubenville Youth Conference three summers ago and each time she came back stronger in her faith and more alive in Christ. They have done marvelous things for Shannon and thousands of others like her. This summer alone, more than 42,000 high school aged young adults will participate in a Steubenville Youth Conference. As a parent, I have been fortunate to chaperone two trips and I come away each time so abundantly blessed and hopeful it's difficult to express in words. There is something completely amazing about being in a field house with 2,200 teens, listening to people like Matt Maher, Bob Rice and Jon Niven singing while beach balls bounce through the crowd and thunderous voices lift in praise and worship. Moments later that electric, heart thumping energy disappears into complete and prayerful silence as those same two thousand teenagers drop to their knees on the gym floor and in the bleachers to adore Jesus in the Blessed Sacrament. They kneel there in prayer and Eucharistic Adoration as an hour passes like a second. That, my dear Catholic Moms is OUR CHURCH! And I tell you this…IT IS WELL!!! They aren't the "future" of our church, they ARE the church and they are ON FIRE!
As moms, sometimes our words can fall on deaf ears but when we have the chance to let our children gather with their Catholic peers and hear messages about faith, prayer, Saints and the power of the Eucharist from other vibrant, powerful, Catholics, we should send them out the door with a suitcase as fast as we can. If you aren't sure where to find that experience, go to www.Steubenville.org and check out the conference location near you. The conference (including Franciscan LEAD week training) is offered in 13 different US locations plus one in Canada. The website is terrific…and let's face it, we all need help with that "do everything we can to help them get to heaven" part of our job.
One final note, part of the focus of LEAD was understanding and living the concept of humble service. A giant blast of joy and pride surged through my heart every time someone would hug Shannon and tell her "great job" because each time she beamed her grandmother's famous smile and said "thank you, but it was the Holy Spirit because what I said and what I had planned to say were not quite the same so I'm sure it was Him speaking through me." Through a mighty blessing from God and the intercession of Great Grandma Thelma and the Communion of Saints, I have an amazing daughter and I figured there was no better place for a mother to brag on her child than here at Catholic Mom.com.
Blessings on your day!
Copyright 2013 Sheri Wohlfert
About the Author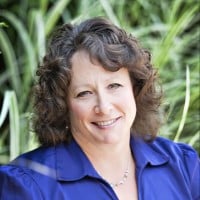 Sheri is a Catholic wife, mom, speaker and teacher. She uses her great sense of humor and her deep faith to help others discover the joy of being a child of God. Her roots are in Kansas but her home is in Michigan. The mission of her ministry is to encourage others to look at the simple ways we can all find God doing amazing things smack dab in the middle of the laundry, ball games, farm chores and the hundred other things we manage to cram into a day. Sheri also writes at JoyfulWords.org.