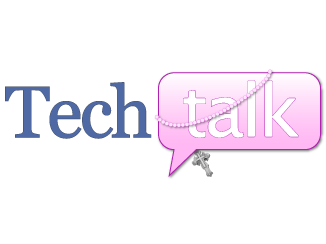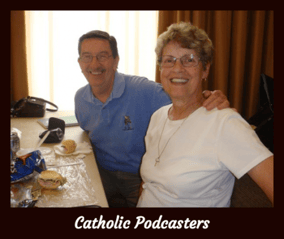 We've had so much fun with Sarah Reinhard's awesome "Catholic Techie" series that we've decided to branch out and share more of these short form interviews with some of our favorite Catholic podcasters. Today in front of the spotlight are two of my favorites, Deacon Tom Fox and his lovely wife Dee Fox, of the fantastic podcast Catholic Vitamins.
Tell us about your podcast in five words or less
Nourish your faith from 'A-to-Z'
Why did you start podcasting?
Saint Paul tells us that each of us brings our gifts to the Church and to its people. When Dee and I went to the SQPN Catholic New Media Conference in 2009, there were people doing podcasts and blogs about the rosary and about the Blessed Virgin Mary, and about child-rearing and about movies and TV programs. We thought there was room for another voice (or two :-) which would share reasons (like vitamins) for loving our Catholic Faith.
Why do you keep podcasting? What's your inspiration to continue?
Our listeners and our guests are our inspiration to keep doing this. We're coming up to our fourth anniversary. And even if our listeners have other places they turn to for faith-oriented programming, we often hear and sense that our guests and program themes touch other places in the Body of Christ.
When you think of the New Evangelization as a Catholic podcaster, what excites you? What makes you want to continue?
You know - a lot of us were raised in a time and in a manner in which we came to church to worship. We also went 'there' to learn about our faith. Now we've become aware that there are loads of faithful Catholics who are in love with, and living their faith in the home and in the marketplace. They love the Church and the Sacraments. They inspire us and make us want to share their excitement and their stories and to journey with them.

Also, lest we forget, we've had some awesome contributions to Catholic Vitamins shows by award winning journalist Marianna Bartholomew, by evangelist and entertainer Justin Stroh and by deacon candidate Fergal O'Neill from Ireland. In earlier years, we had great help and vitamin ideas from publisher and author Cheryl Dickow and from authors Peggy Bowes and Theresa Doyle Nelson.
What's the most rewarding aspect of your podcasting?
Every time we are given a gift from the Holy Spirit. Like a gift of connection with someone who is inspiring or who has embodied a faith vitamin idea. Or a gift such as someone willing to come on our show and talk about their conversion story or the working of God and His grace in their lives.
In your spare time, what are we likely to find you doing?
From the deacon: What spare time? Well, seriously, in addition to parish ministry and work on the internet, I'm working with three others to try and get an FCC license to start a Catholic radio station.

From Dee: Hiking, a bit of paper crafting and playing Words With Friends with numerous people. :-)
What are some of your favorite podcasts to listen to? Who has taught you the most about the art of podcasting?
Oh gosh. Both of us listen to American Catholic Radio, and Among Women and others. Tom listens to Catholic Answers and the longest running Catholic TV and broadcast program: The Choices We Face, put on by Renewal Ministries.

Dee enjoys some of the family oriented podcasts such as Catholic Family, Just a Catholic Dad and Catholic Family Journal.

How could we not thank Dear Lisa Hendey who gave Tom a start with columns (reflections) and then a couple years or more of recorded segments (called Deacon Moments) on the Catholic Moments Podcast.

And David and Allyson Sweeney of the Catholic Family Podcast gave us great example of how to just be ourselves. That's how we came up with Catholic Vitamin P for Prattle on our show :-)
Check out Catholic Vitamins Podcast
Read more of our Tech Talk columns.
Copyright 2013 Lisa M. Hendey
About the Author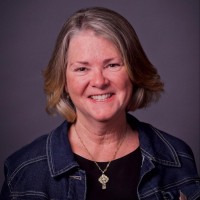 Lisa M. Hendey is the founder of CatholicMom.com, a bestselling author and an international speaker. A frequent radio and television guest, Hendey travels internationally giving workshops on faith, family, and communications. Visit Lisa at LisaHendey.com or on social media @LisaHendey for information on her speaking schedule or to invite her to visit your group, parish, school or organization. Visit Lisa's author page on Amazon.com.