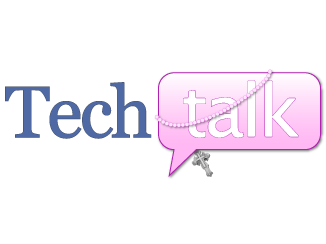 I "met" Sam Rocha quite by accident. You see, every so often I find myself with no more Catholic Techie interviews in the pipeline, and I'm forced tap into both my own and Lisa's social networks in a "let me pay you with my love" way.
In the midst of the last round of begging pleading asking for interviewees, Sam not only contacted me but asked if I'd be interested in his book, A Primer for Philosophy & Education. (He used great selling techniques such as, "It's very short" and never once implied that the interview hinged on my positive review of his book, which I did, in fact, love.)
Sam's proof that "techie" is a hat that many wear in addition to hats like "professor," "writer," "scholar," and "musician." And he's proof that living in the wilds of North Dakota won't keep you from work that's interesting and provoking and awesome.
On with the show. Let's meet Sam Rocha!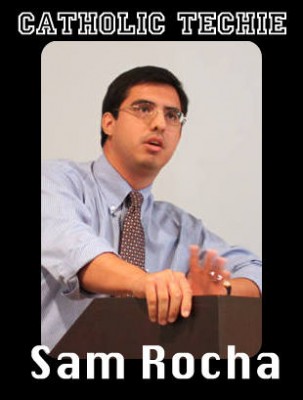 Tell us about yourself in five words or less.
I am a Catholic artist.
Of your pursuits, what's your favorite?
I suppose that would be the lifestyle that comes with doing creative work in general. I love the day to day, the variety and the routine. The surprises.
When you think of the New Evangelization from your approach as a "Catholic Techie," what excites you? What makes you want to continue?
I think about producing stuff that has real legitimacy and value outside the Catholic ghetto I know and love so much. For me, it is about being willing to translate and communicate and, sometimes, irritate or say something interesting. It is about producing art that SHOWS more than it says. I get excited about the way that Twitter/Facebook and blogging create unique, but very real, forms of solidarity and community across so many different interests and identities. It is all very Catholic. Reminds me of the early Church.
What's the most rewarding aspect of your work?
The readers, the people who drop me a note sometimes or a comment. People who engage with something I've posted. All the signs that this does not have to be a lonely, isolated space -- that virtual reality is still a part of the kingdom of God.
In your spare time, what are we likely to find you doing? Do you have a gadget in hand or do you go native and screenless?
Fishing. Rod and reel.
Read more of our Tech Talk columns.
Copyright 2013 Sarah Reinhard
About the Author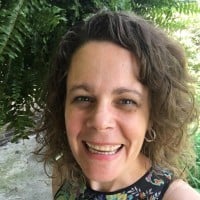 When she's not chasing kids, chugging coffee, or juggling work, Sarah Reinhard's usually trying to stay up read just one…more…chapter. She writes and works in the midst of rural farm life with little ones underfoot. She is part of the team for the award-winning Catholic Mom's Prayer Companion, as well as the author of a number of books. You can join her for a weekday take on Catholic life by subscribing to Three Shots and follow her writing at Snoring Scholar.