Welcome to the eighth session of Lawn Chair Catechism, using Forming Intentional Disciples: The Path to Knowing and Following Jesus, by Sherry Weddell (Our Sunday Visitor, 2012).
A few notes:
You'll be able to leave comments and/or leave your link at the end.

You do not have to read the book to participate. Check out our discussion guide. There's plenty to get started with if that's all you use (one page a week).
There's not much longer to grab Forming Intentional Disciples for $10+free shipping from Our Sunday Visitor. Get ye over there if ye haven't already. (OK, so I obviously need more coffee, huh?)
This week, we'll be covering Chapter 7: The Third Threshold: Openness.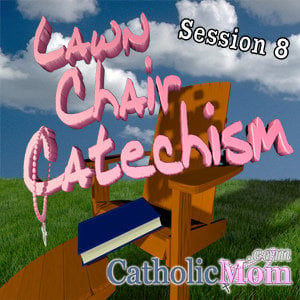 Summary:
Openness means acknowledging that we are willing to change. Curiosity says, "Tell me a little more." Openness says, "If this turns out to be true, my life is forever changed. And I'd have to follow through on that."
Shepherding a friend through the transition to openness requires patience, intercessory prayer, and open eyes. Some struggle for years – even decades – advancing and retreating on the edge of openness. Others – especially the formerly passive Catholic who attends an evangelizing retreat – may quickly move through the stages of trust, curiosity, and openness in a single weekend.
Ways to foster openness include honest sharing of our own relationship with God, and asking and answering questions in a non-judgmental manner. This is an appropriate time to invite someone to spend time in prayer – including Eucharistic adoration – and to speak directly to God, perhaps even asking for a sign. Consider praying together for God to help your friend become open to Him.
Follow-through is necessary when someone reaches the threshold of openness. When the Church is unable to intentionally disciple those who are growing spiritually, a loss results:
Numerous Catholics are experiencing spiritual longings but may have little or no language for what they seek. They sense there has to be more to faith than what they have encountered so far. In terms of thresholds, these people range from the later stages of curiosity through openness and early seeking. Their spiritual antennae are up, and they are quietly looking for people who might know, for clues, for guidance. But they are often invisible to the rest of us.

. . . These seekers are part of the group that told Pew Researchers that they left the Catholic Church because their "spiritual needs weren't being met."
For discussion:
In your own faith:
To believe in a personal God is to believe that God truly will meet us in prayer. It can be difficult to evangelize when we ourselves are going through a "dry spell", or struggling with some spiritual question. Do you have difficulty trusting that God will show himself to those who do not yet possess the faith?
In your parish:
Over the next six months, what changes can you personally make, to help your parish disciple those who are at the threshold of openness?
If you are currently at this point yourself, to whom can you go for spiritual mentoring?
Join the discussion!
We'll be "talking" in the combox, too, so please leave your thoughts there as well!
'); // ]]>
About the Author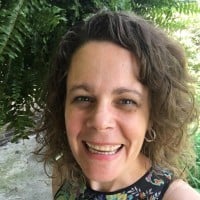 When she's not chasing kids, chugging coffee, or juggling work, Sarah Reinhard's usually trying to stay up read just one…more…chapter. She writes and works in the midst of rural farm life with little ones underfoot. She is part of the team for the award-winning Catholic Mom's Prayer Companion, as well as the author of a number of books. You can join her for a weekday take on Catholic life by subscribing to Three Shots and follow her writing at Snoring Scholar.