Therefore a man shall leave his father and his mother…Genesis 2:24

This is a post that comes straight from the center of the heart! Saturday I watched Kevin, our oldest son, drive out of the driveway in his Grand Prix headed for Iowa. He's off on the most exciting adventure of his 20 year old life! He headed to Iowa with an overload of enthusiasm and that made it even harder to swallow my tears as I hugged him goodbye. Even though he has finished two years of college already, Michigan State is less than 50 miles from home so it really wasn't much of a separation. This time it's different. Iowa is too far away to come home for supper or to do laundry. I stood on my front porch Saturday with tears running like a faucet and wondered; why is it we work and pray so hard as parents to raise independent kids and then hate it so much when they put their independence into practice. I stood there long after he'd driven off down the gravel road and thought of the hundreds of times it had been my mission to make my children happy. I thought of all the backyard baseball, lego building, "watch me Mom's" at the pool and readings of Good Night Moon all done in the name of making Kevin happy. I realized encouraging him to go off on this adventure was the same thing…and this opportunity made him happier than anything he has ever done!
Kevin will be working for a big name cattle breeder. If I know him, he will be in the barn ten plus hours a day working with some of the most beautiful, high power show cattle in the state of Iowa…and he will absolutely love every second of it. He will travel, learn, experience and meet "the big boys" in the business. To him, it just doesn't get any better than that…at least until it's his name on the barn door! I'm proud of him and I'll miss him but it is a terrific opportunity and we couldn't hold him back. He'll be home again at Thanksgiving but warned me that it may only be temporary because he really wanted to check out Iowa State…that's a thought for another day! This whole trip to Iowa is just another example of the way God can completely overwhelm us with blessings when we trust him. Kevin had planned to be a firefighter and paramedic since he was in second grade but just months before he graduated from High School, he told us he had changed his mind because he couldn't imagine waking up every morning and not doing the one thing he loved most. I told him to pray on it and if a degree in Agriculture was the path for him, God would bless it…and he has again and again and again! Even though it's going to be tough to get used to knowing he's so far away, I know God's got it all under His loving care.
As my thoughts have been absorbed with our absent son the past few days, I can't help but think about how our Heavenly Father feels when we stray from Him. When I was thinking about all the time I spent trying to keep Kevin safe and happy I realize it was just a tiny sliver compared to the compassion and concern God slathers me with every day. I remember the occasional resistance and rebellion of our oldest son and the frustration that came with it…hum…pondering that thought makes me recognize my own rebellion and resistance to the will of the Father practically every day. God gives us so many gifts…Kevin is one of the best ones I ever got but I am reminded of my Grandma's words, "Our job is to love them hard, pray for them harder and do all we can to help them get to heaven because they are really just borrowed gifts that need to be returned." As August rolls along, I have a hunch I'm not the only parent out there jumpin this hurdle. I suppose it's a big test of our trust. I've never seen the town or the farm where Kevin will work. I've never met the family he will be working for and I couldn't tell him exactly where the church was or what time Sunday Mass would be…but I can trust God to show him and protect him and reveal each and every blessing and challenge this experience has in store for him…and that is enough…that is enough!
A Seed To Plant: Make a list of all the kids you know who are off to college or in the Armed Forces and make it a point to pray for them (and their parents) each day.
Blessings on your day!
Copyright 2013 Sheri Wohlfert
About the Author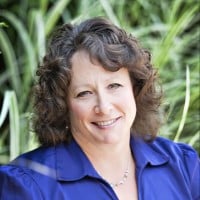 Sheri is a Catholic wife, mom, speaker and teacher. She uses her great sense of humor and her deep faith to help others discover the joy of being a child of God. Her roots are in Kansas but her home is in Michigan. The mission of her ministry is to encourage others to look at the simple ways we can all find God doing amazing things smack dab in the middle of the laundry, ball games, farm chores and the hundred other things we manage to cram into a day. Sheri also writes at JoyfulWords.org.