I remember when everyone was talking about Breaking Through: Catholic Women Speak for Themselves, edited by Helen M. Alvaré (Our Sunday Visitor, 2012). Some reviewers I really respect had good things to say about it and I'll be honest: I believed them.
I just had no real desire to read it for myself.
And then, then, I found myself with a copy of it, thanks to Amazon Vine. (True enough, I picked it out for myself. Curiosity? Compelled? Something!)
It's been collecting dust on my shelf all summer, and I decided that it was now or never.
And I have only this to say: WHAT! A! BOOK!
It's a collection of ten essays from a variety of professional women (almost all of them have letters after their names, and only one of them stands for a religious order). They're well-written and captivating in many ways.
For one thing: who knew Catholic women were so smart? (Yes, that's sarcasm.) For another, who knew there was so much Catholic women had to say? (No, that's not sarcasm. That's just me laughing...at myself.)
I don't think there's a topic in this book that's not controversial in some manner, and every one of them is dealt with in a way that had me nodding like a bobble-head.
My favorite essay was the first: "Fear of Children," written by the editor, Helen Alvaré. It's such a clear picture of how she felt and thought and the ways she changed: I caught tears in my eyes with a bit of surprise.
But wait, I loved the essay on religious life, too, by Sister Mary Gabriel. She described her life so poignantly, so wonderfully, so doggone happily...what's not to love?
Oh, but...the essay on same sex attraction really caught my attention, made me sit up, made me highlight and mark up my book.
And...
Well, actually, I marked this book up a lot, so much that I'm going to be a bit embarrassed to share it. But how do you NOT highlight something like this:
I could say, and do say, to anyone wrestling with a difficult situation or decision—just park in front of the Blessed Sacrament and bring it honestly to Jesus. He'll hear you, love you, and answer you. Maybe not right away, maybe not in the way you expect, but he will answer.
Or this:
Engaging a culture does not mean embracing it, of course; it means countering its values with our own. To engage the culture on the ground, where we live, means countering materialism with simplicity; transience with rootedness; and coarseness with self-giving love. It means living lives of sacrifice and generosity, integrity and joy, and in doing so, quietly witnessing to our faith.
Highly, highly recommended.
Be sure to check out our Book Notes archive.
Copyright 2013, Sarah Reinhard
About the Author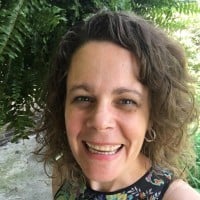 When she's not chasing kids, chugging coffee, or juggling work, Sarah Reinhard's usually trying to stay up read just one…more…chapter. She writes and works in the midst of rural farm life with little ones underfoot. She is part of the team for the award-winning Catholic Mom's Prayer Companion, as well as the author of a number of books. You can join her for a weekday take on Catholic life by subscribing to Three Shots and follow her writing at Snoring Scholar.