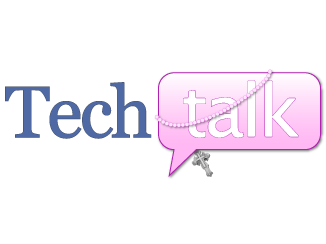 Our family was among some of the last in the Western World to get flat-screen HDTVs. But when we did, we really went whole-hog; we bought an AppleTV to go with each of our two TVs. I had done research on streaming boxes before we purchased the AppleTV, and finally decided to go with what we did for several reasons.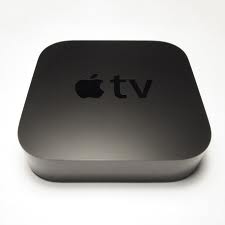 We have a lot of digital content. Our family has a lot of movies in iTunes, which are great if we can load them onto our iPods or iPhones for when we travel, but not so great when we want to watch said movies on our TV at home.
The only way to get movies from iTunes on the Mac to the TV was through an AppleTV, unless we used a set of cables that would let us play our iPods/iPhones' content on the TV. But the cables aren't really hi-def, and if you've gone ahead and upgraded your televisions to hi-def, it's nice to make use of it. Plus, no cables this way. (Just one HDMI cable into the TV and a power cord into the wall socket.) Everything else uses our home's Wi-Fi. (Note: If you don't have Wi-Fi at home and are using CAT-5 cables, you can still use an AppleTV that way.)
And it's not just iTunes! You can also stream your home movies, your photographs, and your music off your computer. (If you're using iTunes Music Match, you can stream your music off iCloud.)
Speaking of content on the iPod/iPhone, there's this nifty feature called AirPlay that allows you to stream what you're looking at through the AppleTV. So, you've found a hilarious video on someone's blog of Jim Gaffigan impersonating Pope John Paul II? Share that through the AppleTV so everyone can laugh along with you! (Bonus: If you have a Mac or MacBookPro, you can do the same thing.)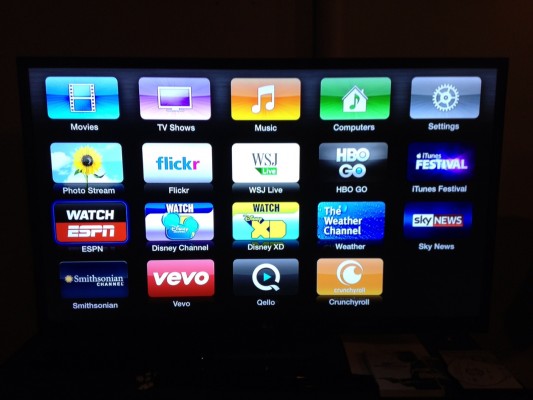 Looking at pictures you took with your iPhone on vacation? Why try to crowd around that tiny screen when you can AirPlay that, too? And what is a thrifty family to do when they cancel satellite just before a papal election?
Why, they start streaming the EWTN app through AppleTV when they hear about the White Smoke, that's what! (The AirPlay feature is getting a nice upgrade to its already-cool features when Apple releases the new desktop OS later this year.)
There are a growing number of apps available. One of the most-used apps on AppleTV in our house is Netflix; the interface is great! They've even improved it recently so that you can divide your queues into different users, which you select when you first log in to the app.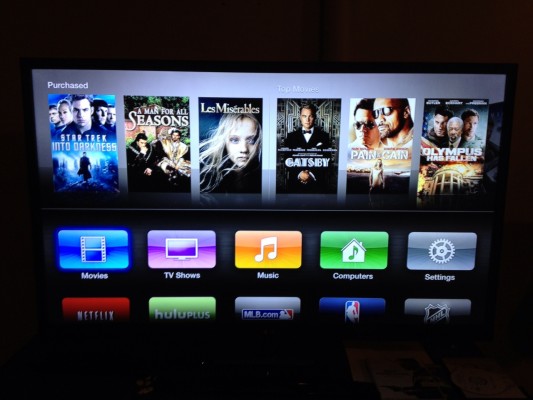 This way your kids can have a list that includes Phineas and Ferb and every Disney princess movie imaginable, and you can have a list that includes Doctor Who, Sherlock, Star Trek and Firefly. (I admit that I have to play with this new feature a bit, but it's an improvement to the "Kids Only" section that used to be a part of the main menu.)
But Netflix isn't the only game in town - Hulu Plus has an app there, too. Our family cancelled our satellite service and now make due with Netflix, Hulu, and a digital HD antenna for television-watching. For news, there's a Wall Street Journal Report app as well as a Sky News app that both have videos and live feeds at certain times of the day. If you're into sports, Apple currently carries apps for NBA League Pass, NHL Center Ice, and MLB TV.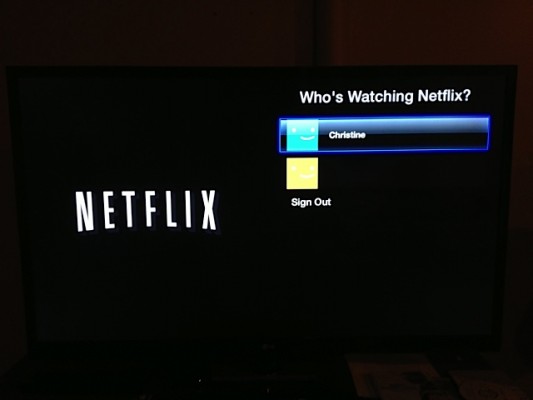 They're adding entertainment packages (HBO GO is a recent addition), as well. These all require paid subscriptions, and information about these subscriptions are available through each provider. There's also access to YouTube and Vimeo, which can be linked to your accounts with those sites. I've used YouTube videos for homeschool assignments, and it's much easier to access them through the AppleTV than it is to crowd around the computer.
You also have access to movie rentals from the iTunes Store. Movie rentals on iTunes are nice because you can purchase your rentals in a batch (say, if you're going on vacation and want to watch movies then). You then have 30 days to start watching the movie and 24 hours once you start watching it to finish it. (Or, if you're renting for your kids, perhaps they'll want to see how many times they can watch it in a 24 hour period.)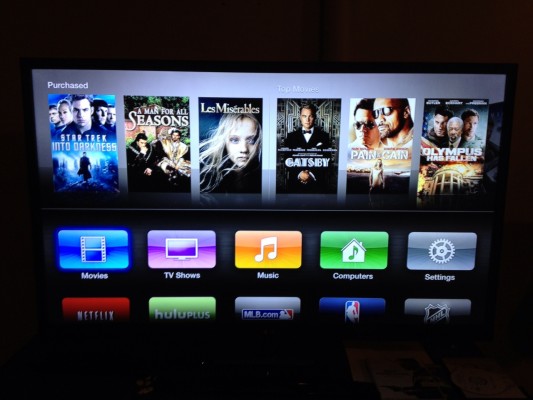 Apple is currently in talks with more companies in order to provide more apps and more content via AppleTV. I'm looking forward to seeing what they can add in the future. In the meantime, we're thrilled with the AppleTV and all the features it has. We've used it not just for streaming movies and Netflix, but for even having slideshows for family when they come to visit. Since all of our pictures end up in iPhoto, it makes sense to be able to share them this way. (No slide projector or bed-sheet necessary!)
One of the best examples of how we've been able to use it comes up with our present to my dad for Father's Day. I'd made a DVD for him with music and photographs from our visit to the USS Constitution back in April. However, just before my parents arrived, our DVD player bit the dust. We couldn't get it to work no matter what! So I made sure my DVD project was loaded into iTunes as a home movie, and we played it for him on the TV. It was perfect!
Its everyday use really comes down to accessing Netflix and Hulu for both school (documentaries and history shows) and entertainment (Doctor Who, Star Trek, Downton Abbey, Castle, and more). I like setting it up to play my iTunes library (all playlists are accessible when you log in) while I'm around the house sometimes. If left on for a while, it starts a screen saver, which you can set to show particular photos if you'd like.
When I first encountered the AppleTV, I really wasn't sure it would be worth it, or what I'd do with it. Now, it's hard to imagine not using it. We've vacationed at resorts with HDTV's, and we've found that we're able to load our iTunes library (on an external drive) and a MacBook Pro on vacation, which allows us to bring along our entire digital library.
AppleTV is available at Apple Stores, online at apple.com/store, and at authorized retailers.
(And, just a tip for thrifty families: check the refurbished area of the online store! We saved $15 that way, and the refurbished products sold on Apple's site carry the same guarantee as any other product.) NOTE: The refurbished section of Apple's site is always first come (and pay), first serve. There's no guarantee of supply there, and sometimes an item is out of stock for a while. I've seen the AppleTV go in and out of stock on the refurbished site, which happens with all of their products.
Read more of our Tech Talk columns.
Copyright 2013 Christine Johnson
About the Author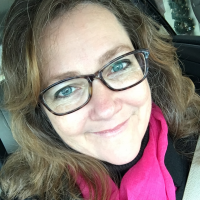 Christine Johnson has been married to Nathan since 1993 and is the mother of two homeschool graduates. She and Nathan live in the Blue Ridge Mountains of Southwest Virginia, where she tries to fit in as a transplanted Yank. She blogs at Domestic Vocation about her life as a wife, mother, and Lay Dominican.