If you're looking for a book to share with your children that will also inspire you every time you read it, look no further than Denise Zarrella's Not Even the Sky is the LIMIT! I hope you enjoy my recent interview with Denise and that you'll check out this lovely look at faces and stories which are certain to make you smile.
Q: Denise congratulations on the publication of Not Even the Sky is the LIMIT! Please introduce yourself and your family to our readers.
A: Lisa, thank you so much for your interest. I am a reporter and anchor originally from the Poconos in Pennsylvania. I've been a journalist for twenty years now. I can't believe how long it's been!!! I love telling stories for a living. My husband Tony is also a long time journalist. He's currently the sports director at our station, WOIO, which is the CBS affiliate in Cleveland. We actually met at the station six years ago! We have two children, four year old Gianna, and Anthony, who is just about to turn three. We have two crazy dogs named Buddy and Scooby, and we live on Cleveland's West side. We love our life here. "
Q: I've read a bit about what prompted you to write Not Even the Sky is the LIMIT! Could you share this story with us?
A: My daughter Gianna has Down Syndrome. We found out she had Down Syndrome while I was pregnant. We also found out she had what's called an AV Canal defect in her heart, which doctors monitored before she was even born. She had to have open heart surgery at three months to repair the two holes in her heart that would have ended her life had we not had access to the amazing health care we have here in Cleveland. A doctor at University Hospitals in Cleveland was able to repair her heart and saved her life. Along my journey of being a mom, I found that what I wanted to know from other moms and dads of children with Down Syndrome the most was what their children did. What did they love to do? What did they enjoy doing together? What was their child capable of as they grew older? I had many fears about what Gianna and I would be able to do together as she grew up. Would she enjoy her life as much as other children? Would she have opportunities to do things that would make her happy? Tony and I have always said whatever Gianna is able to do, we will love her like crazy and, of course, support her, but like any other parent, we want the best for her. Truthfully, we just want her to be happy, but I get excited to think that she may be as high functioning as possible and do everything you see the children and adults in my book doing - which is basically what everyone else does. One of my kids' favorite books when they were really little was this book called, "A B C for You and Me". It was given to us in a care package from the Upside of Downs. My kids loved the book because of the pictures of the kids, but I loved the book because it gave me a sense of peace about Gianna's disability. All of the kids in the book looked happy and healthy and were just having fun!!! At that time, it hadn't even been year since Gianna had her open heart surgery, and she had been very slow to reach many of the milestones that most children just hit naturally and quickly. This book confirmed what a genetic counselor at University Hospitals told us when we were pregnant. "Gianna will do everything any other child does; it will just take her a little longer." I am eternally grateful for that advice. It was what we needed to hear at a time when the doctor gave us a hopeless prognosis that left us devastated, and by the way, didn't turn out to be as grim as he described. My book is modeled after that ABC book, but focuses on what children and adults with Down Syndrome can do. In fact, I was initially going to name the book, "The I Can do and You Can too Book!"
Q: What will readers discover in Not Even the Sky is the LIMIT!?
A: Lisa, this book is very simply written for toddlers and babies as young as my kids were when I first started reading to them, but adults will find inspiration in between the front and back covers. There are 30 children and adults with Down Syndrome showing us what they love to do - which are the same things you'd find any other child or adult doing. The message is clear: children like my daughter are just like everyone else. Don't underestimate people with disabilities, or more specifically, people with Down Syndrome! They are leading great lives, and their lives are just as important and should be as fulfilling as anyone else's.
Q: What type of reactions have you had to the book? What do you hope readers will learn from reading the book with their children?
A: I can't get over the level of excitement, enthusiasm and support I've received for this book. Kids love the pictures; adults love the message. Just because a person has a disability doesn't mean they can't play sports, or be part of the family business, or be creative and adventurous. On a very serious note, I was shocked to see how many people terminate their pregnancies when they find out that they are having a child with Down Syndrome. The statistics leave me with a lump in my throat, but I think so many people are guided by fear that if they had only looked at my book when they got their prognosis, they may have chosen life!!!! I am in the process of getting Not Even the Sky is the LIMIT! into doctors' offices and places where people may be when they find out they are carrying a child with any kind of disability. If I can affect just one life with this book, I will have accomplished my goal. We can't imagine our lives without Gianna, and we know other parents of children with Down Syndrome feel the same way.
Q: How has creating this beautiful resource impacted your own family?
A: Lisa, I believe I was meant to put this children's book out there. It was something I wanted to do for myself because I wanted a book that I could look at to remind me of all the amazing things that are ahead for me and my daughter, but the generosity and support of everyone along the way has confirmed that this was a project that was meant to be. I wasn't sure how I would even fund this book, and then suddenly my photographer, David Uschold, surprised me by donating his talents and time! That is just one example. My graphic artist, David Kiehl, donated a large portion of his work too. To say that my publisher, Lisa Umina, founder of Halo Publishing, has been supportive is an understatement. She has worked tirelessly to make this dream of empowerment for children and adults like my daughter, a reality in book form. I am convinced that God put this project on my heart to help me as a mom and to help others who may need a lift in their spirits.
Q: Are there any additional thoughts or comments you would like to share with our readers?
A: Lisa, I just want to share one more cool story about how the book came together. I was aiming to have 30 adults and children in my book because a friend, who just completed a children's book, had told me that typically you shoot for 30 pages. At the last minute, one of the parents cancelled. I was about to say,"we'll just keep this to 29 kids," because I was getting worried about paying my photographer and my babysitter. We were on our fifth day of shooting for the book. I was playing around with a title for the book around this time too. The inspiration I got from the kids and adults on each day of shooting was so far beyond my expectations that I thought, "the sky's the limit for them!" But the way I felt about all of them was even beyond that - and that's where the title, "Not Even the Sky is the LIMIT!" came from. Right around this same time, one of the parents - not knowing I was short a child or adult for the book - said, "hey, I have a friend whose son has Down Syndrome, and he skydives." I couldn't believe it! That confirmed the name of my book, and there was the front cover of my book. Toby Gingerich jumps out of a plane every year for his birthday. He is the life of any party, and like all of the other children and adults in my book, meeting him was pure magic.
Order Not Even the Sky is the LIMIT! and support CatholicMom.com with your purchase
Be sure to check out our Book Notes archive.
Copyright 2013 Lisa M. Hendey
About the Author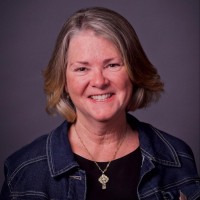 Lisa M. Hendey is the founder of CatholicMom.com, a bestselling author and an international speaker. A frequent radio and television guest, Hendey travels internationally giving workshops on faith, family, and communications. Visit Lisa at LisaHendey.com or on social media @LisaHendey for information on her speaking schedule or to invite her to visit your group, parish, school or organization. Visit Lisa's author page on Amazon.com.