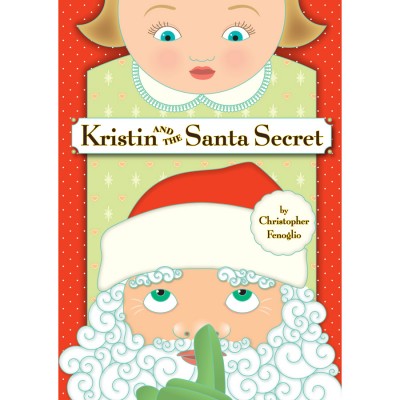 Today, I'm sharing a "secret weapon" for Catholic families: the beautiful resource Kristin and the Santa Secret by Catholic author Christopher Fenoglio. We're thrilled this month to have Christopher's support of this site as a sponsor because we believe that this resource has the power to create a beautiful tradition for your family as well as to underscore the true meaning of Christmas. We are highlighting Christopher's work today--well in advance of the Advent season--to encourage you to order Kristin and the Santa Secret before the busyness of Advent and the holiday season kicks in. By using Kristin and the Santa Secret, you will be creating a cherished teaching moment and memory for your children, one that they will undoubtedly share with children of their own some day. I'm very pleased to share my conversation with Christopher and give Kristin and the Santa Secret my highest recommendation.
Q: Welcome to the site Christopher - please begin by introducing yourself and your family to our readers.
A. Hi Lisa, thanks for the invitation! I live in Nashville, Tennessee with Linda, my beautiful wife of 30 years. I am a graduate of the University of Notre Dame where I studied and wrote often about American culture. In my first job out of college I was the assistant editor of our diocesan newspaper. I am very active in our parish, serving as a cantor and choir member. During the week I produce digital marketing programs and websites for hospitals. Linda and I have three children, all in their mid 20s and college graduates: Kristin, Connor and Tommy.
Q: What is the essential message of Kristin and the Santa Secret and why is it important all year long?
A. The essential message is that the love of God, embodied by God's gift of his only son to the world, is inside each of us. This love makes us all a Santa Claus who can spread that love to others. In today's culture of celebrity and consumerism, the concept of living "inside to out" from a foundation of God's love is especially important for all of us.
Q: Tell us a bit about Kristin and the Santa Secret -- what motivated you to create this resource for families and what is it really all about?
A. I was renewing my writing career with our diocesan newspaper, so one of the first pieces I wrote was a column to parents about the method Linda and I used to tell our children about Santa Claus. We had created this method years before because we wanted our children to transition from a fun, magical belief in Santa to a faith-filled understanding of the true meaning of Christmas. We wanted to be proactive and positive, not leaving this explanation to other kids on the playground.
A year after writing the column, the newspaper asked if they could reprint the column because readers were requesting it. Even my insurance agent told me he had cut out the column and put it in his sock drawer until his children were the right age. That's when I knew we had something special, so I converted the column into a Christmas poem with the familiar rhyme and meter as "A Visit from St. Nicholas ('Twas the night before Christmas)."
My poem tells the story of Kristin, a curious girl who loves Christmas and is trying to figure out how Santa Claus gets everything done in one night. Each child gets to this point at different ages. Our daughter Kristin had just turned nine, but parents should be able to determine when it's the best time to have the Santa Talk with their children.
Many times parents want to wait "one more year" just so they can enjoy their child's youthful innocence during Christmas. That's understandable; we debated over when to tell each of our children. But since we had this method that is fun and mysterious, plus the words that I later put into the poem, we went ahead with our plan, wanting to empower Kristin with the true meaning of Christmas.
So one night after the younger boys had gone to sleep, we told Kristin that we thought she was old enough to know who Santa Claus really is. We brought her into our bedroom and closed the door. I reached up into our little attic space (any hidden area will do) and pulled down a dusty, wooden box. "Kristin, the secret of who Santa is can be found inside this box."
Her eyes widened as I placed the box in her hands. She opened it and found a purple cloth wrapped around an object. After unwrapping, she found herself holding a hand mirror and looking at her own reflection. "You are Santa Claus, Kristin."
We went on to explain that the love of God is in each of us and that makes us all a Santa Claus. Don't we all see many people wearing Santa hats during Advent and Christmas?
Q: How do you recommend that our readers use Kristin and the Santa Secret with their families? Please share about any families you've met who are using Kristin and the Santa Secret as a part of their Christmas traditions.
A. The poem summarizes the inquisitive journey that children go through when they think about Santa: where he goes, what he eats, etc. I've heard that families, like my insurance agent and my siblings with their children, will often read the poem straight through with their child. When they get to the part where Kristin is handed the box, they will pull out their own box and hand it to their child. After the big reveal, they will substitute their child's name for Kristin's and will continue to read through the end of the poem.
I'm sure many parents will then discuss the method and the words of the poem with their child so that they can work through any questions that arise. Just like there are different children, there will be different responses to the poem. Kristin got it right away and asked if she could be Santa at Christmas and help place presents under the tree. Connor heard the words, said "Okay" cheerfully and then went to sleep. Tommy was a bit nervous through it all, heard the words and let go of a few tears, but he totally understood too. The poem is the basis for a good talk about God, Jesus, presents and other characteristics of a good family Christmas.
Q: What is the relationship between the true St. Nicholas and the work you've done in this book?
A. St. Nicholas was a real person who did many good deeds throughout his community, giving gifts to those who needed them most. He was truly a Santa Claus because he was empowered by the love of God. Each of us has this same love inside us, so we too can be a Santa Claus in our community.
Q: So as we anticipate the busyness of the holiday season, how can the season of Advent help us to prepare our hearts for the "Santa Secret"?
A. Advent is all about preparations - preparing our homes with decorations, preparing our minds by reading the Nativity scriptures and other books, and preparing our hearts by giving gifts and acts of kindness to family and friends. I hope your readers will consider "Kristin and the Santa Secret" as one of the books they need to read each Advent season to prepare for Christmas.
Q: How can readers get their own copy of Kristin and the Santa Secret?
A. They can order a copy at www.KristinAndTheSantaSecret.com, which goes to my author website. On that website they can view sample pages, read an excerpt and read what other Moms say about the book.
Q: Are there any additional thoughts or comments you would like to share with our readers?
A. I wish all of your readers a very merry Christmas. When the time is right to have the Santa Talk with your children, I hope you will consider getting a copy of this poem. It can help turn a tense situation into one that empowers your children and family with the love of God. In the midst of all the commercialism of Christmas, the world needs many more Santas around, spreading the Good News about God's love.
Visit www.KristinAndTheSantaSecret.com to order "Kristin and the Santa Secret and to find supporting resources for your family
Copyright 2014 Lisa M. Hendey
About the Author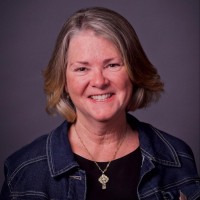 Lisa M. Hendey is the founder of CatholicMom.com, a bestselling author and an international speaker. A frequent radio and television guest, Hendey travels internationally giving workshops on faith, family, and communications. Visit Lisa at LisaHendey.com or on social media @LisaHendey for information on her speaking schedule or to invite her to visit your group, parish, school or organization. Visit Lisa's author page on Amazon.com.