Editor's Note: Megan's on maternity leave, but her husband Josh has this great post to share with all of us. Thanks, Josh! -SR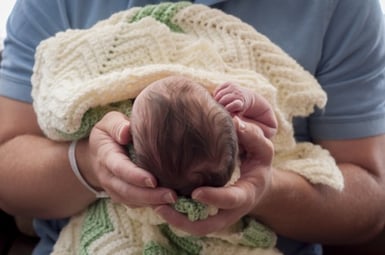 At three weeks post-partum, my sleep-deprived brain was in no state to compose a literary treasure, so I asked my sweet husband if he'd be willing to write the story of our daughter's birth for me… Thank you, Josh. I love you. -Megan
Patience bears fruit. We try to avoid uncertainty, because we like to be in control. Even when we know what the future holds, we want it now. Thankfully the Lord is too wise and generous to give us what we think we need.
My wife and I were friends for eight years before we dated, and it was almost two more years before we were married. We needed every day of those 10 years. One fruit of that decade is that my wife and I know each other better than anyone else knows either of us, and that's why we survived the 77 hours from front door to delivery of our daughter.
The anticipation (and her discomfort) had been building for weeks, but this baby turned out to be as stubborn as her parents. Due to some minor concerns early in the pregnancy, we made the decision with our doctor to set up a slow induction. We knew there would be some waiting, but we heard most times delivery comes in about 36 hours and most of that time is not intense contractions.
We check in at 7 am, and the induction gets started a little after 8. Then we wait, but we're good at that. We talk, sometimes about how everything is about to change, sometimes about nothing in particular. We read. We watch some TV. We pray – offering our waiting and her discomfort for the conversion of sinners and for our families. We take courage from the image of Divine Mercy we brought with us: "Jesus, I trust in you."
Later that day contractions have been going for awhile, but the checks stay the same…we're not close. The induction already wasn't plan A, and now it's taking some time to get working. Discouragement is looming.
She needs a change, so I suggest we get up and walk around. The hope was that walking would help the contractions, but mostly she just needed encouragement. I'm not a cheerleader by any means, but I know my wife and that wouldn't have worked anyway. So we walk and I hold her hand, and I know she appreciates that it's sweet. When we come to the end of the hall and she begins to turn around. I pull her back, to her surprise, and point out that she didn't tap the window so she didn't make it to the end of the hall, teasing her like I'm her coach and she's trying to cut corners at practice. She loves it, and notices that there is something tangibly gratifying about tapping the window on one end of the hall and going to the last carpet square on the other end.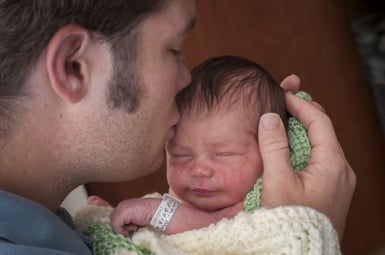 As the night of the first day comes, the contractions have picked up, but there is still no change. We're in this for the long haul, and if we're going to make it she needs to sleep. We had hoped to go without pain medicine, but if she doesn't sleep, then this baby is going to be delivered in the OR. It is the first of many times we have to reevaluate what is best based on where we are. Every time we have to let go of our plans and do what we can in the moment.
The next day contractions have slowed, and there was still no progress. A little after noon on day 2, discouragement has settled in and we'd been thinking about going home for hours. By mid-afternoon I'm preparing to state our case to the doctors and nurses that we need to wait a few more days until this baby is ready. The doctor shows up around 5:00 p.m., open to this plan and willing to send us home, but Megan gets her second wind (or third or fourth by this time) and decides to give the induction a few more hours until the evening. Of course that's when (38 hours in) we finally make some progress and so we stay (though we didn't know at the time that we were only halfway there).
Contractions are consistent throughout the night, and she's doing great laboring in the tub and on the birthing ball, all while listening to the sound track from Mr. Holland's Opus (her favorite). By morning she was nearing transition, and contractions were still manageable naturally. We even started playing a game of Scrabble (that we still need to finish, especially since I'm pretty sure I'm winning).
But by midday we have not progressed and we don't know what to do. Even though a resident broke her water a few hours earlier, by late evening, we still aren't in transition, contractions are spacing out, and she no longer bothers to tap the window at the end of the hall.
Once again our plans have to change. Night three is looming, and she needs sleep. Without clinging to what we had hoped for, we know at this point that she needs an epidural if she is going to have the energy to push later, and her body needs Pitocin to get to that point.
Sixty-eight hours in, the physical and emotional toll has been overwhelming. Contractions are picking up as she is realizing that due to a spinal fusion she had a few years ago the epidural is not effective, except that she can no longer move enough to cope with the contractions well. The fact that I'm even-keeled has settled her discouragement and anxiety up to this point, but around 4 a.m. on the fourth day my emotional composure has been stripped away with the rest of our superficial plans, and as I fight back tears, the only thing I care about is having a healthy wife and child. Meanwhile she has to shut out everything just to cope with wave after wave of pain.
By 11 a.m. contractions are measuring very strong and she has progressed to the middle of transition, but the baby's head is still not descending. Despite heroic effort at every step to avoid it, we tell the doctor to prepare for a C-section. There is some spirit of relief with this decision but there is also fear about the surgery. I'm left in the room while they prepare her. Still emotionally raw, I nervously wait until I can be at her side again. I come in the OR and sit with her behind the screen, gently stroking her forehead and hair.
Suddenly there is a cry, and the doctor tells us it's a girl—waiting to find out the gender, we'd been calling her 'he' for 9 months—the surprise is totally worth the wait by the way. Seventy-seven hours later, at 12:48 p.m., she arrives at 7 pounds, 7 ounces. The residents check her out and hand her to me to place on Megan's chest. I hold both of them as Megan is being sewn up.
Bonding with her had been difficult at times during pregnancy, and we were not sure what to expect after birth, but by the time we reach the recovery room we are once again enjoying the fruits of God's good plan patiently received. Megan nurses her for the first time and we name her Lucy Benedicta, falling more in love at every moment.
Copyright 2013 Megan Swaim
About the Author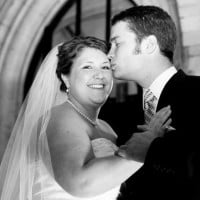 Megan Swaim is an Indiana girl on an east coast adventure. A former high school youth minister, she now gets to minister full-time to her three young daughters and her husband Josh. Megan spends her days homeschooling at the kitchen table, drinking iced coffee, and exploring coastal Virginia.