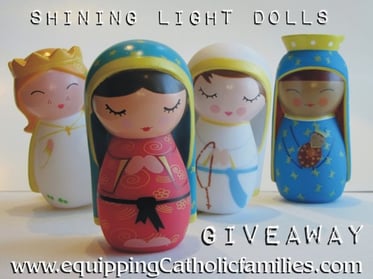 So the Holy Father consecrated the WORLD to the Immaculate Heart of Mary on Sunday October 13, promoting devotion to our Lady. I thought that this was as good a time as any to host my Shining Light Dolls Giveaway, graciously made possible by my new friend Chantal!
Aren't these Shining Light Dolls awesome?
They are 3.5" tall and made of rotocast vinyl: safe, durable, unbreakable, and no removable parts!
They are perfect for inspiring devotion to Our Lady in our kids with their little praying faces and posture and contemporary styling that still manages to reflect the traditional images of the Blessed Mother.
Chantal said,
"I wanted the dolls to be in line with contemporary graphic art styles, so that kids (and adults) could look at them and feel like they "fit" into the current world. It was really important to me to keep the dolls true to the traditional images (same outfits, same symbols, same colors) but make them modern, colorful and fresh so they'd be appealing to kid's taste."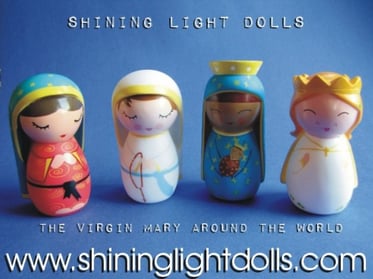 They are safe for babies, but really appropriate for all ages. Chantal keeps discovering new ways that the dolls are enjoyed as wonderful tools for evangelization:
"People are putting their favorite doll on their desk at work as a cheerful reminder of their faith and a great non-threatening way to evangelize coworkers; giving them to children to help them learn about the different Marian apparitions; and sending them to people in hospitals as an easy ( small, unbreakable and easy to clean) and affordable way to let them know they are in their prayers. And because the dolls are part of a series, we also have people from all age groups who are simply collecting them and keeping them in their homes."
There are currently 11 Shining Light Dolls in the Virgin Mary Around the World Series.
"... It was really important to me to emphasize the global nature of Catholicism- that Christ came for the world, and so Our Lady and the Saints come from every corner of the earth."
I know that my kids and Godchildren and some of my friends and family will enjoy collecting these little figures. I suspect that they will hang out in our dollhouse, visit our family prayer altar, and decorate our dinner table on special Feastdays. They may even find themselves sitting on a chocolate cake from time to time....good thing they are safe and easy to clean.
The SAINTS are coming as Shining Light Dolls too! Check out this awesome Mary and the Saints Printable!
Visit Equipping Catholic Families to enter the Shining Light Dolls Giveaway!

Copyright 2013 Monica McConkey
About the Author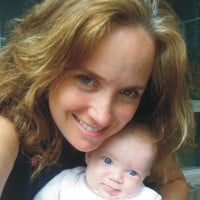 Monica, mom of 5, blogs about Catholic crafts and family traditions at EquippingCatholicfamilies.com. She is an author and creator of Super Saints quizzing cards and over 45 Saint, Sacrament, Catechism and Prayer-packed Craft Kits to help teach the Catholic Faith. The Catholic teaching tools and gifts are available through Arma Dei, the Catholic family publishing company founded with her husband Bill.