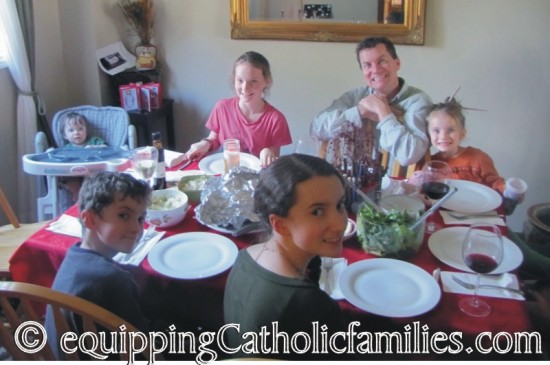 Dinner time is important!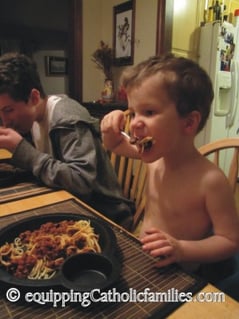 Our family really enjoys food and it's a great opportunity to share and celebrate. Sometimes, dinners can be a little rushed as our schedule sometimes adjusts to outside commitments, but we make a concerted effort to eat together every day.
It's a little unorthodox sometimes.
We still haven't managed to get a bib or apron on Adam when he eats noodles and sauce, so sometimes our dress code is a little abused.
We try to talk about meaningful things…even if it's just sharing the events of our day.
Any snippiness is corrected and we try to make sure that everyone has a chance to talk…and listen.
This is important in my family …of talkers and performers!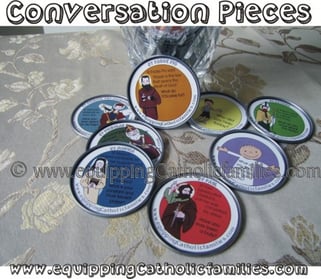 We've just released a NEW Craft Kit: Conversation Pieces with questions and prompts for meaningful conversations at the dinner table.
We know that you can come up with great conversation on your own, but these fully illustrated Kelly Comics templates will be fun to use for a more deliberate and focused family activity or tradition!
We have a Family Fun version of Conversation Pieces with 84 fun-to-answer prompts including thoughtful Faith-focused questions.
We also have the Catholic Conversation Pieces with Saints and Sacraments, with 144 illustrated conversation prompts, helping us to delve into our mentors in the Catholic Faith as well as our grace-filled Sacraments! This kit also includes the popular Sacrament Toppers to celebrate Sacraments year after year!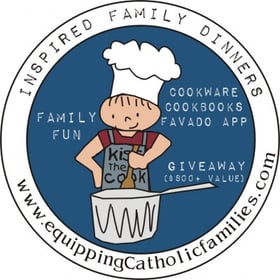 Equipping Catholic Families is taking part in the Inspired Family Dinners campaign with an awesome Giveaway of $800 in cookware and cookbooks!
Equipping Catholic Families is also hosting the
Inspired Dinners Craft Kit Giveaway. We're giving away Craft Kit Bundles (including the new Conversation Pieces Craft Kits) and an Amazon Gift Card!
Both Giveaways end February 23!
We have a busy dinner table...never dull, always eventful! We could still learn
...some dinner etiquette,
...to be more adventurous in our menu choices
...and we could insist upon higher standards of courteous interaction...
but we're going to hold on to this cherished family time, with both hands ...and a fork.
Copyright 2014 Monica McConkey
About the Author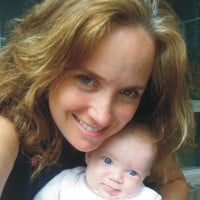 Monica, mom of 5, blogs about Catholic crafts and family traditions at EquippingCatholicfamilies.com. She is an author and creator of Super Saints quizzing cards and over 45 Saint, Sacrament, Catechism and Prayer-packed Craft Kits to help teach the Catholic Faith. The Catholic teaching tools and gifts are available through Arma Dei, the Catholic family publishing company founded with her husband Bill.