Chris Farmer went to her first Gather Us In women's conference in 2007. "I was just blown away the by magnitude of the number of women who were gathering to learn more about their faith," she says.
Looking around the room teeming with women, she was disheartened at the sea of white and grey hair. In her forties, Mrs. Farmer became concerned that the faith that meant so much to her was aging out. "I didn't realize it would be so visible," she says.
Despite that observation the 2007 conference proved to be such a positive experience that Mrs. Farmer attended again in 2009. The combination of inspiring keynote addresses by Paula D'Arcy and Immaculée Ilibagiza and the fellowship she enjoyed with other like-minded women resulted in a new appreciation of her beliefs. "I understood how deep and rich our faith is," she says.
As a result of her experience Mrs. Farmer felt a conviction spread the word among younger women about the conference. It was then that she decided she would invite her oldest daughter Katie to the 2011 conference. Thus began a tradition of mother and daughter attending Gather Us In conferences and sharing their faith together.
Mrs. Farmer was first led to attend the women's conference after the departure of longtime pastor Fr. George Lange and the pastoral associate, Fr. Steven LaBaire from her home parish of St. Luke the Evangelist in Westborough.
"I felt like I needed to find my own spiritual nourishment," she says. "Hearing other evangelists helped me to understand my core faith." An avid lover of ice fishing, she likened her discoveries to a breakthrough in the frozen surface of the water: "It broke through the ice that was limiting my understanding of the richness of my faith and its elegance."
Katie was 14 when she attended the 2011 conference. Wisely deciding that her daughter would feel more comfortable if she went with a companion, Mrs. Farmer invited longtime friend Mary Christenson to come along with her daughter Erica. Mothers and daughters stepped up to volunteer, assisting the Commission for Women with registering the participants as they entered the DCU Center in Worcester. Katie and Erica were very excited to be a part of the action, welcoming the women as they streamed up the long escalator into the reception area.
"It was really kind of fun and there was free food," Katie said with a smile. "Liz Walker's (the morning keynote speaker) story was very intense. I liked the songs that we sang."
The girls were moved by workshops presented by Pat Gohn and actress Christin Jezak who portrayed the life of Mother Teresa. Music provided by Kathy Sherman at her afternoon keynote stirred their hearts.
Katie admits that she would like to see some younger speakers. "I'd like to see speakers in their thirties, younger adults who can connect with kids and young adults," she says.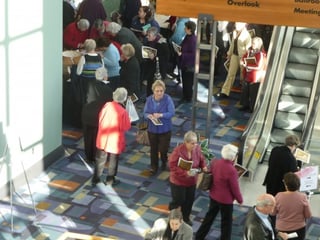 Attending the conferences has borne fruit for both mother and daughter. Mrs. Farmer has since become involved with teen prison ministry and stepped up her commitment to Dress for Success Worcester, an initiative that promotes the economic independence of disadvantaged women by providing professional attire, a network of support and the career development tools to help women thrive in work and in life.
Mrs. Farmer, an executive career coach and proprietor of Westborough-based Resumes for Results found a perfect opportunity to use her skills to help women back into the workforce. Working with Dress for Success Worcester and the Women of St. Luke's, Mrs. Farmer stages an annual benefit known as BFF ("Best Face Forward"). She also works with friend Mary Christenson and other women from St. Luke's with other similar programs such as PPP ("Pearls, Pumps, and Purses") and "Fine-to-Fab."
Katie has learned the joy of service from her mother's example. Now 16 and a sophomore at Westborough High School, she works with special needs children in the Best Buddies club, connecting them with everyday activities. This she manages with a typical teenager's busy schedule consisting of Junior Varsity lacrosse, basketball, dance lessons in ballet and jazz, and CCD classes on Sunday nights.
Both mother and daughter are looking forward to the 2013 conference featuring keynote speakers Teresa Tomeo of EWTN and ValLimar Jansen, a gospel recording artist and storyteller from OCP.
"Teresa Tomeo is a warrior," says Mrs. Farmer. She encourages other mothers to attend with their daughters. "What I love about the conference is that it is a retreat that is convenient for my family time and my personal time. It's a retreat you can commute to very easily."
Spaces for the Gather Us In 2013 women's conference are filling up quickly. Brochures for the conference complete with registration form can be found at local parishes and Catholic bookstores. You can also download one online at www.worcestercommissionforwomen.org, request a brochure by email (worcestercommissionforwomen@gmail.com), or call 508-839-3055 and leave your mailing address. Registration closes soon and scholarships are available upon request.
Information regarding Dress for Success Worcester taken from the Community Advocate article from Junary 21, 2013 written by Sue Wambolt.
Copyright 2013 Susan Bailey
About the Author