Anyone who's been through a family wedding knows how volatile emotions can be during that time. So, when Kate O'Brien (Carly McKillip) walks out on her sister Melanie's (Britt McKillop) wedding, many viewers will be able to associate. Wedding tempers can flare over the littlest things, but the reason maid-of-honor Kate walks out is a huge one that sets the theme for the rest of the movie, and one that leaves viewers wondering whether sometimes there just might be a good reasons for walking out on a wedding.
Regardless whether the reason for Kate walking out on Melanie's wedding was well-founded or not, the sisters remain estranged for five years. Upon discovering that their parents, Al (George Canyon) and Wendy O'Brien (Amy Jo Johnson) have separated, Kate realizes that something drastic has to be done in order to reunite the family.
Thus begins "Operation Home for Christmas," a light-hearted and at times tear-jerking plan to borrow the O'Brien's family home, which had been tragically lost to foreclosure and was under new ownership. Kate is sure that the hurts and misunderstandings of past years would be washed away if only the O'Brien's could spend Christmas in their cherished family home surrounded by memories of their happy times together.
The home's new owner, Mike (Ben Hollingsworth) is a woodworker and Marine veteran helping to raise Ryan, his deceased Army buddy's son. With Kate's pleading, Mike agrees to the extravagant plot to bring the O'Brien Family home for Christmas. What follows is a series of both predictable and unpredictable turns that include romance, further misunderstandings, set-ups, set-backs, enlightenings, reunitings, and finally, Christmas at home together.
Overall, this is an excellent family movie, which is well worth watching for all ages. It proves that perfectly clean and edifying movies can indeed entertain audiences. The fact that Kate and Melanie are real-life sisters enhances their interplay and makes the relationship more convincible. Since some of the cast members are real-life singers and songwriters, the incorporation of music into the plot and characterization is a plus. At certain points, the storyline is so predictable that it hinges on corny, but the characters pull it off nonetheless. Especially gratifying is seeing a modern-day military veteran played in a positive light.
"Coming Home for Christmas" reminds us that no matter what the divisions, difficulties, and derisions, it is never too late for a family to reconcile and regroup. Even with the film's few shortcomings, viewers will find themselves drawn into the lives of the O'Brien's and walking away with the conviction that nothing is more important than family.
The movie runs 87 minutes and is not rated. It was directed by Vanessa Parise and is now available on DVD.
[youtube_sc url=http://www.youtube.com/watch?v=kiFpiG_TKW0]
Order Coming Home for Christmas and Support CatholicMom.com with your purchase
Copyright 2013 Marge Fenelon
About the Author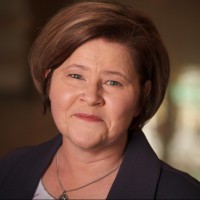 Marge Steinhage Fenelon is a wife, mother, award-winning author and journalist, blogger, and popular speaker. She appears weekly on Relevant Radio's "Morning Air Show" and other Catholic radio shows. She blogs regularly for National Catholic Register and at MargeFenelon.com. She's author of the best-selling "Our Lady, Undoer of Knots: A Living Novena (Ave Maria Press, 2016) and many other books on Marian devotion and Catholic spirituality.