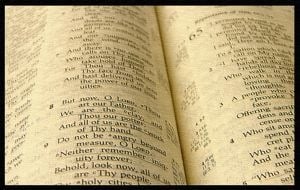 Do you want your kids to grow up reading the Bible?
Yes, I know you're Catholic. That's why I'm asking.
The Bible is central to the Church's theology and devotional life, but we don't teach our kids to read it.
Here's a plan I developed over several years by trial and error to get my kids into the habit of reading the Bible daily. And they actually like it...most of the time.
It's not complicated and I'm sure you'll be able to use it, too.
First step: Read to them.
I first got my kids reading the Bible for a family catechesis program I was running at my parish. A large part of it was Bible reading. The kids were to record the minutes read each month, and turn them in for various prizes. There was also an award at the end of the year for the number of minutes read. So, I came up with this plan out of desperation. I couldn't run the program and not have my kids do well.
At first it was kind of easy. They were too young to read. The program, however, counted minutes I read to them. So I did.
At night, before they went to bed, I read them Bible stories. I started with children's storybook Bibles. These Bibles tell the stories of major players like Noah, Moses, Abraham, and David in the Old Testament...and of course Jesus in the New. The Beginner's Bible was one of the first. Short and simple. Every story is just a couple of pages. Perfect for very young kids. When we finished one, I'd get another. I used Catholic and Protestant Bibles. At that level, there's really nothing to worry about. There's no real difference.
As they got older, I moved up to reading longer storybook Bibles. These added more stories and more detail. Again, there are some good Catholic versions but the Protestant selection is fantastic. My favorite ever is the The Jesus Storybook Bible. The subtitle is "Every Story Whispers His Name." That just about says it all. This is how it's meant to be done. It presents the Bible as a unified whole, and every story fits together to form the larger, overarching story. Every Old Testament story makes the connection to how Jesus is prefigured, and the New Testament stories connect back how Jesus fulfills the Old Testament.
At this level, you have to be careful with Protestant materials, though. More theology is mixed into the stories and sometimes they're wrong. For instance, in The Jesus Storybook Bible, at the Last Supper Jesus says, "This is like my body." You'll have to correct that when you read or point out the differences in Catholic belief.
Another good Bible at this level is the My First Message Bible. The Message is kind of controversial because it uses very colloquial language. Whatever your opinion on that, it works well for children. This one is nice because presents the story in a lectio divina format and asks appropriate questions in each section to spark discussion. My kids really got into this. We had some great conversations while reading this Bible.
Next step: They read to themselves.
Don't give those storybook Bibles away after you've read them because you can use them again. When your kids start reading, they are the perfect level. They can begin with the simplest ones and work their way up. We established a routine of reading the Bible before bedtime. Their goal was five minutes a day. Of course, they could read more if they so desired. Often they did. Five minutes doesn't like much, but it adds up. And it's not that taxing.
Finally, graduate to real Bibles.
When they outgrew the story Bibles, perhaps around 5th grade, I got them real Bibles. I started with paraphrase translations like The Good News Bible. Some disagree and think kids should have a "real" real Bible, like the New American translation. I think the best Bible is the one you'll actually read. If the language is too literal and stuffy, kids will be turned off and reading will become a chore. You don't want that. Catholics are notorious for having beautiful, leather bound Bibles that look great and never get read. Don't get your kids a keepsake. Get them a Bible they'll enjoy reading.
So, there's my plan. It's worked out great with my kids. Along with this, we did The Great Adventure Kids study to help them understand the biblical big picture. That's an essential step for helping kids understand what they're reading. Over the years, mine have built up quite a bit of Bible knowledge. I'm often surprised by how much they know.
The Takeaway:
It's essential to develop a habit of Bible reading in your children to help them stay active in their faith. Studies have shown that regular devotional activities like reading the Bible are significant factors in the lives of religiously active teens. Teens need that concrete, active expression to stay in touch with God.
Bible reading is so vital for every Catholic's spiritual life. We're supposed to love Jesus and have a relationship with him. But how can you love someone you don't even know? The Bible makes relationship with Jesus real because you can truly encounter him there.
What's your experience with children and Bible reading? Do you have any other strategies or plans for helping your kids develop this habit? Let me know in the comments.
Copyright 2013 Marc Cardonella
About the Author