Why are you Christian?
Have you ever told your kids why they should be Christian?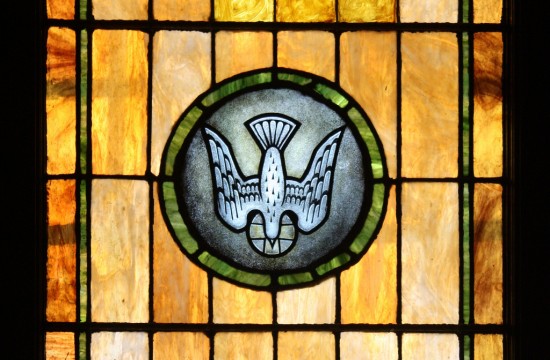 I think this is a tough one for people who have grown up Christian…perhaps especially so for Catholics because we don't often verbalize our faith. It's just something we do.
But if someone asked you why you're a Christian or why you stay a Christian, what would you say? And what would you tell your son or daughter if they asked?
Last week I was reading the Catechism of the Catholic Church on how the Holy Spirit guides us, gives us grace, and changes the way we live. It's paragraphs 733-736.
It got me thinking about how powerful and tangible the benefits of being a Christian can be…not just after you die, but right here and now.
The gift of Love and the fruit of the Spirit
So here's a summary of what it said.
The first gift of God is his love. All other gifts flow from that. St. Paul said, "God's love has been poured into our hearts through the Holy Spirit who has been given to us" (Romans 5:5).
This gift of love is a source of new life. Through communion in the Holy Spirit we can have the forgiveness of sins, be resurrected from spiritual death, and receive power! And, it's through this power Christians bear fruit.
St. Paul speaks of this fruit in Galatians 5:22-33, "But the fruit of the Spirit is love, joy, peace, patience, kindness, goodness, faithfulness, gentleness, self-control."
Who couldn't use a bit more of these in their life, huh?
The produce of the Spirit vs. the works of the flesh
These are the fruit, the produce, of a Christian life when the power of the Holy Spirit works in you. Of course, you don't have to be Christian to have these qualities. But if you live by the power of the Spirit, these things just flow from you. You're a new creation. You have new life and these qualities are a part of it.
These fruits are opposed to the "works of the flesh" outlined in verses 5:19-21 namely "immorality, impurity, licentiousness, idolatry, sorcery, enmity, strife, jealousy, anger, selfishness, dissension, party spirit, envy, drunkenness, carousing, and the like."
I don't know about you, but the first list seems a whole lot more attractive than the second. Which would you rather have as the defining characteristics of your life?
If we believe the Bible is true, why don't we hear people talking about the fruits of the Spirit as real, tangible benefits of living the Christian life? Have you ever heard a priest talk about these in a homily?
The power to overcome
I think we can all agree there's something wrong in the world.
The works of the flesh come at us tragically every night on the evening news. They are almost celebrated as the content of reality TV shows. Most of us dabble in it as young adults but find that it quickly leaves you hollow and longing for more.
I think we all feel plagued by one or a few of these in our lives, and feel powerless to overcome them. Before my conversion, I lived life angry and often resentful. One day after I came back to the Church, I recognized how awful I reacted to people and how terrible it made me feel.
It was like a light bulb turning on. The Holy Spirit was showing me a better way to live. When I prayed and struggled against those tendencies, he gave me power to overcome them.
The Spirit can help you live a happier and fuller life if you cooperate with him.
Open your kids to the power of the Spirit
The thing that most people don't understand is living the Christian life is not about being good through superior discipline and monumental force of will. It's about living connected to Jesus and acting from the power of the Spirit.
Part of why teens and young adults leave the Church is because they don't see anything in it for them. I know that's why I left. But couldn't every teen or young adult thrive with more of this spiritual fruit in his or her life?
There are many more reasons for being Christian. However, I think the fruits of the Spirit could be one of the best.
Make sure your kids understand this is possible for them…that every Christian could live like this. It could motivate them to stay Catholic and embrace the Christian life more fully.
What are some other compelling reasons for being Christian?
Do you have a story to tell about why you're Christian? I'd love to hear it in the comments below.
Copyright 2014, Marc Cardonella
Image Credit: <ahref="http://www.flickr.com/photos/36259387380@N01/4314134563/">OpalMirror via Compfight cc
About the Author