Recently I was looking for a saint. Not one to pray to necessarily but one to relate to. I wanted to read about someone who was a homebody like me. Someone who was quiet, who, from all outward appearances, didn't accomplish big things. Someone who was overly sensitive at one time, easily hurt, scrupulous. I needed a "heart-to-heart" with that saint.
I had had a hard month. At God's invitation I had offered to chair a group of women who put on a diocesan women's conference every other year. Leadership was never a good fit for me but God had asked so I said I would. Although the conference went off without a hitch, there were many snafus and near disasters in the weeks before the event. I took my responsibility as chair very seriously and chastised myself for incompetence. By the day of the conference I felt like a bloodied, defeated warrior. I knew I was being overly scrupulous but I could not stop myself. Could I find a saint who had felt that way too?
I found her in Saint Thérèse of Lisieux.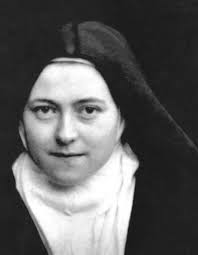 St. Thérèse was not new to me. Several years ago I was introduced to her through a parish mission. The teacher, Sr. Debra-Thérèse Carroll, CTC, took on the persona of Thérèse and told the story of her life as documented in her autobiography, Story of a Soul.
I was captivated. Never before had I heard of such a path to holiness. As Sr. Debra spoke I could imagine St Thérèse speaking with her small, childlike voice. For the first time, the path to sainthood looked doable for the average person. And desirable.
It was my introduction to faithfulness to the smallest things and the sacred nature of the mundane. After that mission Thérèse became a part of my prayer life.
That was fifteen years ago and I had fallen into forgetfulness. Now I felt a prompt to remember. I pulled out an old copy of Story of a Soul and started reading it. I had tried reading the book several times before but couldn't relate to it. This time as I read I could feel the consolation. She did indeed write about scruples, saying once of herself,
It was during the retreat before my second Communion that I was attacked by the terrible disease of scruples. One must have passed through this martyrdom to understand it. It would be quite impossible for me to tell you what I suffered for nearly two years. All my thoughts and actions, even the simplest, were a source of trouble and anguish to me; I had no peace till I had told Marie everything, and this was most painful, since I imagined I was obliged to tell absolutely all my thoughts, even the most extravagant. As soon as I had unburdened myself I felt a momentary peace, but it passed like a flash, and my martyrdom began again. Many an occasion for patience did I provide for my dear sister.
There was something so comforting in reading this passage. A great saint, a doctor of the Church had gone through what I was going through and legitimized it by called it suffering. Scruples is self-inflicted, but that doesn't make it hurt any less.
Better yet, Thérèse wrote about how the Lord healed her of this suffering:
My extreme sensitiveness made me almost unbearable. All arguments were useless. I simply could not correct myself of this miserable fault. How, then, could I hope soon to be admitted to the Carmel? A miracle on a small scale was needed to give me strength of character all at once, and God worked this long-desired miracle on Christmas Day, 1886.

On that blessed night the sweet Infant Jesus, scarce an hour old, filled the darkness of my soul with floods of light. By becoming weak and little, for love of me, He made me strong and brave; He put His own weapons into my hands, so that I went from victory to victory, beginning, if I may say so, "to run as a giant."[1] The fountain of my tears was dried up, and from that time they flowed neither easily nor often.
I realized that I too had received such a grace. The day after the conference I decided to not to go to Mass at my own parish. Feeling exposed and raw, I didn't want to run into anyone I knew. There was a church nearby; our former associate, Father Steve, was now the pastor.
No one celebrates the liturgy quite like Father Steve. His reverence, love and knowledge of each and every ritual raise the celebration to a high art form. His church is a beautiful old cathedral, frescos on the walls, statutes of saints surrounding the sanctuary, and a statue of St. Thérèse in the corner, holding a bouquet of roses. The words spoken and the music sung reverberate throughout. Father Steve is the curator of a large collection of first class relics which are displayed in the side chapel. Six of those relics were set on the altar, each with a blue votive candle.
The sight of those saints caused tears to flow and they kept up, on and off, throughout the Mass. During the Lamb of God, Fr. Steve broke the bread slowly, deliberately, and when he dropped the smallest piece into the chalice it seemed to fall in slow motion. The broken body of my Savior sprang to mind and the full meaning of His sacrifice for me washed over me.
By the time the mass was over, I had been cleansed of my scruples. I too received a grace, just like Thérèse, to overcome this fault.
St. Thérèse is now my constant companion. How wonderful that our Church provides us with these saints that we can not only pray to for intercession but that we can walk with, relate to, and learn from.
There is a saint for each one of us. Who is your special saint and how has he or she walked with you?
Copyright 2013 Susan Bailey
About the Author