Pope Francis has caught a lot of attention, and my children have caught wind of it. I was excited to see these two new books come across my desk.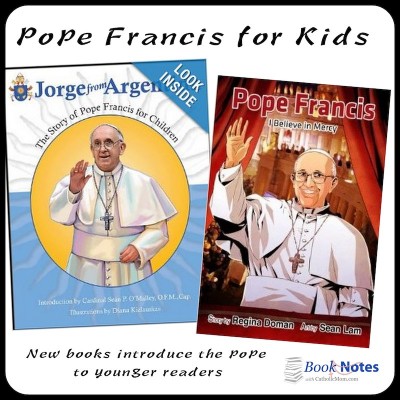 Written by Marlyn Monge, FSP, and Jaymie Stuart Wolfe, Introduction by Cardinal Sean P. O'Malley, OFM Cap., Illustrations by Diana Kizlauskas (Pauline Books & Media, 2013)
This book is available in both English and Spanish and is beautifully done. According to the back cover:
He was a regular boy who lived in an ordinary neighborhood in Argentina. He never imagined he would step onto a grand balcony to cheers from around the world. Discover how Jorge Mario Bergoglio grew up to become the first pope from the Americas—and the first Pope Francis.

This illustrated biography presents Pope Francis's childhood, youth, and adulthood to children. Jorge from Argentina gives kids the chance to connect with Pope Francis and find in his story an inspiring role model of our Catholic faith.

My eight-year-old is just finishing a project for school on Queen Elizabeth, and I suspect she will be keenly interested to read about another world figure. I plan to slip this book into her pile and wait to hear all about it.

Story by Regina Doman, Art by Sean Lam (Manga Hero, 2013)
This book combines two of my favorite people: Regina Doman and Pope Francis. It does it in a way that, I'll admit, is new to me.
While I grew up reading The Picture Bible (and read it to my own children), I haven't really gotten into this whole graphic novel business. And Manga? Isn't that a fruit or something?
Meet them where they are, and that's what this does, and near as I can tell, it does it well.
The back cover says this:
Jorge Bergoglio was just an ordinary teenager in Argentina, until the autumn day he decided to stop by a church. That's when he hears an astonishing call.

But that's only the beginning of Jorge's adventures, which take him into the Jesuit order, the priesthood, serving the poor, and into a bitter conflict when his country is involved in a sinister Dirty War. But Jorge keeps trying to follow Christ, no matter where He leads—even to Rome and the heart of the Church! The amazing true story of Pope Francis, and his experience of the mercy of God.
My eight-year-old is perhaps too young for this...and yet, I've seen her reading books that aren't much different in style.
And the story? Well. It's good. And true.
Be sure to check out our Book Notes archive.
Copyright 2013, Sarah Reinhard
About the Author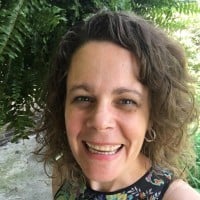 When she's not chasing kids, chugging coffee, or juggling work, Sarah Reinhard's usually trying to stay up read just one … more … chapter. She writes and works in the midst of rural farm life with little ones underfoot. She is part of the team for the award-winning Catholic Mom's Prayer Companion, as well as the author of a number of books. Follow her writing at Snoring Scholar.