"I want the Church to go out onto the streets, I want us to resist everything worldly, everything static, everything comfortable...everything that might make us closed in on ourselves." - Pope Francis at World Youth Day 2013
When I first heard of the "Francis Effect," I smiled. I could see why.
There's just something about him, isn't there?
And as I've followed him in the last year, I find myself no less intrigued by him than I was at his election. I still get a little teary.
So to find a book that lets me spend a year with Papa? That's a gem. And the book is just what I hoped for:
It's a daily dose of Francis, reflection questions for no extra charge. The quotations are curated from homilies given at the Domus Sanctae Marthae, content on the Vatican website, and a few of his books.
Just looking at today, I was struck by how it applies to me:
May 16

Not a Terminal Treatment

[Christian life is not] a terminal treatment to keep us quiet until we go to heaven... Christian peace is a restive, not a torpid peace ... [It] impels us, and this is the beginning, the root of apostolic zeal. The love of Christ possesses us, impels us, urges us on with the emotion we feel when we see that God loves us.

- Homily, Domus Sanctae Marthae, June 15, 2013

Reflection: What emotions do you feel when you consider God's love for you? What role do your emotions play in enlivening your faith and making you a more proactive witness? If you feel little of his love or are burdened and weary, ask God to console you.
What I've seen and heard of Francis isn't rocket science. And it seems, on the surface, to be pretty easy concepts.
That's where he gets me. Every. Time.
I cruise along, nodding at what I read, and then SMACK. I hit the wall and realize that, uh, gee, wow, I'm about a light year or five away from where I need to be.
I'm putting this book on my "What to Get Those Catholics Who Have Everything" list and hey, it's perfect for the non-readers in your life, too! (I can't say that about all the books I love!)
But more than the gift-giving potential Through the Year with Pope Francis is the opportunity it presents us to sit down for a few minutes to really digest the teaching of our Papa.
Order Through the Year with Pope Francis and support CatholicMom.com with your purchase!
Be sure to check out our Book Notes archive.
Copyright 2014, Sarah Reinhard
About the Author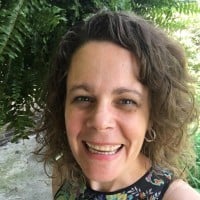 When she's not chasing kids, chugging coffee, or juggling work, Sarah Reinhard's usually trying to stay up read just one…more…chapter. She writes and works in the midst of rural farm life with little ones underfoot. She is part of the team for the award-winning Catholic Mom's Prayer Companion, as well as the author of a number of books. You can join her for a weekday take on Catholic life by subscribing to Three Shots and follow her writing at Snoring Scholar.