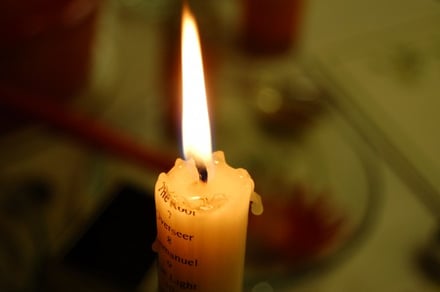 The Advent wreath is my favorite Advent observance for a number of reasons.
First, it involves flames. Fire is pretty, it's warm, and it's light. My kids like to light candles and blow them out and see them on the table, but, really, so do I.
Second, it can be something simple and easy to do, or I can expand it to fit a more in-depth approach to the season. And I can decide that every day, based on the day I'm having.
Third, it holds a lot of fond memories for me, because a dear aunt of mine made it a memory for me, and she made Advent matter through her use of this wreath.
Advent brings us hope.
The first week of Advent, we light the Hope Candle. It's the first purple candle, and it is just the reminder I need as I look at how close—and how far away—Christmas is.
The Hope Candle serves as a reminder of the hope we have in the coming of our Lord. Picture the angel Gabriel visiting Mary at the Annunciation. Just as she said Yes, with no real idea of what was in store for her, so can we. We can embrace the hope that saying Yes to God plants in our hearts.
Walk with Mary this first week of Advent as you get ready for the coming of our Savior. The world around us might be decorated to the nines, but we have to remember that it's not the Christmas season yet.
It's all about getting ready.
The first week of Advent is about getting ready, and the way I start is by asking Jesus to help me every single day. Every year, I have the chance to meet him again in the manger, and every year, I have a whole season in front of me to help me get ready.
I'm going to spend this week of Advent turning to Jesus with every little part of my day, including all the challenges and annoyance, the hurdles and joys, the smiles and tears.
Will you join me? We're sure to find the hope we need to keep going!
Copyright 2013 Sarah Reinhard
About the Author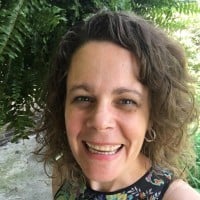 When she's not chasing kids, chugging coffee, or juggling work, Sarah Reinhard's usually trying to stay up read just one … more … chapter. She writes and works in the midst of rural farm life with little ones underfoot. She is part of the team for the award-winning Catholic Mom's Prayer Companion, as well as the author of a number of books. Follow her writing at Snoring Scholar.