Read Him, look for Him, pray to Him, visit Him, share Him, wait for Him, give for Him, live for Him.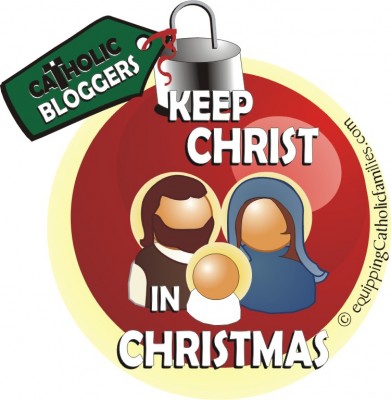 This post is part of the Keep Christ in Christmas Blog Link-Up sponsored by the Catholic Bloggers Network. Over 50 Catholic Bloggers are joining in…come and read what they have to say!
We have all heard the Nativity story, seen reenactments of Jesus' Birth in school plays, Church pageants and even on the big screen. Santa Claus is pretty prevalent too, and we're looking for ways to overpower the looming inflatable Santa Claus and Frosty that have adorned the house next door since mid-November.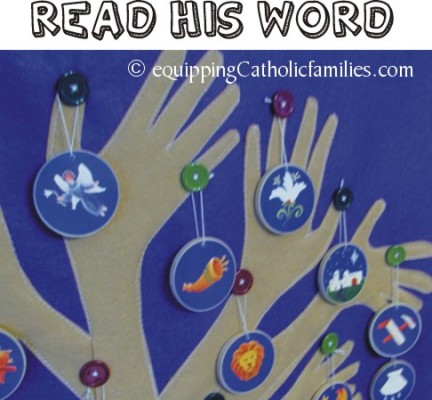 Read Him
For the first time EVER, our family has embraced the Jesse Tree! Each of the 28 ornaments graciously given to us by Jesse Tree Treasures has a symbol representing scripture and there is a scriptural reference conveniently associated with each ornament. The majority of the references come from the Old Testament, showing the timeline of events leading to Jesus' Arrival.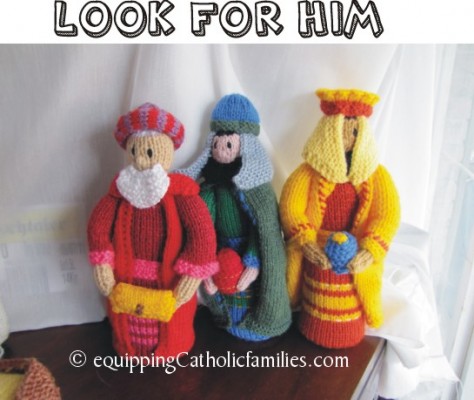 Look for Him
Join the 3 Kings in their search for Baby Jesus! This is a fun little activity, but helps build the anticipation for Jesus' Birth, keeping Jesus in sight, as the reason for the season…in the face of the inflatable Santas and rolling wish lists.
We see it as the Elf on the Shelf activity converted to Catholic! I'm hoping to use our Felt Friends tutorial to make the 3 Kings. I will use magnets in the hands and the feet to help the poseable figures re-enact their adventures.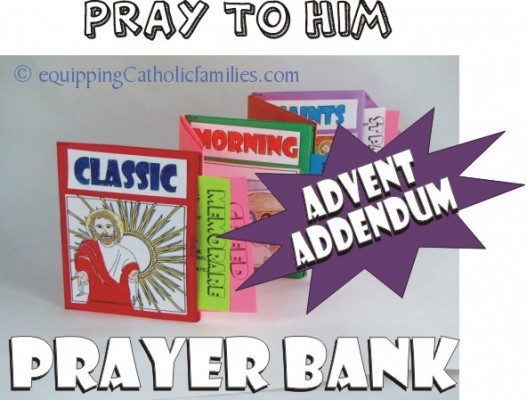 Pray to Him
There are always extra reflections and prayers available for the Season of Advent…in the Church bulletin, seasonal reflection books, online blogs…and craft kits! We took the opportunity to provide a FREE ADVENT ADDENDUM to our popular All Season Prayer Bank. The Prayer Bank already has 74 different prayer cards plus templates to add your custom prayers, but we added a week's worth of Advent prayers, O Antiphons and snippets from the Magnificat to pray each day of the week throughout Advent in anticipation of Jesus' Birth.
The ADVENT ADDENDUM is FREE for subscribers and likers of Equipping Catholic Families…just visit the link and use the special discount code after you hit ADD to CART.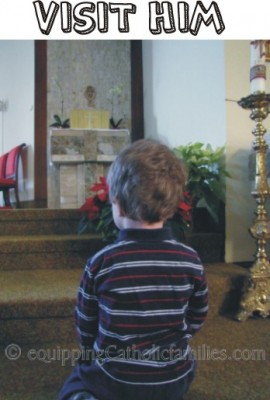 Visit Him
Most parishes offer extra opportunities for Mass or adoration…where we can encounter the living Jesus in our very own hearts, at Church.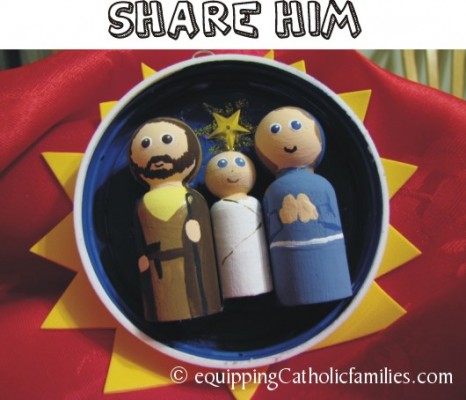 Share Him
Let your love for Him shine through…whether it's through family traditions at home…the Advent Wreath, the Advent Calendar, special prayers after Mealtime, candles in the windows, a star at the top of your tree…or how you approach Christmas.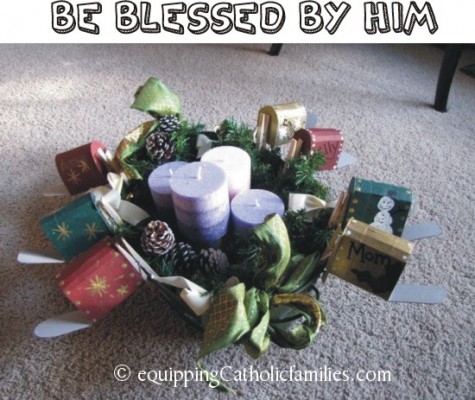 Be Blessed by Him
We combined our Family Blessing Box with the Advent Wreath a couple years ago for a neat centerpiece on our table and a program to foster gratefulness and good deeds in secret.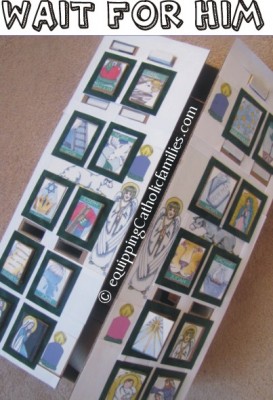 Wait for Him
Our Advent Calendar helps us count down the days until the Birth of Jesus!
The Jesse Tree images help to focus our journey, along with the Nativity pieces, Scripture scrolls or Jesse Tree ornaments tucked inside the little cupboard doors.
Give for Him
We are co-hosting an awesome initiative where your kids can donate a scan of their favorite artwork to elicit donations for hungry kids in Honduras in the Cross Catholic Outreach Art Show.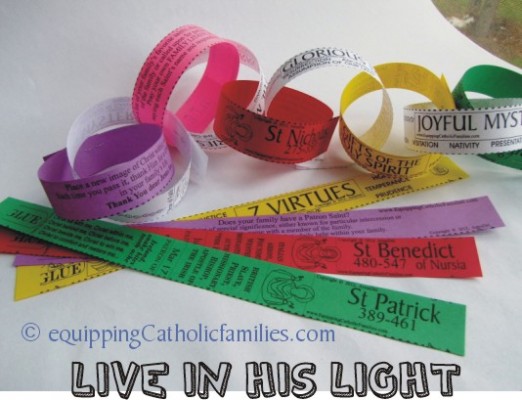 Live for Him
Our Advent and Lent Quest released last year offers 3 paper chain templates filled with family prayer challenges, Catechism and Saint facts to help us LIVE our Faith and walk in His Light.
Copyright 2013 Monica McConkey
About the Author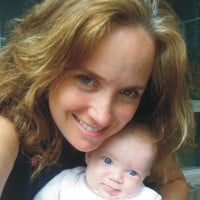 Monica, mom of 5, blogs about Catholic crafts and family traditions at EquippingCatholicfamilies.com. She is an author and creator of Super Saints quizzing cards and over 45 Saint, Sacrament, Catechism and Prayer-packed Craft Kits to help teach the Catholic Faith. The Catholic teaching tools and gifts are available through Arma Dei, the Catholic family publishing company founded with her husband Bill.