This 12 Days of Christmas project was created by a fascinating company I was blessed to discover at the Catholic Marketing Network this past summer.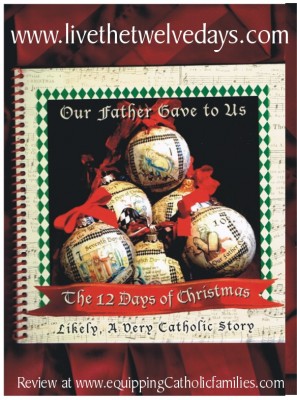 This team of song writer, choir, crafter, and designers have created a jam-packed craft kit focused on their beautifully sung version of the 12 Days of Christmas, explaining the Catholic/Christian meanings of the song.
"Our Father Gave to Us the 12 Days of Christmas" is available on iTunes. You will want to hear this brilliant 5-kid choir!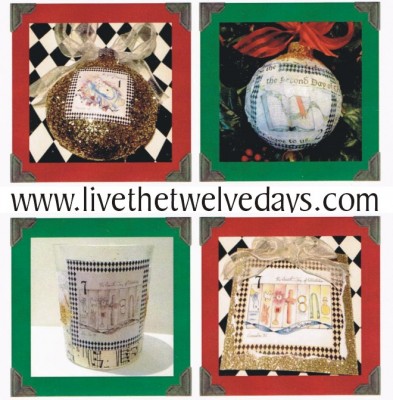 The craft kit includes FOUR different crafts to further articulate the 12 Days of Christmas within Christmas decorations and traditions, encouraging us to continue celebrating Christmas well after December 25!
This craft kit is packed!
30 pages of original artwork,
4 craft projects including 2 types of ornaments, votive candle art, and gift tags.
(The craft kit is also available as a PDF download)
If you find that you are running out of time to do crafts…the book Our Father Gave to Us the 12 Days of Christmas is a beautifully illustrated, full-color book with original artwork and text.
The book is available spiral bound…and as an e-book on iTunes and you can buy any or ALL at the Live the Twelve Days Shop.
Check out this video to see the beautiful artwork and hear the special version of the 12 Days of Christmas, sung by The Carpool Choir.
I have also been blessed to discover Jesse Tree Treasures!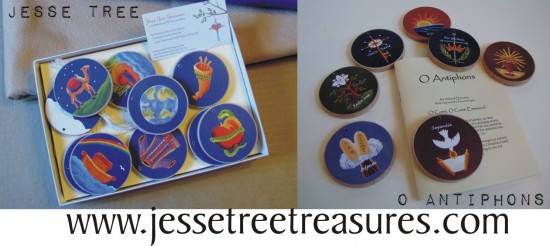 You may remember the Jesse Tree ornaments I showcased in time for Advent. Well, not only did they provide me with the lovely Jesse Tree ornaments and ornaments for the O Antiphons, but they also gave me these beautiful ornaments for the 12 Days of Christmas.
If you would like to transform your Jesse Tree for the 12 Days of Christmas…order these ready-made, beautiful wooden ornaments from Jesse Tree Treasures!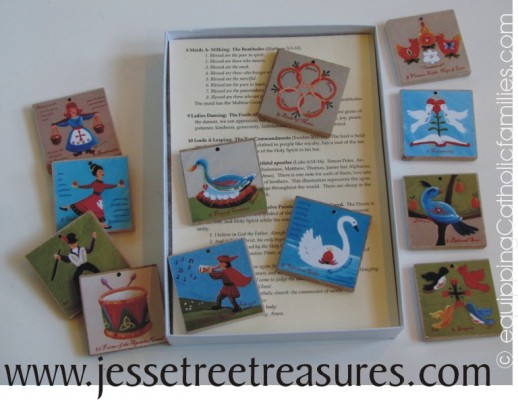 Wouldn't YOU like to live the twelve days of Christmas this year?
Copyright 2013 Monica McConkey
About the Author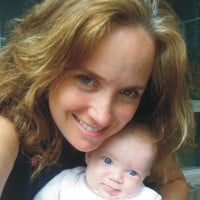 Monica, mom of 5, blogs about Catholic crafts and family traditions at EquippingCatholicfamilies.com. She is an author and creator of Super Saints quizzing cards and over 45 Saint, Sacrament, Catechism and Prayer-packed Craft Kits to help teach the Catholic Faith. The Catholic teaching tools and gifts are available through Arma Dei, the Catholic family publishing company founded with her husband Bill.