Where will you spend the holidays?
When my wife and I were married we had an added layer of complication for this momentous life event. Eileen came from an Eastern European Jewish family and I came from a Catholic Filipino one. Looking back on those times, the various books I read and research papers I'd written on Jewish Catholic relations, some of the best free advice frequently given to interfaith couples was to face the question: "How will you deal with the holidays?"
Newlyweds and not-so-newly-wedded confront these annual festivities and the logistic entanglements that come with it. "Whose house do we go to for Thanksgiving?" "We went to your family's house last year." "If we spend Christmas here, can we spend New Year's there?" "This could be grandma's last holiday with us..." The list goes on. Even in the purely secular world this time of year is beset with a mad rush and frenetic pace.
Our Story
In the early days of wedded bliss there was a certain kind of uplift for us, personally, in carving out our own space and traditions. Our own professional careers took us farther away from both our families. A series of deaths and family circumstances also served to shape the how, when, and wheres of future holidays to come.
It is by no means an insignificant memory that our first Christmas as newlyweds was also the last Christmas my side of the family ever spent together in my parents' house where we all grew up. Typical of Filipino celebrations, one singular event became an umbrella for others. In this case, it ended with a baby shower for my younger of my two sisters, whose birthday is the Feast of the Epiphany.
This past Thanksgiving, my family went to its "traditional" home in the Poconos. A friend had bought this place with his wife not long after they were married. They too were seeking a new life. With the recent passing of his mother, they were able to leave the pace of their NYC lives, buy a home, and take a chance on change. Though part of that change was divorce three years later, my friend kept the house.
It's a great house. Great in size and hospitality. Great in location. This was the area where my family used to spend our Christmas holidays, our own ancestral Bethlehem of sorts. Great for kids and grandkids to be. Great for pets.
It's great for the company it welcomes: Our host, the only son of now deceased parents raised Catholic and now non-practicing but spiritual; Dee, my sister-in-law, a med-surg nurse by profession now on disability, and her husband, a lapsed Catholic, politico and avid atheist; her best friend now widowed by a military veteran, who was also the best man at Dee's first wedding; another Asian Jewish couple--the Chinese husband went to high school with my wife--and their two daughters. And there are others who come and go making some years a bigger or smaller gathering.
What We Share
Religion and politics is perfectly fair game for this predominantly boisterous and opinionated New York and New-York ex-pat crowd. But we usually try to keep a civil lid on it about as much as we never outwardly say what it is that brings us together: We are each other's family.
Family by marriage and friends. Family by attrition. Family by childhood rites of passage. Family by trials of life. Family (mostly at least in my mind) because these are the people who have been there the most in our adult lives when we laughed and cried at weddings and marital break-ups, at births and funerals, baptisms and bar/bat mitzvahs, or even just the occasional backyard barbecue.
We don't all pray together or even play together. But as humble and motley as an imagined Thanksgiving gathering, we can cook up and eat with the best of them! And like the Mass itself: We Gather, We Share Stories, We Share a Meal, We are Sent Forth with glad tidings back into the world. Until we meet again.
Often, as is the case, Advent bumps up against Thanksgiving. So after platters of food and bottles of cheer and a few days to work it off, my daughter and I quietly hike our way down the mountain to a nearby church to be with that parish as it celebrates the start of the Advent Season, our prelude to ultimate Thanksgiving and Peace. But this year, Hanukkah also is ready to be served up, even before the turkey and cranberry sauce. Pile on the latkes and light the menorah so that the miracle of light can last us through these great 8 days where miraculous things happen.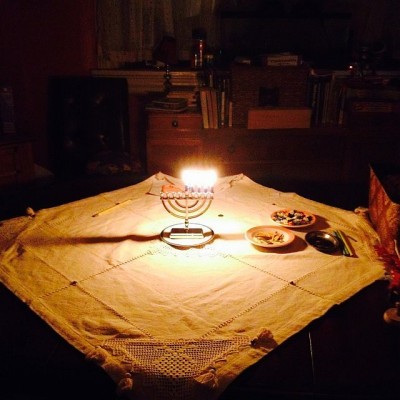 I am no fan of Advent Wreaths (my former pastor would scoff at them as a Lutheran invention to aid the less enlightened in counting four Sundays...how hard is that to do?).
But there is something more authentic, despite its simplicity, in praying the Hanukkah blessings and lighting the lights. Something simple even for the opinionated or purely secular: That which was thought to not be enough was more than enough.
Against the odds of winter's dark is the warmth of light. Great and greater deeds have been done for us here and for them we are thankful.
Sent Forth
When this column appears in December, so much more will also have come to pass. Hanukkah will be behind us, so too (God willing) will be my daughter's Acceptance into the Order of Catechumens. May her path and those others I bring to the church doors on that day lead to the light of Christ.
I will have brought close to 100 confirmation candidates before the bishop to be anointed as "Little Christs" in Confirmation during this Advent season. May the Holy Spirit set their hearts aflame. Our diocese will have celebrated and awarded outstanding volunteers who minister to our youth. Two of my bilingual catechists will be among them. May their example of ministry continue to lead our parish. Finally, my mother and I will have the chance to celebrate yet another year in the Lord's favor. (Happy Birthday, Mom!)
Until We Meet Again
My birthday, as it has always been since 2004, is one month before the birth and death of my only son, Joshua Emet. My mother's birthday is typically the feast of the Immaculate Conception (what mother would ever let her son forget that?) But it is also in world history past the same day (in the Philippines) that Japan bombed Pearl Harbor: a testimony that birth and death then and there have life into forever here and now. (My son won't let me forget that either).
So many things to gather around a table, count down and proclaim. So many wise wounds and ways we have to reflect upon our time amidst this holiday bustle that glimmers with God's glory shown round about.
How will you celebrate these holy days to come? What are you thankful for here and now? What will count for you? What great miracle has happened in your life? Who is coming and what are you waiting for?
Copyright 2013 Jay Cuasay
About the Author

Jay Cuasay is a freelance writer on religion, interfaith relations, and culture. A post-Vatican II Catholic father with a Jewish spouse, he is deeply influenced by Christian mysticism and Zen Buddhism. He was a regular columnist on Catholicism for examiner.com and a moderator and contributor to several groups on LinkedIn. His LTEs on film and Jewish Catholic relations have been published in America and Commonweal. Jay ministered to English and Spanish families at a Franciscan parish for 13 years. He can be reached at TribePlatypus.com.