It's always the same thing; I start any project with great enthusiasm and high hopes. And after the shine dulls a little, I lapse into my old, comfortable, slacking ways.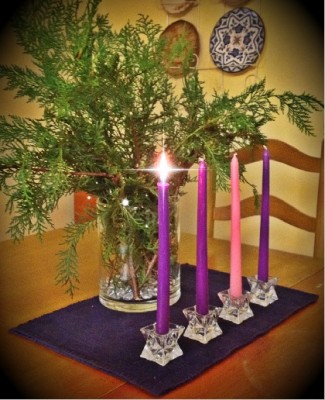 I didn't think my Advent would deteriorate so quickly, but I'm afraid it has burnt out with the speed of that first, cheap, purple candle. I can see it will be used up before we get to Gaudete Sunday.
That's how I felt as I sat down to dinner midway through the first week of Advent. Even though I was sitting next to the candles, the lighter within my reach along with Lisa Hendey's book, O Radiant Dawn, I still absent-mindedly crossed myself and looked to my husband to lead us in the blessing before our meal.
He just blinked at me, looking a little hurt. "You're not going to read from your book?" I looked at him with a blank expression.
"The candle." He gestured encouragingly. "Are you going to light the candle?"
It took me a moment to grasp what he was talking about. I had a week full of distractions and worries that got the best of me and I forgot.
Certainly, I forgot Advent -- but really, I think I just threw myself into autopilot. In choosing to forget my worries, everything else went with it. There's no question I wanted a little peace, but thank God my husband was there to redirect me. I'm not going to find peace on my own -- at least not a peace that's real, enduring, grounded in God and trusting in his will.
We laughed a little, his rueful smile an unspoken acknowledgment of the things on my mind. At his gentle urging, I picked up the book and read:
Root of Jesse, in you we find the path to wisdom and understanding, for you are the source of our courage and strength.
My husband didn't dismiss the pain I had been feeling. On the contrary, his smile and expression were sympathetic to it, but in pointing to the candles, my husband modeled the whole posture of Advent, that there's a light burning for a reason. That I should raise my face and look toward that Light.
Copyright 2013 Maria Morera Johnson
About the Author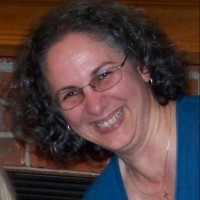 Maria Morera Johnson, author of My Badass Book of Saints, Super Girls and Halo, and Our Lady of Charity: How a Cuban Devotion to Mary Helped Me Grow in Faith and Love writes about all the things that she loves. A cradle Catholic, she struggles with living in the world but not being of it, and blogs about those successes and failures, too.