Jeremy Lin turned the basketball world upside down when he walked off the New York Knicks bench, onto the court, and did his thing.
A majestic, amazing, supernatural thing.
Long time fans, fair weather fans, and new fans alike caught Linsanity. I remember. I was one of those viewers, too many miles away from New York to be tuned in, and yet, caught up in the hype with the rest of the country. Who was this guy? And where did he learn to play basketball like that?
Director Evan Leong lets Jeremy answer that question in his documentary, Linsanity. The answer is not what I was expecting.
The film opens with a sports announcer marveling that "Jeremy Lin came from nothing, to greatness."
That's not quite right. Jeremy comes from a family that places faith first. That faith not only keeps him going through periods of adversity, but it gives meaning to his success on the court, and the perspective that basketball is a game -- other things have greater meaning. Jeremy speaks of his faith in very grounded, natural terms. It's a part of his life, just like his family roots, just like the game he loves.
Jeremy Lin's story inspires. He overcomes failure, racial stereotypes, and the insecurity that leads to poor performance on the court. Although an excellent player, he misses opportunities to play on powerhouse teams in college, and then, when he does get picked up by an Ivy League school, gets passed over in the NBA draft.
Director Leong takes us behind the scenes to his childhood, interviews family and friends, former coaches, and Lin himself. The result is a beautiful story of multigenerational dreams, persistence, and ultimately, a trust in God's perfect plan. We're treated to Lin singing his favorite Disney tunes along the way, and a self-deprecating humor that reveals a great deal about his character.
We also see him hit a low point, as he fails to make his mark on two professional teams before being given one last, desperate, chance for success with the New York Knicks. He questions himself, "How am I going to be myself with everyone looking?" It emboldens him to play with abandon -- to play for God, not himself.
And that is when Jeremy finds himself on the court and turns around a losing streak for the Knicks. It's also when he discovers that God's perfect plan is perfect as God designs it, not as he desires it. Lessons are learned through mistakes and failure. He resolves to "do it my way, which is God's way."
The rest, as another sports announcer says, has "evolved into the best story in sports today."
Director: Evan Leong
Running Time: 88 minutes
Rated: PG for some thematic elements and language
Purchase Linsanity and support CatholicMom.com with your purchase.
Copyright 2014 Maria Johnson
About the Author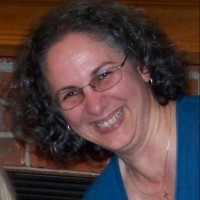 Maria Morera Johnson, author of My Badass Book of Saints, Super Girls and Halo, and Our Lady of Charity: How a Cuban Devotion to Mary Helped Me Grow in Faith and Love writes about all the things that she loves. A cradle Catholic, she struggles with living in the world but not being of it, and blogs about those successes and failures, too.