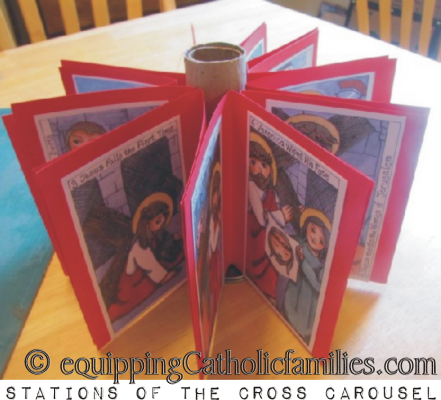 Today is Good Friday: the anniversary of the Stations of the Cross!
Here is a little craft we did to help us meditate on kid-friendly images while we pray the Stations of the Cross. See the Stations of the Cross Carousel at Equipping Catholic Families.
It has been a long journey through Lent!
Sunday begins the 50 day season of Easter:
Are you ready to celebrate Jesus' Resurrection for 50 whole days?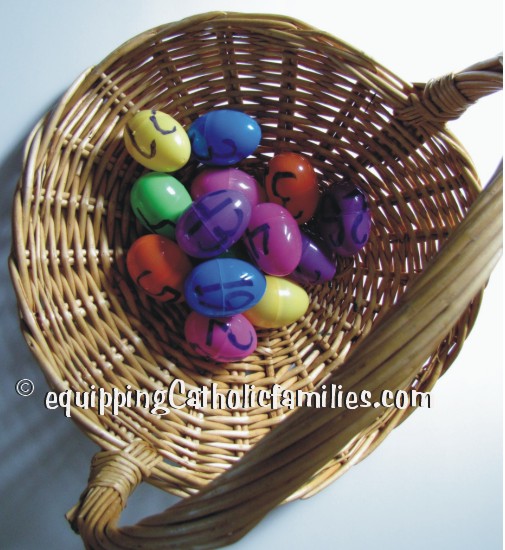 We have decided to add 50 numbered eggs to our Easter hunt. We want to prolong the celebration of Easter! While finding more eggs will add to the fun on Easter Sunday, we are not going to open all of these numbered eggs right away.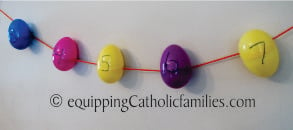 We will have plenty of other number-less eggs and treats for the much-anticipated return of chocolate into our house on Easter Sunday, but we will only open ONE of the numbered eggs on Easter Sunday: Egg #1.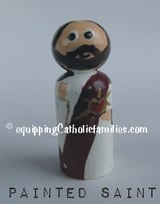 We're looking to fill these Easter Eggs with something more precious than chocolate, for each day of the Easter Season. We're going to number the days of the Easter Season right up to Pentecost on our fridge calendar, opening the corresponding numbered egg each day. We're going to fill them with reminders of Jesus' triumphant Resurrection (Scriptural quotes), hope and joy-filled quotes from the Saints, special prayers and reminders of God's Love for us through Jesus' Sacrifice.
Inside Egg #1, we will find the Risen Jesus (from our Wooden Painted Saint series)
We're going to pay special attention to Saints' days coming up, and likely place that Saint's holy medal, Wooden Painted Saint or Kelly Saints Glass Pebble within that numbered egg.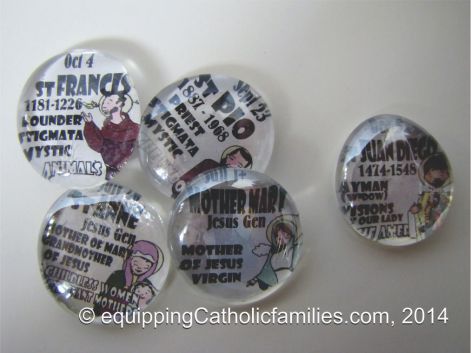 Kelly Saints Glass Pebbles are part of our newest craft kit, just released: Kelly Saints Stamps, templates converting classic games and activities to be Catholic!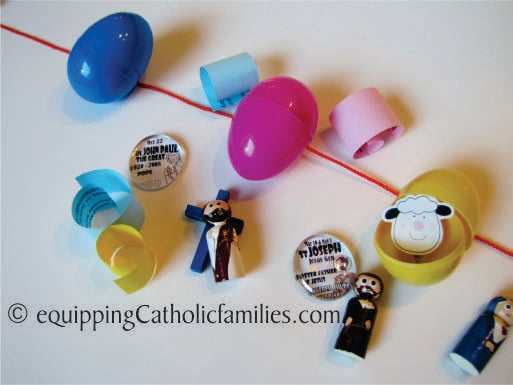 In addition to St Joseph (May 1) and Mother Mary (Month of May), we're looking for lots of fun little surprises to include within the eggs.
We might include Family Prayer and Catechism challenges from the Advent and Lent Quest Craft Kit. The kit also includes paper chain links with compact life facts and quotes of the Saints, if we'd like to learn about a different saint each day. If we print the little challenges on white and red paper, we'll end up with a nice paper chain to add to our Pentecost decorations at the end of the Easter Season!
What would YOU fill your Catholic Easter Eggs with, to celebrate the 50 days of Easter?
Leave a comment for your chance to win your choice of Cathletics Craft Kit from Equipping Catholic Families!
Copyright 2014 Monica McConkey
About the Author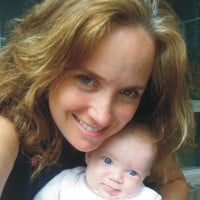 Monica, mom of 5, blogs about Catholic crafts and family traditions at EquippingCatholicfamilies.com. She is an author and creator of Super Saints quizzing cards and over 45 Saint, Sacrament, Catechism and Prayer-packed Craft Kits to help teach the Catholic Faith. The Catholic teaching tools and gifts are available through Arma Dei, the Catholic family publishing company founded with her husband Bill.