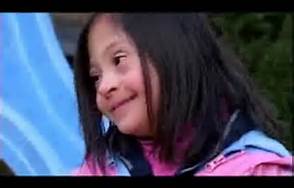 If I could give my daughter Christina (who has Down syndrome) a gift for Christmas, it would be a friend in her class now that she changed to middle school. She only had one friend in her class at her elementary school, and her name is Charlotte.
Here is a story from Christina's perspective about how Charlotte made a scary place happy by taking the time to include a little girl who isn't quite like the others in class.
***
It was a creepy place, that Haunted Mini Golf. The walls were black, fluorescent ghosts floated everywhere, scary music was playing really loud, and stinky smoke was coming up from the floor. Yuck!
I stopped at the front door, thinking maybe I didn't want to go into that noisy place. Kids were screaming in there! I hate dark, noisy places like movie theatres. I thought, "How would a birthday party in there be fun anyway"? I tried to back out, but my mom held my hand tightly and I knew that if she was going in, I had no choice.
We walked in, and, as we stood in the entry, our eyes got used to the dark, but Mom and I didn't recognize anyone, so all I wanted was to get out of there, and go home. I started pulling on Mom's hand as I walked towards the door. I started to cry.
Suddenly, out of nowhere, I saw Charlotte. She left her party in a quiet room when she saw me looking scared.
"It's okay," she told me, taking both my hands with a big smile on her face, "all our friends from class are here. Come and see."
Charlotte led me into the party room, and soon I saw all our friends from Mrs. Driscoll's second grade class. They were playing a cool game of glow-in-the-dark mini golf and gave me a hot pink golf club which matched my pants. I hit the ball into the little house after a few tries, and I wasn't afraid any more.
Then we got some glow-in-dark bracelets and danced to music we like at school, and the bracelets made circles in the dark. Next Charlotte's mom served pizza and soda. After that, we ate some chocolate cupcakes with green crunchy sprinkles.
It was fun to be with my friends even in that weird place, and I had a great time with Charlotte, who played with me the most of anyone. I was really happy she saw me and helped me come inside her party. Next time she had a party, I wanted to go, because she is really nice. She doesn't care if I get scared sometimes or that I'm shy and have trouble making friends.
I am eleven years old and have brown hair and brown eyes. I have two older sisters and we have three cats, one dog, and six chickens at our house. I like to wear my pink-polka-dot crocs every day to school, because they are comfortable and easy to put on. I am supposed to wear glasses, but I don't like them very much. My favorite colors are hot pink and purple.
Most people notice how I look different and how I can't talk like everyone else. Sometimes it's hard to remember the words I want to say, so I use my iPad and sometimes I talk with my hands. Not too many kids understand me, and it makes me embarrassed when they stare at me.
Once, in the library, two kids asked my Mom what country I come from, because I talk differently, so she told them I don't come from another country, I just have Down syndrome. Sometimes kids at school don't know what to say to me because I don't speak very well, so they go and play with someone else. Ouch, that hurts my feelings! I just want to be part of the group when everybody's playing a game. Why can't I just play with everyone else?
That's why I like Charlotte. She doesn't care if I forget my words or if I look different. She doesn't laugh at me when I can't run like the other kids or when I trip and fall. At recess, I can't go on the playscape because my neck might get hurt. It makes me sad because I used to play follow-the-leader with all the kids together.
Sometimes Charlotte comes and plays catch or hula hoops with me. Sometimes she brings a friend with her and we all play hopscotch. Those are the best days. I like Charlotte very much. I wish more kids were like her. When she smiles, my heart is happy and I smile too.
Charlotte saved the party for me, and she is my best friend. I wish there were more kids like Charlotte; the world would be a happy place.
How do help your children learn to include special needs children in their circle of friends?
Copyright 2013 Leticia Velasquez
About the Author