"I have told you these things, so that in me you may have peace. In this world you will have trouble. But take heart! I have overcome the world" John 16:33
It was one of those days you couldn't have made up if you tried! I just had to let God be in charge because there wasn't a darn thing I could do to unravel the craziness going on around me!
The little lovelies were excited beyond imagination about the upcoming arrival of St. Nicholas so the noise and energy level in room 1-2 was a few decibels higher than normal but there was no mistaking the cell phone ring from my computer table. My phone rarely rings and if it does, I leave it until recess. But something made the hair on the back of my neck stand up when it rang…funny how that happened.
As I picked up the phone I could see on the display that it was son number 2. Jason had two big exams that day making my laid-back easygoing son a bit ruffled. His voice on the phone made me ruffled too.
He was reporting the indicator lights displaying on his dashboard as he traveled from one campus to the other between exams. As he was reading the messages from his dashboard, I heard dinging and then he said, "well, now there's smoke coming out from under my hood so I'm pulling off the road".
Hmm, what now? Unless I could load 20 seven-year-olds into my Impala, there was no way I could rescue him. Waiting on a tow truck, switching vehicles with his brother (who just happened to be home), and still getting two exams taken all fell in place but not without a lot of stress and blood pressure increases.
Once I realized everything in his world was in order, the phone rang again…no kidding…I answered it and it was son number 1. He was home working on Miles, Shannon's stubborn, high-strung steer getting him ready for the big Winter Beef Classic show at Michigan State two days later.
Something spooked Miles and away he went across several fields until he came to a nice bean field way down the road. He had no intention of coming back home easily. The great escape occurred about noon and he wasn't returned to the barn until nearly 6 that evening. Shannon was out in the field with her dad, brother, and some great neighbors in the freezing cold.
As a side issue, Shannon was being inducted into the National Honor Society at 7 and had to somehow magically transform herself from the tomboy wearing muddy chore clothes and boots to a lovely young lady dressed in the new dress hanging on her closet door. We were also in a time crunch because the speaker for the induction ceremony was me...just a little stress!
Add to all that the fact that I had been booked to speak at three different events during the week and during lunch, between phone calls from the boys, I was working on a PowerPoint for a big presentation Friday night and accidentally deleted three hours of work in one simple click of the mouse.
I jammed the copy machine, gave half of a spelling test with the wrong words, used a permanent marker on the white board and drove all the way down our gravel road to school with my scarf half hanging out the car door.
But through it all, there was calmness in my soul, partly because there wasn't a darn thing I could do about any of it but mostly because I did the one thing I could—PRAYED without ceasing. I prayed for patience, peace, safety, comfort, and perseverance. I prayed not because it was all I COULD do, I prayed with an expectant hope because it was all I NEEDED to do.
When the day was finally over and Dave and I crawled in bed we recounted the day. We didn't know the extent of the repair bill on the Pontiac and we witnessed the disappointment on Shannon and Kevin's faces when they realized Miles wouldn't be going to MSU: those were the yucky parts.
But the good news was abundant! The Pontiac smoked in a good spot, not on the freeway or in downtown Lansing, but on a less busy road not all that far from home and the tow truck came in time for him to make it to his next exam on time. Miles was back in the barn and nobody got hurt. Everybody learned big lessons in patience and we were reminded of the value of great neighbors. Miles taking a run down Pratt Road on a Thursday afternoon was a much better deal than him taking a run through the Ag Pavilion at MSU with 1,100 other head of cattle and hundreds of people to crash into.
God was good that day and He worked through some crazy circumstances.
Joy is God's gift to us. Joy isn't an emotion; it's the state of being completely in the will of God. Sometimes that's an easy, cozy place to be and other times it's tricky, disappointing, and stressful. That true joy comes sparkling through when you realize in the middle of all of it that God has you in the palm of His hand and everything will be fine.
Sometimes it takes things like a smokin' Pontiac and a crazy steer to build patience, trust, and expectant hope in the Lord who loves us ALWAYS and UNCONDITIONALLY. He doesn't give us crazy days to punish us, He shows up in them so we can see how much He loves us, protects us, and guides us!
A Seed To Plant: Start each day this week with a prayer for peace and for a greater awareness of God's presence in your life.
Copyright 2013 Sheri Wohlfert
About the Author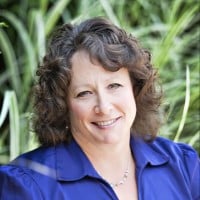 Sheri is a Catholic wife, mom, speaker and teacher. She uses her great sense of humor and her deep faith to help others discover the joy of being a child of God. Her roots are in Kansas but her home is in Michigan. The mission of her ministry is to encourage others to look at the simple ways we can all find God doing amazing things smack dab in the middle of the laundry, ball games, farm chores and the hundred other things we manage to cram into a day. Sheri also writes at JoyfulWords.org.