Recently, I posted about crafts you can make on a SNOW DAY over on my blog Equipping Catholic Families. While I was researching, I was delighted to discover these adorable Egg Carton People made over at Michele Made Me.
I bought the TWO awesome tutorials that Michele offers...and the only thing holding me back is I don't have enough empty egg cartons! I now have friends and family saving empty egg cartons for me…and so far, I have resisted the urge to raid my neighbor's recycle bin.
These are SO CUTE and fun to make!!
I decided to start my Egg Carton Communion of Saints with Mother Mary. Michele has an Egg Carton Nativity set that is awesome and I only strayed a little to make my Mother Mary. I needed to add her signature blue veil and a shiny halo.
I'm not going to give away all the handy tips from Michele's tutorials, but these are my pictures of the Egg Carton Mother Mary supplies and process.

Michele has figured out how to make the little figures with the different forms you'll find in an egg carton. You will never see egg cartons the same way again!
I used scissors and glue and a couple elastics to cut the components and hold the glued pieces of egg carton in place. The eyes are hole-punched from the left over pieces of egg carton. I think I will paint the cardboard white before I hole-punch them next time.
After the pieces of the head and body were glued together and left to dry, I painted them.
Once they were dry I could glue the final assembly of all of the pieces: body, shawl, head, hair, veil, halo.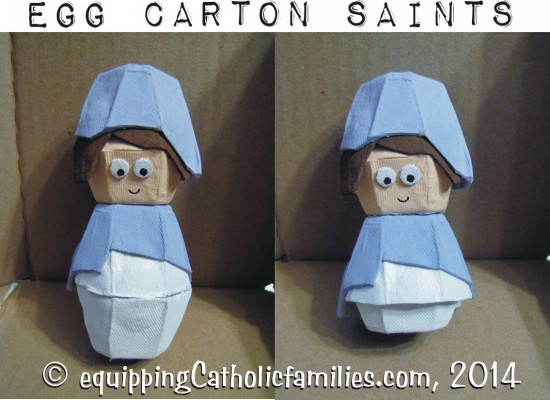 I originally made Mother Mary pretty tall, using as much of the egg carton cup as I could to construct the body.
I then decided that she was too tall! I decided that I wanted the flexibility of adding taller saints...and I suspected she might look even cuter if she was a little shorter and...dare I say...a little chubbier? I was a little nervous as I cut the two pieces of the body apart, but I like the final result. She reminds me of the Fisher Price Little PeopleTM . I suspect that I will be making many more Egg Carton Saints... as soon as I collect more cardboard egg cartons!
What Egg Carton Saint would YOU like to see next?
Copyright 2014 Monica McConkey
About the Author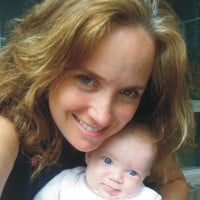 Monica, mom of 5, blogs about Catholic crafts and family traditions at EquippingCatholicfamilies.com. She is an author and creator of Super Saints quizzing cards and over 45 Saint, Sacrament, Catechism and Prayer-packed Craft Kits to help teach the Catholic Faith. The Catholic teaching tools and gifts are available through Arma Dei, the Catholic family publishing company founded with her husband Bill.