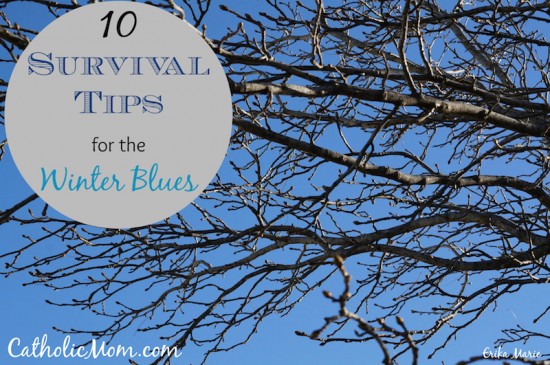 Bleak, cold, gray, damp, blah.
All those are words can be used to describe this time of year when the cold has set up camp, in some places the snow has covered the land and will not melt until April or May, and the wind howls and stings our faces. It's almost cruel that this harsh season follows so soon after all the excitement – and stress – of the Advent and Christmas season. Suddenly, after being so busy with fun activities and family and friends, the world goes into hibernation mode and it's easy to feel as sad and "blah" as the weather outside.
If you are feeling fatigued and generally unmotivated to do much of anything except curl up on the couch with a warm blanket you might be suffering from the Winter Blues. If so, don't worry! You are not alone and as sure as the sun rises every morning, winter too will end and make way for spring! Until then, here are…
Ten Survival Tips for the Winter Blues
1. Sunlight is Your Friend!
One of the main reasons people get so depressed during the winter time is due to a decrease in their exposure to sunlight. Keep in mind, though, that even if it's cloudy those UV rays are still coming in. Look for precious rays of sunshine wherever you can throughout the day and soak in as much as you can. If you are blessed with some warmer and sunnier days, take full advantage of them and spend some time outside and let the sun work its "magic."
2. Supplement.
Some people benefit from taking extra Vitamin D-3 - to make-up for the lack of sunshine that your skin uses to produce it on its own. Fish Oil and a general multi-vitamin might be helpful also. I call these three together my "happy cocktail"
3. Get a Happy Light.
...like this one: I haven't personally tried this but have heard a lot of great reviews about using these as another way to counter the decrease in sunlight during these cloudy winter months.
4. Move and Stay Active!
Even though you might feel like doing as little as possible, gather whatever strength and gumption you can muster and get moving! Exercise, join a health club and attend exercise classes, run up and down the stairs, or – even better – turn on some funky music and dance those blues away. If you have young kids at home this is sure to lift their spirits as well.
5. Eat Healthy Snacks.
While you are stuck in the house trying to stay warm on the couch, you'll probably start craving things like potato chips, muffins, scones, cookies, chocolate – anything that has sugar and requires the least amount of effort to make and eat. While these foods bring comfort, they'll also help "thicken" you up for the winter. All that excess sugar brings momentary enjoyment but has a heck of a depressing effect later.
Try snacking, instead, on high-protein items like nuts, hard-boiled eggs, fish, and simple fruits and veggies – even if they are slightly lackluster and out of season. Also, be sure to stay hydrated and drink plenty of water and remember that tea, coffee, and soft drinks dehydrate your body and contribute to physical fatigue and other health issues.
6. Stimulate the Brain.
Find a thrilling novel or a read about a subject you'd like to learn more about. Try a new hobby or craft and keep that those brain waves flowing.
7. Socialize.
While everyone goes into hibernation mode for the winter, it tends to get rather lonely. Call a friend, send handwritten cards and letters to relatives and friends far away, invite friends over for a breakfast or coffee break or meet up somewhere, or host a play date and give your mom friends and their kids a chance to get out of the house for a while.
If you really can't fight the urge to bake, use that urge to do something nice for others. Bake up a nice warm batch of hearty muffins and then share it with your neighbors, someone who is truly shut-in, or with a friend. (This will also prevent you from eating them all!)
8. Brighten Up!
Look for a brighter colored item of clothing or accessory to add a little bit of color to these otherwise drab winter days. (Tip: Look in the clearance racks or discount stores for fun surprises left over from summer and fall wardrobes.)
9. Tackle a Project.
If you're going to be stuck inside for a while you might as well make good use of your time. Go around your house and look at what might need some extra love and attention. Winter is a good time to work on home maintenance and organizing projects.
10. Journal and Pray.
Find a special notebook you can use to jot down your thoughts and feelings. Sometimes it helps to get those emotions out on paper. Make goals for this season and long-term goals for the year that can restore your sense of purpose and direction.
Spend your extra days cooped up in the house in prayer. Offer up this time for those who are grieving the loss of loved ones or suffer from severe depression and other mental illness. Let the love and peace of Christ warm your soul and shed the light of Hope on your days.
How do YOU survive the winter blues?
Copyright 2014 Erika Marie
About the Author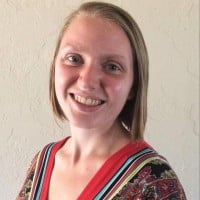 Erika Marie is a simple Catholic, Wife, and Mama. She relishes snuggles and free time with her family and enjoys reading, writing, blogging, and has a slightly obsessive addiction to creating Canva graphics. Enjoy more reflections by Erika at her personal simplemama blog.