Atchison Blue: A Search for Silence, a Spiritual Home, and a Living Faith was a complete surprise to me. A whap-to-the-side-of-the-head walloping shocker. Why? I'm not completely sure, but the surprise was delightful and refreshing. It's good writing, for one thing, and it's also honest in a way that I appreciated. So much of Valente's story and struggles resonated with me.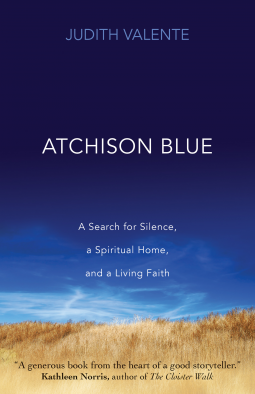 I haven't figured out how Valente spent so much time with the sisters at the Mount St. Scholastica monastery, but I'm glad she did, and I'm glad her journalistic training prepared her to capture it to share with me.
This book spoke to my heart and applied to my experience. Valente faces a challenge, and the challenge is life. She carries a burden, and the burden is hurt. She seeks a solution, and the solution is Jesus.
Atchison Blue is part memoir, part guidebook, part something I don't know how to name. It explores difficult questions of faith and hard experiences of life. It's raw and gritty and fun to read, somehow. There's laughter, but there are tears, too.
I had a chance to talk with Valente about her book, the writing process, and how it relates to our vocations and lives as Catholic women and mothers. Here's our conversation:
SARAH: Judith, I was not expecting much from this book: to be honest, the back cover and inside flap didn't really give me an idea of what the book would be. I read it, really, as much out of curiosity as anything. Tell us about the book as you would tell your friends or family members about it, as opposed to the marketing language.
JUDITH: What I tell friends is that I walked into a place I'd never been before and knew that something life-changing had happened to me there. I knew I had found something I had been looking for. And it happened in a monastery, of all places, and in Atchison, Kansas, of all cities -- a spot on the map I had never even thought about, much less visited.
When I sat in that monastery's chapel for the first time, just soaking in the silence and peacefulness of the place, I knew that something had to change in my fast-paced life.
The hospitality of the Benedictine sisters also shone through as much as the sunlight did through the stained glass windows that first morning in the monastery's chapel. The sisters seemed to carry themselves with such ease (as opposed to the angst I am usually feeling as a high-strung writer). I loved how genuinely interested they seemed in the guests who entered their monastery. And I saw how lovingly they interacted with each other.
You might think monasteries cultivate personalities that are all in the same mode. Not so! Each woman I met in this monastic community was a unique character with a fascinating life story to tell.
Community has always been important to me and something I sought out throughout my life. I was single and living on my own for a very long time before I married. And I haven't lived near any members of my immediate family since college (not by choice, it's just where my work life took me). So forging community wherever I went meant a lifeline for me. Monasteries are the mother of all communities! Monks and sisters forgo having spouses and children. Their community becomes the source of the friendship, love, support and encouragement we all need to thrive as human beings.
SARAH: I was shocked how much your experience applied to my own life. What about your book do you think transcends the "how we're different" aspects of life and taps into the ways we are all seeking and searching?
JUDITH: You know that I write poetry, and we poets have a saying, "the more personal, the more universal." I may write as a professional journalist and married woman in a blended family, but any woman -- or man -- can identify with the kind of struggles I write about in the book related to my career, marriage and efforts to forge a blended family. I am not so unusual in my search too for something deeper, more meaningful in my life.
I think when we're being very honest with ourselves, we all have this dread that we'll die without ever knowing who we were truly meant to be in this life, and what we were meant to do. Most of us can anesthetize those nagging doubts by consuming ourselves with work, acquiring grown-up toys, or even immersing ourselves in relationships. But that doubt is always there like a low hum in the ear.
People may read the book and say, here's someone who had the same doubts and fears that I had, but when she saw something she thought could put her on the path to finding her true self, she didn't turn away, she ran toward it and with it.
SARAH: Your book felt like real life to me, with doubling back and setback and struggle and strange gain. What inspired you to write this book in this way?
JUDITH: I can't claim to be smart enough to have had a grand plan all along!. I tried to carefully note all that I was seeing, hearing and experiencing every time I visited the monastery, and then how I was reacting emotionally to it.
Strangely enough, I set out to write a very different book. I wanted to write portraits of individual sisters. But then I started to write about the effect my encounters with the sisters were having on me. And people who read that early material all said, you know, the sisters are very interesting, but the changes happening in you internally by meeting them and getting to know them is even more fascinating.
That's when I decided this would be a journey book. I wanted to take readers along with me on this journey, both the physical journeys that took me from my home base to this strange new location, and the emotional and spiritual journey unfolding inside of me.
I really didn't know what was going to happen to me along the way. For instance, I never could have predicted the PBS producer with which I had engaged in such a heated conflict, would one day team up with me to produce a segment on the Mount sisters for PBS? How could I have foreseen that? So the book has this arc where the reader is making these discoveries alongside of me.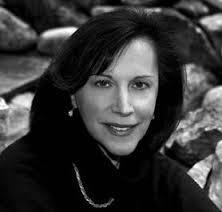 SARAH: Is there a theme or a part of the book that really resonated with you more than another? What's your favorite part of the book?
JUDITH: That is interesting because I think my favorite parts keep changing. I think when I was writing it, I would say the parts where I speak about my fear of death and how the sisters helped me see death in a different way were among my favorites. That is because I was still very much grieving the death of my father during that period and that of a close friend. Now I like to read the parts of the book I wish I could relive. There's that moment when I have my first "business meeting" with the sisters to discuss my desire to write a book about my experiences. And they begin the meeting with a song! "What can be sweeter to us than the voice of the Lord inviting us." I still can hear them singing those words.
And then there are the chapters about Sister Lillian Harrington and Sister Kathleen Egan that I love to re-read because it is as though I am right there in the room with them again. These women had such a profound effect on me -- Sister Lillian with her zest for life and gift for storytelling and Sister Kathleen with her ardent belief in non-violence and her concern for the poor. I am not spending as much time physically now at the Mount as I was when I was writing the book (though I am still there a lot). So re-reading those sections puts me back in that time and that place.
It is still painful for me though, to re-read certain sections, especially those where I speak about my tense relationship with my stepdaughters. I now have so much more compassion for my stepdaughters as a result of all that I learned at the monastery. So I read those sections and cringe at my own behavior toward them and with them, my big ego, wanting so desperately to be liked; my pettiness, whining bitterly when they don't behave toward me as I would want them to. Those parts are hard for me to go back to.
SARAH: What advice would you give other women who read your book?
JUDITH: Just enjoy the journey, the opportunity to meet some great women vicariously and put yourself in a very different space, the space of this monastery. And after that, I would say, go to Atchison! Meet the Mount sisters, look into their eyes. There you will find wisdom.
Order Atchison Blue and support CatholicMom.com with your purchase!
Be sure to check out our Book Notes archive.
Copyright 2014, Sarah Reinhard
About the Author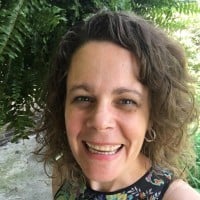 When she's not chasing kids, chugging coffee, or juggling work, Sarah Reinhard's usually trying to stay up read just one…more…chapter. She writes and works in the midst of rural farm life with little ones underfoot. She is part of the team for the award-winning Catholic Mom's Prayer Companion, as well as the author of a number of books. You can join her for a weekday take on Catholic life by subscribing to Three Shots and follow her writing at Snoring Scholar.