Thanks to Our Sunday Visitor and Chaunie Brusie for sponsoring our pile of goodies this week!
This week's giveaway:


By Chaunie Brusie (Ave Maria Press, 2014)
About the book:
Chaunie Marie Brusie—creator of TinyBlueLines.com and Catholic pro-life advocate for young mothers—draws on her own experience when she was an unmarried pregnant college student, offering those in similar situations the resources to thrive in education, career, faith life, and the journey of motherhood.

When Chaunie Marie Brusie stared down at the pregnancy test her senior year of college and saw two tiny blue lines--a positive test--she knew the road forward would be filled with difficult decisions, but she rose to the challenge. Brusie graduated from college, got married, and became a labor and delivery nurse and vocal advocate for the millions of young women who experience unplanned pregnancies each year. In her debut book, Tiny Blue Lines, Brusie offers coaching to young women, reminding them that their plight is near to the heart of Mary and that there is healing to be found in such Catholic practices as the Sacrament of Reconciliation. Brusie provides lists, resources, humor, anecdotes, and spiritual inspiration to help women gracefully navigate this challenging terrain.

By Pope Francis (Our Sunday Visitor, 2014)
About the book:
Pope Francis' homilies and audiences from Holy Week through Pentecost reflect his joy, compassion, and love for all people, which has captivated the world.

The Pope's grace-filled perspective during this most hopeful season of the Church year will inspire and encourage you. But no matter what the season, New Beginning, New Hope will engage your spirit and help you live your Catholic faith, share the Good News, and make your own profound difference in the world.

With contributions by Fr. Larry Richards (Our Sunday Visitor, 2014)
About the book:
Well known preacher, teacher, and author Fr. Larry Richards has the God-given gift of being able to meet men right where they are, and his no-holds-barred approach has helped millions draw closer to God and more fully live out their Catholic faith.

Now for the first time, Our Sunday Visitor has combined the trusted NABRE version of the Catholic Bible with the teachings, wisdom, and instruction of Fr. Larry Richards in the Catholic Men's Bible.

In 88 inserts, you will be challenged, enlightened, and even amused with topics like:

The Most Important Question
The Key to Manhood
God Has a Plan for Your Life
Men Strengthen Men
Sex is Holy
The Courage to Be a Man
What a Good Man is Like
Just Do It!

The combination of Holy Scripture with Fr. Larry's instructional selections gives you a new and easy way to become the man God intended you to be by incorporating Bible study into your daily life - before breakfast, before bed, or any time during the day!

With contributions by Ardella Crawford, Woodeene Koenig-Brickner, Sarah Reinhard, Zoe Romanowsky Saint-Paul, & Mary Elizabeth Sperry (Our Sunday Visitor, 2014)
About the book:
The role of women throughout salvation history is important, amazing -- and often overlooked. From Deborah to Leah, Ruth to Sarah, Mary to Martha: Their stories form the foundation of Christianity.

At every significant moment in the history of salvation women are present, and these inspirational meditations highlight women's roles as God's plan for humanity unfolds.

The Catholic Women's Bible is designed to help women deepen their spirituality and prayer lives by combining the trusted NABRE version with 84 full-page meditation inserts -- written for women by women -- cover the entire landscape of women's lives:

Daughters, wives, mothers, grandmothers, widows
Homemakers and workers, powerful and the powerless, rich and poor

Their situations and circumstances may be different than ours, but their longings, fears, hopes and dreams are eternal and universal. Use these uniquely inspirational inserts to explore the Bible like never before. Perfect for individual or group study.
About the Author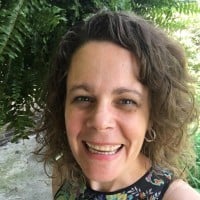 When she's not chasing kids, chugging coffee, or juggling work, Sarah Reinhard's usually trying to stay up read just one…more…chapter. She writes and works in the midst of rural farm life with little ones underfoot. She is part of the team for the award-winning Catholic Mom's Prayer Companion, as well as the author of a number of books. You can join her for a weekday take on Catholic life by subscribing to Three Shots and follow her writing at Snoring Scholar.