Does Faith in form what we do as artists, even if we're not creating art that is specifically religious in nature?
I think that the answer is "Yes!"
As a performing artist, I have found that I infuse my work with the things that I have discovered about what it means to be a Child of God. I don't think that journey is different than anyone else's. Finding God in the workplace or in the every day is not a different process.
But, because of the exhibitionist nature of what we do, artists have the opportunity (and great responsibility) to represent our Faith through the creation of something beautiful. Whether that art is visual, performing or literary, the fact is: who you are as a Catholic shines through in what you give to the world to ponder - whether those ponderings are sacred or secular.
This series will be featured every other week here at CatholicMom.com and I sincerely hope that you will enjoy getting to know these lovely people and their art as much as I have.
[spacer style="1" icon="none"]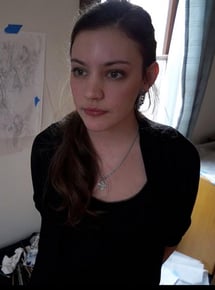 Bernadette Carstensen is a young visual artist who happens to have grown up right before my eyes. As a child, she was always charming and thoughtful. As a teenager, with an artist's heart, she could create scenes that would take your breath away. Her parents, also artists, and fostered this talent and she went on to art school. Bernadette is now a graduate of the Columbus College of Art and Design where she studied illustration.
I have to say, she has grown into a lovely young woman, with a huge talent, and I am honored to present her as our first Catholic Artist.
Tell us about yourself in five words or less:
Catholic, silly, hard-working, and disorganized.
What sparked your interest in your artistic medium?
I almost always paint with watercolor and gouache. I started out with those mediums as a kid because I was trying to mimic my favorite illustrator Brian Froud. I stuck with them because I found that not very many of my peers were using watercolors, let alone gouache, the most reviled medium freshman year of art school. It is very difficult to render with because it is opaque but also reconstitutes as soon as you put another layer down. So it's really easy to mess up and hard to cover mistakes. I thought that using these mediums would give me a little bit of an edge in the highly competitive illustration field.
Why do you keep producing art? What's your inspiration to continue?
I continue to paint and make art because that's what makes me happy. I have never considered another career at any time in my life. Being raised by artist parents had a great deal to do with that as you could imagine. I started drawing as very little girl, Mickey Mouse and Sonic the Hedgehog were my first favorite subjects. I then went through an extensive horse phase, next fairies and dragons, and when Lord of the Rings came out my sketchbooks were nothing but orcs, elves and Sauron.
What excites you about being a visual artist?
I always get really excited when I first think of an idea and it is still suspended unblemished in my mind. The initial spark of thought is the most fun because I see it as the finished piece and I like to envision the emotional reaction it would have. Once I begin to sketch it out the amount of work it takes to get to completion becomes weightily present. That's more of a subdued excitement, like the fulfilling love of work.
What connection do you see between your artwork and your faith?
I think that now I am older I have more of a wish to use my skill to express the Catholic faith. I want to find ways that artwork can be used to communicate subtle profound thoughts and Catholic message to a secular audience without being outright religious. I know that in my generation there is a lot of distrust and ignorance towards religion and people get turned off easily by artwork or literature that seems religious. Recently as I have been working on the paintings of Revelation and previously St. Patrick I found the experience to be the most fulfilling of any project yet, and I wish to continue in that vein one way or another.
What's the most rewarding aspect of creating your art?
The best most rewarding part is (predictably) being almost finished and feeling satisfied with how a piece turned out. It is immensely rewarding to witness people's reactions to a piece. The most valued reaction to me is from my parents, because atypically they were always my harshest critics. Their knowledge of art principles and good taste are an irreplaceable help to me.
In your spare time, what are we likely to find you doing?
Reading is something I'm always doing, I love watching cartoons, and I like to do crosswords with my mom.
You can find more of Bernadette's artwork in her online portfolio and at her blog.
About the Author