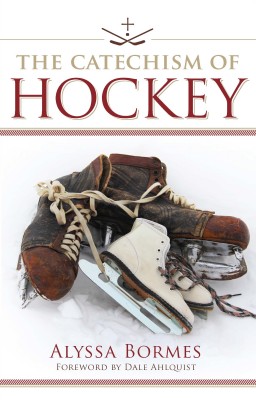 Do you have Olympic fever? As we cheer on our favorite teams, I thought it would be fun to catch up again with Alyssa Bormes, the author of the terrific book The Catechism of Hockey. We first met Alyssa back in November, so it's fun to hear how life has evolved for her since the launch of her book. We also thank Alyssa's publisher, The American Chesterton Society, for their kind support of CatholicMom.com. LMH
Q: Alyssa, it's great to reconnect with you since we last chatted during the launch of your terrific book, The Catechism of Hockey. How has life changed for you since then?
Wow – I suppose the answer is twofold. In some ways my life is exactly the same, and in other ways it is hardly recognizable. Going in order – my life has not changed in the manner that I am the same fallen self. Like everyone, I am on the path to holiness – and, in my case, I struggle at every turn. But the good news of this is that I can come home through confession, through the Eucharist, and start over.
In other ways, my life is unrecognizable. It has been humbling to see and hear so many wonderful things said about my book. People have told me how the book has helped them, or has been the gift that they were able give to someone else – and that someone else has been moved. Strangers have trusted me with the most intimate stories of their sorrows and falls – and also they victories. In a sense, the book has become an invitation to enter lives of so many people. I am overwhelmed with their generosity.
Q: We are in the midst of Olympic fever! Are you a fan of the Olympics?
I am going to try to be as calm as I can be in answering this question, as I want to come across as sane and reasonable. Here goes – I AM CRAZY FOR THE OLYMPICS! I wish that I could find some way to watch every event, never having to go to sleep, or to work during them. The first Olympics of my memory were the 1972 Summer Games; watching Olga Korbut was an unbelievable gift. I remember going into our backyard and trying to reenact just one of her moves on the balance beam. Oddly, I was unsuccessful. But I was still hooked, and have been ever since.
Q: While it may be obvious, what is your favorite Olympic sport?
My favorite sport? All of them! During the Winter Olympics, I am suddenly interested in curling, speed skating – short and long track, the biathlon, luge, bobsled, and skeleton, figure skating, skiing, snowboard, of course hockey, and more. During the Summer Olympics every sport fascinates me as well. The overarching theme is the dedication, discipline, and life stories of the athletes.
Q: What -- if any -- correlation do you find between our faith lives and something as exciting as the Olympic games?
It is the "full gift of self." The Olympic athletes have dedicated their lives to the goal of reaching the peak of their sport. In the past days, I've watched both the men's and women's biathlon where the athletes ski, and then stop to shoot targets. While they are skiing and shooting, they make the sport seem effortless. But in both events, when the athletes crossed the finish line, they fell in exhaustion. In other words, they gave everything to their sport, body and soul. They were physically and mentally prepared, and they gave the full gift of self in order to cross the finish line. It wasn't just the medalists who gave it all – each athlete did.
We are so attracted to athletes who give everything – holding nothing back. They end the race utterly spent; they have fought the good fight. Each time I see them, I am reminded of the Communion of Saints. Perhaps one of the greatest gifts of my life was being in Rome when the Holy Father, Pope Blessed John Paul II died. I remember viewing his body. One of the things that remains with me were his red shoes. The soles of his shoes were very worn. He gave everything to the Faith. He fought the good fight. The soles of his shoes were an icon of his full gift of self to the Church. The Saints have crossed the eternal finish line having left nothing on the table – this is what we, the faithful, must do.
Okay – just one more example. Last night, I watched the men's figure skating. The American Jeremy Abbott fell on his first jump. It was clear that he was hurt. But the crowd began to cheer for him, in a sense, carrying him. He got up from the ice, from defeat, and skated the most incredible program. In that moment, the crowd was Simon of Cyrene to him. He later spoke about knowing he was hurt and couldn't go on while he was down on the ice. But the crowd brought back his will; and forever, he will be the sort of champion that we can point to for our children.
Life is full of falls. When we fall, get up. However, even in the midst of a fall, our pride may refuse the help of others. The fall may have been humbling enough, but perhaps the most humbling part of getting up may be having to accept help. Last night, Abbott accepted the help – and it was magnificent!
And then there is Simon – it is so easy to back away from being Simon, from helping someone to carry a cross. Last night, the help from the crowd was unexpected – and it was prolonged. They cheered through his whole program, continued to cheer as he bowed, and cheered as he left the ice. They never quit helping; they never backed away. When in our lives are we Simon of Cyrene? When do we help others carry their crosses? Helping to lift someone from the jaws of defeat is quite incredible. In my life, there have been a host of Simons; without them, there would be no me. I am so grateful to them.
Q: Have you heard or read any great stories of Olympians whose faith fueled them to athletic success in the Olympics?
Yes – a million of them. But 2014 has brought me a new favorite story. It is of Anne Schleper who is on the USA women's hockey team. There was a story about her in the diocesan newspaper of St. Paul and Minneapolis, The Catholic Spirit. She is a Catholic from Minnesota – two of my favorite things. She spoke of how easy it could be to idolize the praise of her coaches, or a medal hanging from her neck. But she understands "I wouldn't be following His will if I wasn't inviting Him to the rink also."
She goes on to say; "Life goes too fast to try and please another human or to work tirelessly for an item that will eventually perish. There is freedom in my life and in my play when I fix my eyes on Jesus and not on this world."
Preach it, Anne! She understands that the medal, even if it is gold, is of this world and fleeting. And, she has hit on one of the lessons I have tried to get across in The Catechism of Hockey – there is freedom in service of Christ and His Church!
When you watch the USA women's hockey team, remember that Anne is bring Our Good Lord to the rink with her! She is an example for all of us; we must bring Christ to everything we do. Thank you Anne for your witness!
Q: Why is now a great time for folks who haven't yet read The Catechism of Hockey to pick up or to share the book?
What has amazed me about the book is its appeal. The book was intended for parents, but the happy accident is that so many other people love it as well. In the past few days, I met a priest who is a chaplain for an all boys' Catholic high school. He mentioned the homilies that will spring from the book. At a book-signing event, I met a man who has been looking for a book for dads. He has enjoyed the sports analogies, the no-nonsense, straightforward catechesis, and the strong call to dads. He bought additional books for other men, knowing it would speak to them. Last time we chatted, I mentioned a mom who had her son read the book aloud as they drove to school. This opened conversations that the boy had been hesitant to talk about before. I've told many of this mom's example, and it has been bearing fruit with other families.
In addition, so many have mentioned that they were hesitant to pick up the book because they don't know anything about hockey. However, they have been surprised that it is really about so much more. Not just other sports, like basketball and football, but the book is about the Faith, about the Mass, about the Sacraments - even non-Catholics are enjoying it! The book is about life – and living it passionately – about living with the full gift of self – and teaching your children to do the same. Life is happening right now, so right now is the perfect time to pick up the book.
Q: Are there any additional thoughts or comments you'd like to share with our readers?
Having never been given the gift of brevity, it is amazing to me that you are brave enough to invite me to go on! So yes – one more thing.
Already we have seen some heartbreaking defeats in the 2014 Olympics. However, the defeats would have been so much more heartbreaking if the effort had never been made. What we hope for the athletes is that they can overcome their heartbreak – instead, seeing themselves as we see them – as victors for having given everything.
As great as Olympic laurels may be, they fade in comparison to the Eternal Crown of Glory. On the Last Day, when we meet Our Maker, may we go to Him exhausted and spent like the biathletes, broken, yet having still fought like the fallen skater, having carried the cross of others like the cheering crowd, with our eyes fixed on Christ like the hockey skater, and with the worn out shoes of JPII. In other words, let us go to our judgment having given the full gift of self – in the great hope that we can lower our heads to receive the Eternal Crown while hearing these words, "Well done, My good and faithful servant."
Be sure to check out our Book Notes archive.
Copyright 2014 Lisa M. Hendey
About the Author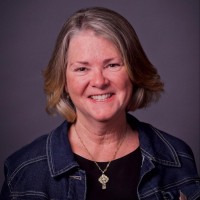 Lisa M. Hendey is the founder of CatholicMom.com, a bestselling author and an international speaker. A frequent radio and television guest, Hendey travels internationally giving workshops on faith, family, and communications. Visit Lisa at LisaHendey.com or on social media @LisaHendey for information on her speaking schedule or to invite her to visit your group, parish, school or organization. Visit Lisa's author page on Amazon.com.