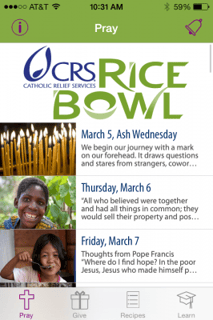 Most people are familiar with the Rice Bowls that Catholic Relief Services distributes through parishes around the country. Since 1975, Catholics have used the rice bowls as reminders to fast and pray, giving the money that might have been spent on food as a donation to feed the hungry around the world.
CRS uses donations to also help farmers improve harvests, bring clean water to communities, help people start small businesses with micro-loans, and improve the health of mothers and children through health and nutrition services (among other things). In short, CRS works hard to teach men to fish, while providing fish until they're able to provide for themselves.
CRS works in 91 countries around the world, helping people without regard to race, religion, or nationality. The money is very well-spent, and in 2012 93% of expenditures went to programs that benefit poor people everywhere. Moe than 100 million lives have been touched by the donations made to CRS.
During Lent, we are called to penance and prayer like no other time of year. The pastor of the parish I attended in Florida would remind us continually that we are called to fast, pray, and give alms throughout Lent. What this app does that Monsignor Caverly couldn't do is give me a way to track my donations and set a goal of how much I wanted to put aside for the Lenten Season.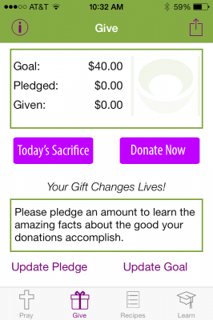 The CRS Rice Bowl App gives us daily prayer reflections for each day of Lent, beginning with Ash Wednesday, including short biographies on Saints, as well as suggestions for living out the Gospel each day. These reflections can also be shared on social media or email using the "share" button at the top of the iOS screen.
Not only that, but the app also has a tool for setting a donation goal and tracking how much you've put aside. For example, if you decide you'll give up that Diet Coke you usually buy at the office each day after lunch, you take that $1 you would have spent on the Diet Coke and drop it into the Rice Bowl. When you fast on Ash Wednesday and Good Friday - or any other day, for that matter - you calculate how much you normally spend on food on a typical Wednesday or Friday and put that money into the Rice Bowl.
The tracking makes it easy to keep track throughout the week (or the whole season), then write a check at the end for the total donation you end up with.
In addition to the daily prayer reflections and donation tracking, there are also stories about people who have been helped by CRS's services. These are in video format, but you can also read them (in case you're not in a place where playing video is possible). This is a part of the app that I really like.
It's one thing for us to know we're helping people, it's a different thing to see the people we're helping and see first-hand what difference we've made in someone's life. For example, there is a video included about the Leban family in the Philippines, who lost everything in a typhoon. This family of 10 had no home, no job for either parent, and needed help with shelter and income. Not only did CRS build a new home for the family, but they also started a job skills program for all the families in the area. CRS paid the villagers who helped rebuild the village's homes, giving them work and skills to start over again.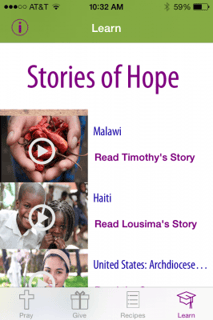 Again, I can't say how impactful it is to listen to the people who have been helped talk about how grateful they are for the assistance received from people like you and me. We are so blessed in this country, and we typically have what we call "First World Problems." We need to be reminded how good we have it, and to follow the teaching of Our Lord, Who commanded us to help the poor.
The final part of the Rice Bowl app is the recipes page, which offers several meat-free dishes from around the world. They are all very inexpensive to make, and when you choose one of these dishes rather than your typical Lenten Friday fare, the difference can be pledged to the Rice Bowl fund.
This, too, has potential to be an excellent tool for our children. If you've been talking to your kids about helping the poor as you go through Lent and fill your Rice Bowl, this can really drive home the point. After watching the video about the Leban family, you can have Pescado al Horno, a tilapia dish from the Philippines. There are a total of five different dishes (one for each Friday), and most correspond with one of the stories shared in the app.
Often, eating the food from another country gives children more of a connection to those people. Sometimes, it can give an idea of what life is like, especially if you remind them that this is a typical meal. I know it made a big impact on me when our parish heard from the head of our Haiti missions about how the children in our twin parish often went hungry at home, and that the only real meal they were getting was their rice and beans lunch at the school we had built for them.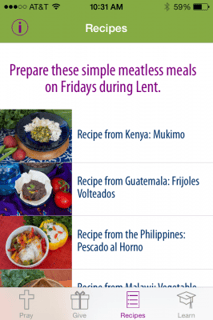 I love the CRS Rice Bowl app! It makes it easy to track donations, makes a human connection between my donations and the people I am helping, and gives me ideas on how to better use the Lenten season for spiritual growth by fasting, praying, and giving alms.
The Rice Bowl app is free and available for both Apple and Android devices. The iOS app is compatible with iPhone, iPad, and iPod Touch (though there is not a separate format for iPad, so it's just the iPhone/iPod app made larger), and requires iOS 7.0 or later.
Copyright 2014, Christine Johnson
About the Author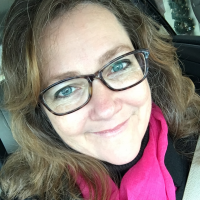 Christine Johnson has been married to Nathan since 1993 and is the mother of two homeschool graduates. She and Nathan live in the Blue Ridge Mountains of Southwest Virginia, where she tries to fit in as a transplanted Yank. She blogs at Domestic Vocation about her life as a wife, mother, and Lay Dominican.