For today's Book Note, I'm happy to share an article by Ellen Stepien, the wife of Chris Stepien, author of "Three Days: The Search for the Boy Messiah." Enjoy! LMH
Real men aren't supposed to cry. Especially not in front of a crowd.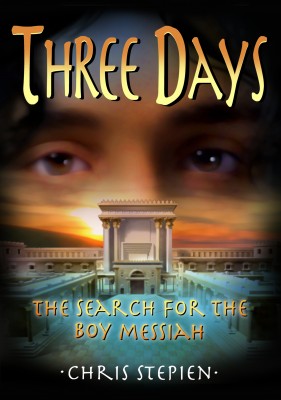 But there stood my husband, Chris, mid-sentence at his first author talk. Suddenly, he became very emotional. Tears threatened to roll down his cheeks; his voice cracked. Then he simply stopped speaking. This was supposed to be a joyous event – a chance to talk about his debut novel, "Three Days: The Search for the Boy Messiah". It's based on the Gospel (Luke 2:41-52) and the fifth joyful mystery of the Rosary, "The Finding in the Temple."
The room grew uncomfortably quiet for several seconds. Fortunately, Chris quickly recovered.
I certainly wasn't prepared to see my spouse this vulnerable – he'd endured a month-long hospitalization 10 years ago, and a diagnosis and surgery for Crohn's disease. The same man who helped build a successful production company after an Emmy-award winning TV career. A tough-as-tire-iron, first-generation Polish-American, who demanded excellence from everyone he worked with, and gave back the same time and again.
His momentary pause at the podium wasn't a surprise case of nerves. Public speaking is as natural to him as breathing. My 57-year old spouse has since tried to explain his very public tears that occur at almost every author talk he gives. He says praying the Rosary while contemplating scripture allowed him to get to know Jesus in a very personal way. He feels profoundly humbled when sharing his uncommon encounter with God. Especially when Chris describes it this way to his audience, "Lord, I am not worthy to have you enter under my roof, but you did – every day – as a living, breathing boy Messiah."
You should know – my 12-years-of-Catholic-school spouse uses the Ignatian Spiritual exercises each day when he prays just one decade of the Rosary.
St. Ignatius of Loyola, the founder of the Jesuits, came up with the concept of spiritual exercises. Here's a simplified explanation of how it works. You imagine you're one of the characters in a Gospel story as you read it a few times. Just like a little kid pretending to be there. Lose yourself in a scripture passage. Watch the Hebrew prisoner as part of the crowd or a Roman soldier. Listen to the noise, smell the sweat around you. Stand in the angry mob and hear Pontius Pilate speak the words that condemn Jesus to death. Bet you might feel closer to our Lord.
While "Three Days" is his first novel, this is not the first time Chris has written a compelling story. He has the gaudy trophies to prove he knows how to capture an audience's attention, live or on TV.
We've been together for over 30 years, both in marriage and in business. In every arena of life, Chris has always been the tough one, the one who rarely seemed unsure of himself even when he wasn't certain which road to take. Even when we had our share of detours.
So, when the economy deep-sixed a few years ago, and our business prospects withered along with most everyone else's, he decided there was time to research and write a book, and gather the fruits of his prayer life.
But let's rewind our personal history about a decade. In addition to his illnesses and other extended family challenges, without warning, life had turned chaotic, gut churning, troublesome. We were also raising two sons, teenagers at the time. Good kids, great students, but teens nonetheless, with their own newfound unpredictable struggles.
That's when it seems God sent a very personal dose of humility our way. Our assorted issues were no worse than anybody's. But they were enough to make Chris promise the Blessed Mother he'd say a decade of the Rosary every day. In exchange, he asked Mary to help him get to know her son. This from a solid, practicing Catholic, a frequent retreat-goer, a guy in a Bible study group and a very involved member of the St. Vincent de Paul conference at our parish.
That small investment in prayer turned out to be the bargain of a lifetime. His spiritual life grew more muscular. But each time he came around to contemplating the fifth joyful mystery while on his daily walk, he'd stumble during his prayer. The puzzling event in the boy Messiah's life made him "crazy." As a Dad, he wondered how Mary and Joseph could cope with losing their son, and how a 12-year-old could survive alone in Jerusalem for three days.
Coincidentally, we'd had a momentary glimpse of that scenario — every parent's worst nightmare. It happened when our youngest son, Mike, was five or six years old, a very happy chap with reddish blond hair, a pug nose and perpetually scabbed knees or elbows from some neighborhood game.
He had tagged along with his hero, big brother, Alex, a smart, whip-thin kid. They were going fishing with their Dad at a local lake. The kids carried rods and tackle, and helped lug a carload of supplies. I know Chris led the way, taking dad-sized strides from the gravel parking lot towards the shore, eager for a Saturday evening to unplug from a very hectic workweek.
When they returned hours later, my husband startled me with a confession that he'd lost Mike – only briefly. As Chris explained it, the boys had followed him from our van. Or so he thought. He had noticed a suspicious-looking guy in a small beater car, driving slowly past them.
Maybe 20 or 30 seconds had elapsed when he turned to say something to the boys. Alex was there, but not Mike, and the clunker and its seedy driver were accelerating away in the distance. Even now, nearly two decades later, a sick panic seizes my heart. As it turned out, Mike was still standing at the side of the van, concealed from Chris' view, until he ran all the way back to find our son. Fortunately, that stranger in the small car wasn't guilty of anything that day, other than looking scruffy and peculiar.
Most parents have had the frightening experience of losing a child at a store or public event, even if only for a few seconds. But imagine how Mary and Joseph felt for three days – when they couldn't find the preteen Messiah, the Hebrew boy who was destined to save his people from their sins. This is the only Gospel story about Jesus as a youth. Just 12 verses describe this very provocative event.
Now, you don't have to imagine it. You can read my husband's book, "Three Days: The Search for the Boy Messiah." You may even shed a few tears.
To learn more about Chris Stepien's new Biblical novel, please visit: www.TheBoyMessiah.com.
Ellen Stepien is the proud Catholic mother of two adult sons, Alex and Mike, who now live and work in Chicago. She is also the wife of first-time author and producer/director, Chris Stepien; they live in suburban Detroit in the same house they bought over 30 years ago. The couple met and married while working behind the scenes at ABC-TV, Detroit. Ellen once taught high school English and journalism, and was a partner/writer in the couple's first company, a film and video production firm. Until 2011, she was the other half of Stepien Creative Services, Inc., where she collaborated with Chris to produce marketing, advertising and internal/external communications for Fortune 500 clients, including car companies, healthcare systems and technology companies. In her previous careers, Ellen mentored hundreds of student journalists, and also met famous newsmakers, a U.S. President, many celebrities, and special moms. But for the last 14-plus years as a member of St. Vincent de Paul, she's been blessed to come face-to-face with some of the most "beautiful people" in the world – God's poor.
Be sure to check out our Book Notes archive.
Copyright 2013 Ellen Stepien
About the Author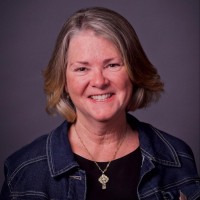 Lisa M. Hendey is the founder of CatholicMom.com, a bestselling author and an international speaker. A frequent radio and television guest, Hendey travels internationally giving workshops on faith, family, and communications. Visit Lisa at LisaHendey.com or on social media @LisaHendey for information on her speaking schedule or to invite her to visit your group, parish, school or organization. Visit Lisa's author page on Amazon.com.