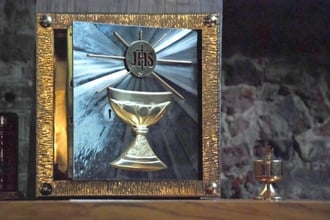 Jesus has been a neighbor to North Dakota's only abortion clinic in Fargo since June of 2011. His Real Presence is in the tabernacle of the Visitation Chapel, on the third floor of an office located across the alley from the Red River Women's Clinic.
The chapel is named for the Scripture passage where Elizabeth greets the Virgin Mary (Lk 1:39-56). It was an event in salvation history where the two women embrace an unplanned pregnancy and also a surprise older pregnancy. Both pregnancies created obstacles yet Mary and Elizabeth trusted in God's Providence and were touched by the presence of Christ.
Archbishop Samuel Aquila established the chapel and opened it by presiding over the first Mass. It is a place of prayer dedicated to reparation for the evil of abortion and for the conversion of those promoting it. The Eucharistic chapel is one of several that have opened across the country in close proximity to abortion clinics. The strategy is to drive out the evil of abortion using the greatest good to fight the greatest evil.
In North Dakota, there are no abortion doctors and only one clinic, which is one too many by pro-life standards. Doctors come from out of state, usually on Wednesdays, to perform abortions. To counter this evil, Mass is said every Wednesday at 8 AM and after which the Blessed Sacrament is exposed for adoration which continues until 3 p.m. The Chaplet of Divine Mercy is prayed at 3 p.m. and followed by Benediction. Adorers are scheduled for holy hours during the day.
According to Rachelle Sauvageau, Director of the Respect Life Office for the diocese of Fargo, "The chapel serves as a sign of hope in the midst of a great darkness." Sidewalk counselors also come to pray in the Chapel. "It is a place of refuge for them as they battle with the culture of death at the clinic that ends of lives of an average of 20 unborn babies each week," Sauvageau said. "So often people come to pray in the Chapel and share how they experience the "Light" of Christ there," she said. "This living presence of Christ in the Eucharist that is penetrating hearts and changing minds about the abortion issue."
Trusting in the Catholic teaching that there is nothing more powerful on earth than the offering of Holy Mass, Sauvageau said that those who come to the chapel, come to adore the Giver of Life. "While it is a place of prayer to end abortion," she said, "it is even more so a place to adore the One who is offended by abortion, to give Him thanks and praise for gratuitously calling us to share in Divine Life; to love Him in this one place as he is being scorned and rejected on our present day Calvary, the place of death next door."
Sidewalk counselors and adorers have noted over the past two years, that on Wednesdays when abortions are not taking place, there is a "lightness" of spirit. "Each person who participates in the apostolic work of the Chapel in some way bears a spiritual burden on the days abortions are being performed," Sauvageau said. "And rightly so, for they have a spiritual bond with the little babies who lives come to an abrupt end by abortion." She said that this burden certainly extends to all those who pray for an end to abortion across our state. "There are over 1000 people who receive a call to pray from 40 Days for Life ND notifying them when abortions are being performed in Fargo," Sauvageau said.
Groups have also scheduled Mass at the chapel as part of their pilgrimage journey. Parishioners from St. Anne's Catholic Church in Belcourt have pilgrimaged to Fargo to pray at the abortion facility and then celebrate Mass. During 40 Days for Life, groups from outside of Fargo come to pray for long periods.
An apostolate of prayer against evil has grown out of this little Chapel in downtown Fargo that is for the most part hidden from the world. "I am always amazed at new people who come to the Chapel and I wonder how they found it," Sauvageau said. "We have even on occasion had three priests show up to offer Mass, when only one was scheduled."
The abortion facility is scheduled to be open every Wednesday, but this year, it has been closed on 11 of the last 32 Wednesdays. "For every week abortions are not performed in Fargo, an average of 20 unborn children are saved from death," said Sauvageau. "In the end, this is the work of the Chapel, a work of the hope found in the Visitation that sheds it's Light on the foot of Calvary."
The Fargo Respect Life office directs the chapel but it relies completely on donations from the laity. Funding for basic operation has come from a generous benefactor and Catholic organizations such as the Catholic Daughters and Knights of Columbus have also provided support. Sauvageau said donations to help defray rent costs are always welcomed and appreciated.
Copyright 2014 Patti Maguire Armstrong
About the Author