Now that my oldest, who's nine and in the third grade, is an avid reader, I'm always on the lookout for ways to introduce her to Bible stories, again and again. So when the Adventure Bible Handbook, by Robin Schmitt & David Frees (Zondervan, 2013) came my way, I was thrilled.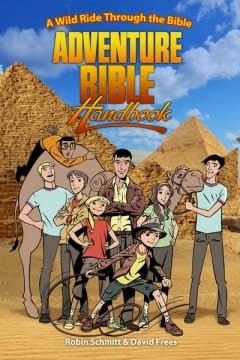 I was even more thrilled by the way my nine-year-old took off with it and carried it around with her. Dare I hope that this might rate up there with the Magic Treehouse books?
Here's the blurb from the back of the book:
When an archaeologist on an expedition in Israel disappears, his four children try anything to find him. They join an offbeat tour through the Holy Land, and with the help of some Really Smart Phones (RSPs), a bunch of camels, jet skis, ATVs, hang gliders, and a couple zany guides, they soon visit ancient cities and important geographical sites by traveling back in time. Along the way, the kids learn about ancient Bible times and important historical events like the parting of the Red Sea, the building and filling of Noah's ark, and the crucifixion of Jesus. When their father is not to be found, the kids are tempted to give up, but finishing this crazy tour may just be the key to finding their father—and a whole lot more.
There are a few things I really, really liked about this book.
It's pretty. The illustrations are reminiscent of what's in all the graphic novels that my daughter loves and the text is informative without being borrrrrring. You'll find beautiful maps in addition to the cartoonish stuff, photographs of Bible places, and paintings/illustrations that depict other aspects of Biblical life.
The pages are full-color semi-gloss and it's a hardbound book. While that makes the price higher, it also makes it a book that will last. And that's a priority for me, because I want my other kids to enjoy it too.
This is a way of making the Bible fun. The Word of God is the most important text we have, right? But...it's not always the easiest or most accessible text. That makes a book like this something I'm glad to have sitting around. Though I don't find the graphic novel stuff the easiest to narrate aloud to my younger kids, the many sidebars and extra stuff give it layers
Now, a note: this is NOT a Bible. And it's not meant to be.
Did I mention there's not just one index, but three (and possibly four, depending on how you categorize things)? My kids may never use it, but the mom scholar in me loves that. There's a guide to reading the Bible, a scripture index, a subject index, and an image guide.
All in all, I'm glad to have it. And I'd be willing to shell out money for it, too, which is saying something.
Order the Adventure Bible Handbook through our affiliate link and support CatholicMom.com with your purchase.
Be sure to check out our Book Notes archive.
Copyright 2014, Sarah Reinhard
About the Author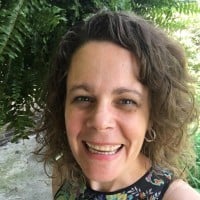 When she's not chasing kids, chugging coffee, or juggling work, Sarah Reinhard's usually trying to stay up read just one…more…chapter. She writes and works in the midst of rural farm life with little ones underfoot. She is part of the team for the award-winning Catholic Mom's Prayer Companion, as well as the author of a number of books. You can join her for a weekday take on Catholic life by subscribing to Three Shots and follow her writing at Snoring Scholar.