Do you like historical fiction? Do you like books that are Catholic without, you know, shoving it down your throat? Do you have a few days to spend with Ellen Gable's latest book?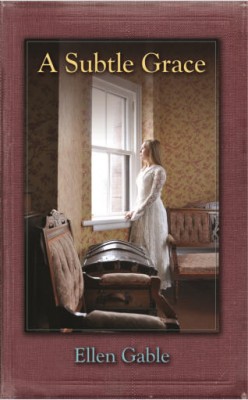 Because, yes, it is the kind of book that will suck you in, hold you captive, and leave you better for having read it. It's a good story, well told, and I can heartily recommend it. (I may or may not have skipped right past my bedtime while I was reading it, and I may or may not have had "Good Novel Hangover" afterward. Additionally, I may or may not have sent Ellen demands for another book PRONTO.)
Ellen's one of those amazing people who I'm blessed to have met, to have talked to on the phone more than once, and to have prayed with and for. She's someone who would live in Sarah's Ideal Neighborhood of Favorite People (a place that will only exist in heaven, I suppose). She's sweet, but has a dash of real-world salt thrown in that keeps it real, makes her approachable, and never fails to make me smile.
She's an American-transplanted-to-Canada wife and mom, and is one of our CatholicMom.com contributors, a blogger, an award-winning author, an editor and book coach, a freelance writer, president of the Catholic Writers Guild, and, my favorite, the mom of five boys. Yes, FIVE BOYS. And she has lived to tell the tale, sometimes in cartoons. She does some amazing work (just go to her website and poke around), and it's truly a delight to share a conversation with her here.
Q: Ellen, it's so awesome to see your FIFTH novel coming out! What's the biggest WOW in this for you?
My biggest Wow moment came when the proofs arrived and I actually held my fifth book in my hands! I added it to my other four on the book shelf and my husband offered to take a photo of all of them for my blog. Looking at these five books, I see over ten years' worth or work, nearly half a million words, books that have been downloaded over 470,000 times on Kindle. When I started out to write fiction more than ten years ago, I always thought it would be wonderful if just one person could read my book and be inspired. Knowing that my books are on that many readers' Kindles is mind-boggling and humbling. So...yeah...Wow!
Q: What's the biggest challenge you face as a Catholic novelist?
The biggest challenge for me as a Catholic novelist is to write the most compelling story I can, with the most believable characters, without overtly preaching. And I have changed my approach to writing fiction. With my first book, I wrote in order to preach about NFP and pro-life issues. Evangelizing was more important to me than writing a good story well. With my second novel, I wanted to write better. I hired more editors, bought books on writing and edited until I was sick of editing. While the pro-life and theology of the body messages are still included in my second book, by the time I wrote my last two novels, the compelling story has become the main event, while the underlying messages are more subtle but (I hope) still shine through.
Q: How do you counter the negative feedback and reviews you get?
This is difficult. Even after ten years. I still don't like getting bad reviews (who does?) I have had to develop a thick skin over the years. I think one of the reasons I don't like bad reviews is not so much that they're criticizing me; it means they didn't enjoy the story. And, fundamentally, that's what saddens me. I write compelling stories so that the reader can be entertained while receiving an uplifting message.
Many of the bad reviews are from either non-religious people who can't stand to have God mentioned in a book, or pro-choice feminists who don't like the pro-life message. Those are very frustrating to receive, especially those who lie about the book or give spoilers away in order to make their point. Generally speaking, I don't respond to negative reviews, especially from this group.
Now, not all negative feedback is actually bad. Some reviewers have given constructive criticism: the most common negative feedback about In Name Only was that there are too many deaths. I listened to my readers. Although A Subtle Grace includes deaths, there are fewer deaths than In Name Only.)
Q: It looks like you've returned to some of your historical fiction roots in A Subtle Grace. Tell us a bit about it.
I have always wanted to write a sequel to In Name Only. David and Caroline and their children have become real people to me and to the 140,000 readers who have downloaded the book. I care deeply about my characters and about how they are portrayed. I didn't want to write an immediate sequel so I decided to have the book take place 15 years in the future. This way, the stories are different enough to be read as stand alone books and similar enough to be part of a series.
Also, I grew up in the Philadelphia area and I've been fascinated with Philly history since my father took me to there to see the Liberty Bell when I was about five years old. Since then, I've gained an interesting library of books on Philadelphia history. So when I decided to write my first historical novel (In Name Only), I figured I might as well put my knowledge and research skills to use and start with something I know.
Q: Ellen, what's your favorite fiction to binge on? What do you read that inspires you to continue to write fiction?
I love Catholic and Christian fiction, but I also read a fair amount of secular fiction. I like edgy, believable fiction. I also like compelling novels that make me laugh. Nelson DeMille's John Corey series are my favorite secular reads and I enjoy reading them over and over. They have a fair amount of bad language in them, so I don't recommend them to readers who are easily offended by language. One of my favorite recent novels is "Treason" by Dena Hunt. For me, Treason was like literary candy.
* * *
Want a taste of the book? Yes? Well, it's your lucky day! Here you go: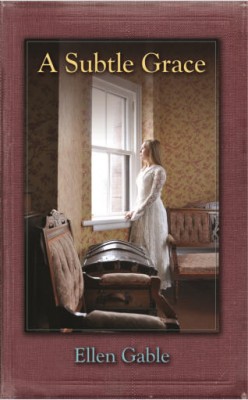 Excerpt from A Subtle Grace, copyright 2013 Ellen Gable Hrkach, used with permission
I witnessed another human being coming into the world.
Kathleen's head sunk deeply into her feather pillow as she stared upward. She tossed back and forth as sleep eluded her. How could she possibly rest after what she had just witnessed?
The clock downstairs struck quarter past three. Her younger siblings hadn't wakened during the night – Mama had kept fairly quiet during labor – but in the morning, all of her brothers would be excited to discover that they had a new sister.
After five brothers, it seemed like having a sister was an impossible dream. For a moment, Kathleen thought of her own vocation, confident that it was marriage and motherhood. Her "coming out" reception last year when she was 18 was a tremendous success.
Why, then, was she not married yet? Two of her friends from high school, Margaret and Anne, had already married. Kathleen was beginning to think she might become — heaven forbid — an "old maid." It was essential that Kathleen meet her future husband immediately to stave off this terrible fate.
Kathleen lifted up the small holy card she used as a bookmark, a picture of St. Agnes holding a lamb, two doves hovering nearby. St. Agnes, where is my sweetheart? Please send him to me soon!
After reading her inspiring story a few years previous, St. Agnes, virgin and martyr, had become Kathleen's favorite saint. In the fourth century, Agnes' virginity was preserved despite the young saint being stripped naked and taken to a brothel to be violated by a group of men. The saint was saved when most of the men could not go through with the heinous act. The man who wanted her to forcibly marry him was struck blind. She was eventually martyred.
Kathleen paged through the earlier entries of her journal until she came to January 20th of last year, on the eve of St. Agnes' Feast Day, where she'd written down a prayer/poem to St. Agnes.
January 20th, 1895
Now good St. Agnes, play thy part,
And send to me my own sweetheart,
And show me such a happy bliss,
This night of him to have a kiss.
On that January day a year and a half ago, she had recited the prayer, then had finally fallen asleep. Indeed, she had dreamt of a man.
His face was blurry like an Impressionist painting, except with less detail. The man leaned in to kiss her, but his lips only gently brushed against hers. Immediately, Kathleen knew that this was her beloved. She couldn't explain how, but she could tell that his heart was pure and true and good. All of a sudden, the man vanished and in his place was a blue and green hummingbird hovering above her. How would she recognize her sweetheart if she could not see his face?
Excerpt from A Subtle Grace, copyright 2013 Ellen Gable Hrkach, used with permission
Order A Subtle Grace and support CatholicMom.com with your purchase!
Be sure to check out our Book Notes archive.
Copyright 2014, Sarah Reinhard
About the Author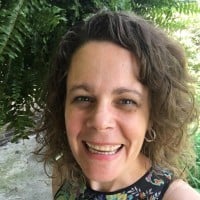 When she's not chasing kids, chugging coffee, or juggling work, Sarah Reinhard's usually trying to stay up read just one…more…chapter. She writes and works in the midst of rural farm life with little ones underfoot. She is part of the team for the award-winning Catholic Mom's Prayer Companion, as well as the author of a number of books. You can join her for a weekday take on Catholic life by subscribing to Three Shots and follow her writing at Snoring Scholar.