Well, time sure flies, doesn't it? It seems like just yesterday when I was writing about how I didn't have a lot of time to read and...well, here we are, the threat of more snow lingering in our forecast and my pile of books barely dented.
What can I say? I live a charmed life. :)
This is more than a week's worth of reading, and flying across the country sure helped it quite a bit (I may or may not be plotting how to fly around a lot so I can get some reading done...).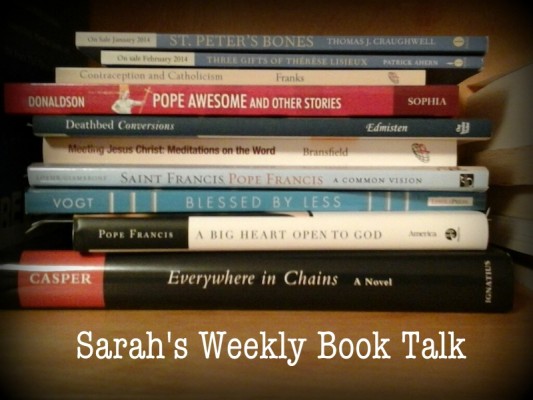 Recent Reads
Journey to Heaven: A Road Map for Catholic Men, by Randy Hain (advance copy, Emmaus Road Publishing, expected publication 2014)
My rating: 5 out of 5 stars
In this book, Randy Hain has channeled some of the brightest and best conversation on what it means to be a man. This book isn't just for men, though. It should be part of every wife, sister, and mother's required reading, and a topic of discussion for all of us. I owe a thank you to Randy, for baring himself and sharing the points I want the men in my life to live. Keep your eye out for it and go ahead and pre-order it when it's available.
The Girl of Fire and Thorns, by Rae Carson (YA fiction, Greenwillow Books, 2012)
My rating: 3 out of 5 stars
I enjoyed this book: it was entertaining and (dare I say it?) pretty Catholic. I kept at it, but it wasn't the sort of book that made me want to read the rest of the series. (In fact, I made the friend who read the whole series spill the beans about it to save me the effort. Which probably costs at least a star by my calculations.) If there's such a thing as a popcorn book (and there is, for me), then this qualifies. Safe for your teenager, maybe even your preteen, with action throughout. Maybe there was a bit too much thinking and it was a little light on the character development, but I forgive it. Decent read. Would fit in well at the beach, were I to go to one.
Ora et Labora et Zombies, by Ryan Charles Russell (fiction, in letters!)
My rating: 5 out of 5 stars
The last five or six letters were sitting there, waiting for me.
And WOW! How did I get so busy and distracted that I forgot about them? And didn't stop my life to just read them?
This is a book you get in installments: a letter a week until it's done (a little over a year's worth, if I counted correctly). The letters are—get this—hand-written. And? They're well-done.
I mean, not just as letters, but as a novel.
Highly, highly recommended.
The Voyage to Alpha Centauri, by Michael O'Brien (fiction, Ignatius Press, 2013)
My rating: 5 out of 5 stars
Michael O'Brien has once again defined what I love about true science fiction (that it's not about fantasy). He has woven a masterful tale of space travel and exploration, while touching on hot topics (without ever calling them by name). His characters are so deeply formed you may find yourself looking over your shoulder to see if they're there.
I especially enjoyed the themes of hope in this storyline. It is all too easy to give up on humanity: to take the negative "here's where we're heading" viewpoint and blow things up. O'Brien, however, crafts a story that faces evil head-on and finds it lacking. In the midst of a society and culture that seems chillingly familiar to modern readers, he teases out the thread of light and expands it into a smile by the end.
Truly, this was one of the best books I've read in a while. Highly recommended.
Interior Freedom, by Fr. Jacques Philippe (Scepter, 2007)
My rating: 5 out of 5 stars
Confession: I wouldn't have picked this book up if I wasn't part of the Catholic Spiritual Direction book club. And oh! What I would have missed!
Fr. Philippe hits a whole box of nails right on the head, puts the house together, and then roofs and sides it. (OK, I took the metaphor too far. But...that's what it felt like, reading it.) While he's dealing with some complicated matters of the spiritual life (ahem, the title says it all), he does so with language that my ten-year-old would understand. He's straightforward, tangible, and relevant.
Don't be fooled by the slim size of this book. It packs a punch that's well worth the time you'll take to read, re-read, and share it.
Pope Francis: Why He Leads the Way He Leads, by Chris Lowney (Loyola Press, 2014)
My rating: 5 out of 5 stars
I wasn't sure what to expect with this book. Would it be a business book? Or a spiritual book written by a business guy? Or a biography with business tips? Or...something altogether different?
Turns out, the answer is yes.
This is a book of lessons, yes, but it's also a book of insight. So much has been said about Pope Francis. The man can't say a sentence without people jumping in to interpret and explain.
Lowney takes a different approach. He has Jesuit training and shares some important background with Pope Francis, so he uses that as the lens through which he considers what we can all learn from Pope Francis.
It's hard to believe, really, that this is based off of a year. In some ways, that's the beauty of it.
It's not overwritten or stretched out: this is a book that's tightly written and well-researched. It reads like a book off the NYT bestseller list, minus the snark and cynicism.
I found myself appreciating Jesuit spirituality more, because Lowney explains it. In learning more about it, I suddenly have a view into Papa.
This book is partly journey, partly lesson, partly fun reading. Highly recommended.
Current Reads
A Subtle Grace, by Ellen Gable (fiction, Full Quiver Publishing, 2014)
While it's only available on Kindle, it will be coming out as a hard copy soon. If you like historical fiction, you're sure to love this. It's a standalone sequel to Gable's In Name Only, and let me just warn you: it's highly addictive. I'm almost done with it...
Navigating the Interior Life: Spiritual Direction and the Journey to God, by Daniel Burke (Emmaus Road Publishing, 2012)
This book has been on my review shelf entirely too long. I'm still very early in it, though I can tell it's written well already.
North and South, by Elizabeth Gaskell (fiction, courtesy of CraftLit)
I would have NEVER picked this book up if Heather Ordover wasn't hosting it on her CraftLit podcast. I am lovvvvvving it very, very, VERY much.
The Candymakers, by Wendy Mass (YA fiction, read-aloud with my nine-year-old daughter)
I thought this book was so-so up until late last week, when I suddenly caught a glimpse, in our reading aloud, of where this might go. And now, NOW I have to keep myself firmly in check not to sneak through it when my daughter's not looking...
What have YOU been reading lately?
*Are you on Goodreads? I'll see you there!
Curious about what my ratings mean? Here's an explanation of what the stars mean to me.
Be sure to check out our Book Notes archive.
Copyright 2014, Sarah Reinhard
About the Author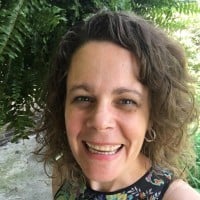 When she's not chasing kids, chugging coffee, or juggling work, Sarah Reinhard's usually trying to stay up read just one…more…chapter. She writes and works in the midst of rural farm life with little ones underfoot. She is part of the team for the award-winning Catholic Mom's Prayer Companion, as well as the author of a number of books. You can join her for a weekday take on Catholic life by subscribing to Three Shots and follow her writing at Snoring Scholar.