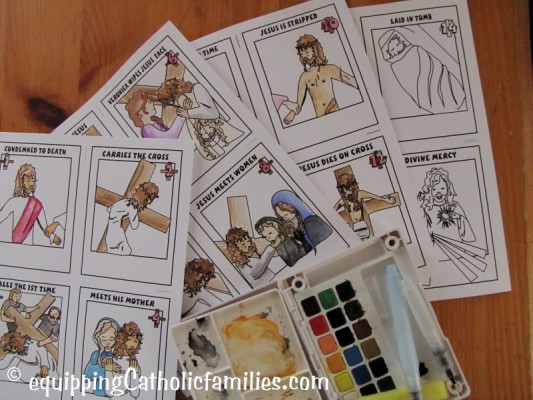 So I've always wanted to have my own images for Stations of the Cross crafts and this year, my 16 year old daughter created the Kelly Saint Stations of the Cross for me so that I could release this craft kit.
The first thing I did after scanning and tracing them to make them digital, was print them out to color them!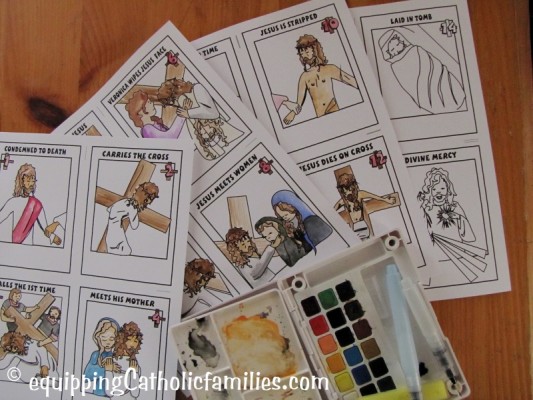 This past Christmas, I received a little travel set of watercolor paints and I realized how fun it is to use a water-refillable paintbrush! With the images printed on card stock at my local Staples, I could effortlessly add color within the thick (waterproof!) coloring lines.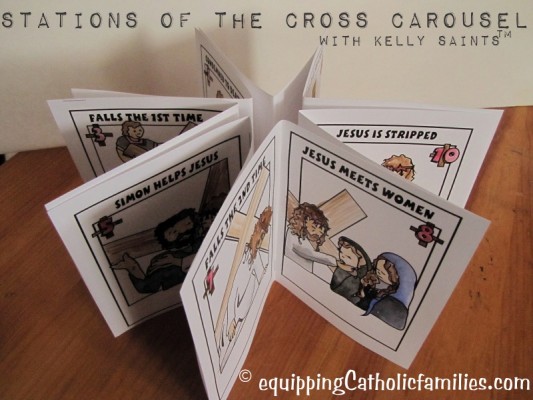 A few years ago, I created the Stations of the Cross Carousel using the images from another favorite Catholic family company, but this year I assembled another carousel using the Kelly Saints images! This cute little paper craft makes all 14 Stations (plus Resurrection and Divine Mercy) pretty compact and appealing...perfect for the kitchen table during Lent!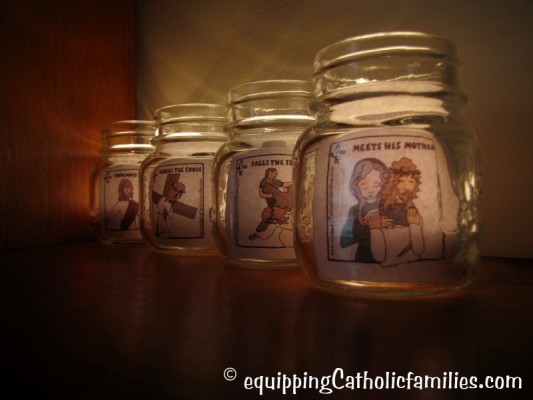 There are actually 4 different templates of the images within the kit, and I specifically designed the set of 2" square cards for votive candles! These little Stations can be mod-podged onto baby food jars (or inserted carefully inside as shown in the picture)! A tea light in each jar can be lit as the Stations of the Cross are prayed and reflected upon.
Looking for some great meditations for the Stations of the Cross?
Here are some awesome links for the prayers and reflections of the Stations of the Cross: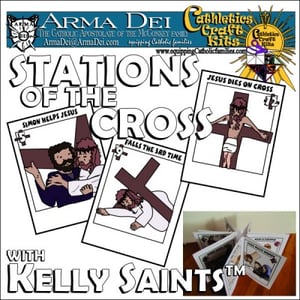 Click the link here if you're interested in the Kelly Saints Stations of the Cross Craft Kit!
(c) Copyright Monica McConkey, 2015
All images (c) Monica McConkey, 2014, Equipping Catholic Families. All rights reserved.
About the Author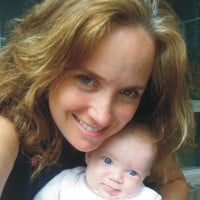 Monica, mom of 5, blogs about Catholic crafts and family traditions at EquippingCatholicfamilies.com. She is an author and creator of Super Saints quizzing cards and over 45 Saint, Sacrament, Catechism and Prayer-packed Craft Kits to help teach the Catholic Faith. The Catholic teaching tools and gifts are available through Arma Dei, the Catholic family publishing company founded with her husband Bill.