The Sunday after Easter (now known as Divine Mercy) promises to be an awesome celebration in Rome. Why? Pope Francis will be canonizing two holy men - Pope John XXIII and Pope John Paul II.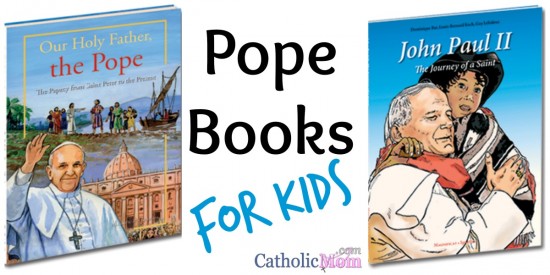 To celebrate this important day and to educate our young Catholics on the office of Pope and Pope John Paul II in particular, Magnificat and Ignatius Press have released two gorgeous hardcover books - Our Holy Father, the Pope and John Paul II: The Journey of a Saint.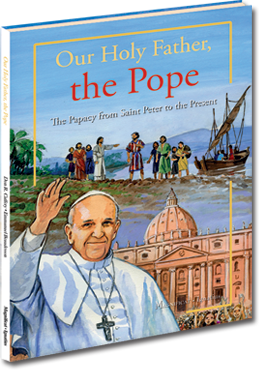 Our Holy Father, the Pope is an illustrated-hardcover book that introduces your children to the papacy and four influential popes (not counting Peter).
The first half of the book is dedicated solely to St. Peter. In these sections, your children will learn about who Peter was, how he got his name, and how he became the first Pope and Bishop of Rome. Your children will also read abbreviated Scripture passages in which Peter appears, including him walking on water, him denying Jesus, and him being given the keys to the Kingdom. They will also learn about his martyrdom and being crucified upside down.
The next part of the book focuses highlights four important popes: Clement I, Leo the Great, Pius X, and John Paul II. Each page includes a brief biography of who they were before they became pope, why they were important popes, and their feast days. These were all good choices, and there are dozens that could have been chosen in addition to these four. In fact, I wish they would have highlighted more than four, but there is a limit on how many pages you can put in a book.
The last section explains what the pope does, where he lives, and how the new pope is selected. With watercolor-like illustrations on every page and a thorough guide to the papacy, your children will be educated about who the pope is in no time. 5 stars!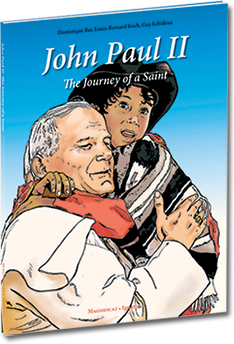 John Paul II: The Journey of a Saint is another exceptional graphic novel illustrated by Dominique Bar. You might recognize the name, as he illustrated Saint Bernadette: The Miracle of Lourdes and Saint Joan of Arc: Quest for Peace.
This graphic novel actually begins with the Treaty of Versailles in 1919. In the following year, Karol Wojtyla is born. We then get a glimpse of what looks like a typical childhood: a boy who plays sports, loves adventures, and goes to school. Tragedy soon strikes though when 9-year-old Karol's mother dies at the young age of 45. We see Karol growing up in Poland and having to deal with World War II and Communist Russia.
About halfway through the graphic novel, the papal election occurs and Karol becomes Pope John Paul II. Then we see aspects of his papacy that made him so popular, including his many trips to other countries, World Youth Day, the multiple saints he canonized, and just his love of people.
We see a lighter side of the pope who still goes skiing with friends, and we see a near tragedy in an assassination attempt. Most importantly though, we see Jesus in everything that John Paul II said, did, and lived.
Apart from the compelling biography, the illustrations were astounding! Dominique Bar did a magnificent job aging Pope John Paul II. Toward the end of this graphic novel, you could see the pain on the pages. It was like re-living his last days again.
I don't have enough good things to say about this book. As a fan of graphic novels, I found myself reading and re-reading it. I was so absorbed I did not want to put it down.
This book would make a perfect gift for teens or children who barely remember or never got to know who Pope John Paul II was. He is a prime example of a recent man who became a saint and an excellent role model.
Although this book is designed for children, I see an audience for it with young adults as well, especially those who grew up with Pope John Paul II as the only pope they knew. It's also hardcover, so you know it will last for years to come! 5 stars!
Purchase Our Holy Father, the Pope and/or John Paul II: The Journey of a Saint and support CatholicMom.com with your purchase!
Be sure to check out our Book Notes archive.
Copyright 2014, Stuart Dunn
About the Author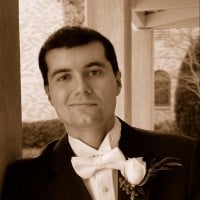 Stuart Dunn was born and raised in Mobile, AL and received a Bachelor of Arts in Psychology and a Master of Business Administration from the University of South Alabama. Stuart reviews all things Catholic including adult books, children's books, Bible Study series, Catholic Courses, CDs, and DVDs in addition to board games at his blog Stuart's Study at StuartsStudy.blogspot.com.