In a continuation of the theme of "Wow, could my life get any more blessed?", last night I found myself on the red carpet for the Hollywood premiere of the soon-to-be released film Moms' Night Out.
I'd been fortunate enough to pre-screen the film and you'll see when my review runs in May how much I love it. In June, many of you journeyed with me vicariously to my Moms' Night Out set visit in Birmingham, Alabama. And I'll share that when I saw our CatholicMom.com spot last night in the media section I had all of you along with me in my heart!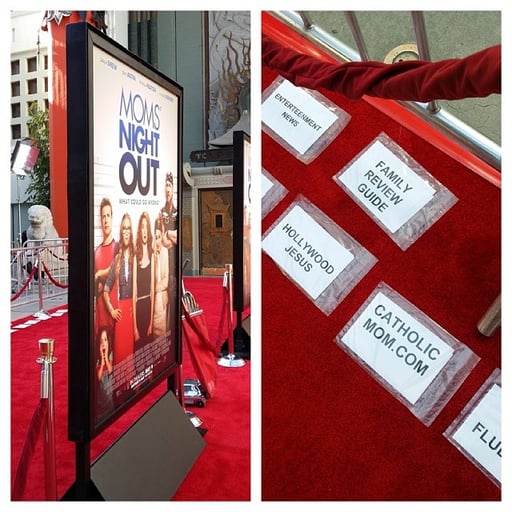 I really wasn't sure what to expect from an event like this. Yes, there were amazing looking actors and actresses in fantastic looking clothes. Yes, there was a flurry of cameras and interviewers all angling to get the right shot. Yes, there were sound bytes and talking points and an effort to tell the story of the making of this movie.
But what struck me most were the families.
Moms' Night Out is a movie made by families for families. Don't let that title fool you -- this isn't a chick flick aimed only at a single demographic. At its core, Moms' Night Out has a message that prioritizes the love shared by every member of a family: husbands, wives, children, neighbors, in-laws, and even pets!
Without getting into too much of a review, I just want to share what a joy it was to interact with the fine cast and crew who are a part of this project. Several times, the men involved in Moms' Night Out called this film a tribute to their own wives and mothers. Leading this theme were the film's co-Directors Jon and Andy Erwin, both of whom paid great respects to their own wives.
Another favorite moment of mine was watching Sean Astin come down the red carpet with his beautiful family. Sean made a point of discussing how important this film is for the men who will see it, underscoring the value of the role every father plays in the life of his family.
Will Moms' Night Out win awards or break box office records? That remains to be seen.
Will this movie make a difference? Absolutely!
Last night's red carpet celebration of work well done had at its heart a recurring theme -- this is a movie by families for families. This is a film intended to lift up, to entertain, and to encourage those of us who are embroiled in the daily challenge of raising and loving our own families.
I hope you'll plan to treat yourself to a trip to the movies for opening weekend, which just happens to coincide with Mother's Day. Why? First of all, because if we want great, family-friendly films, we need to go out and support them.
But even more importantly, I hope you moms and dads will take your children and go see this movie for the fun, inspirational pep-talk it truly is. Your life as a mom, a dad, a daughter or son, a brother or sister matters.
What we do in families and for families matters.
And that's worth a red carpet celebration any day!
Here at CatholicMom.com, we'll be celebrating this movie with reviews from ten different moms. Watch for this celebration of families starting tomorrow, May 1! For more information on Moms' Night Out, visit www.MomsNightOutMovie.com.
Copyright 2014 Lisa M. Hendey
About the Author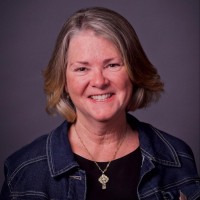 Lisa M. Hendey is the founder of CatholicMom.com, a bestselling author and an international speaker. A frequent radio and television guest, Hendey travels internationally giving workshops on faith, family, and communications. Visit Lisa at LisaHendey.com or on social media @LisaHendey for information on her speaking schedule or to invite her to visit your group, parish, school or organization. Visit Lisa's author page on Amazon.com.