Editor's note: Today we have another installment of our Moms' Night Out: A Real Life Look series, where our writers share how this movie resonated with them, how it touched them where they are right now, how they found a glimpse of the priorities and beauty they sometimes overlook in the midst of the daily grind. Enjoy!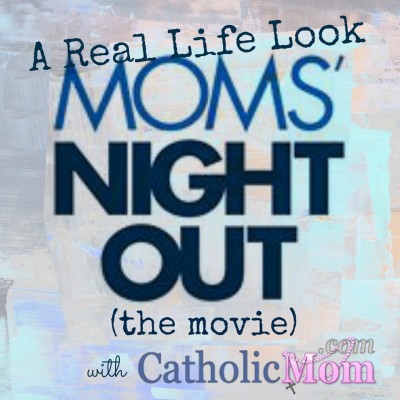 Movie website ~ Pinterest ~ Facebook ~ @MNOMovie on Twitter
As I've been reading all of the past wonderful entries in this "real life look" at motherhood, I've pondered what the heck I could possibly add to the eloquence which has already been shared here. Perhaps you read my post from last week on the amazing experience of attending the Moms' Night Out premiere. Since coming back from Hollywood, a few friends have teased me about my red carpet attire. If you look closely at that post, you'll see that I went to the red carpet dressed as... me!
Ten years ago, had I been invited to a similar event, I would have spent six weeks both working out like a madwoman and shopping for the perfect outfit. I would have spent a bunch of time stressing out about how everyone else was doing their hair and how I could possibly minimize the extra ## (fill in the blank) pounds I'm carrying around my middle these days.
As an almost fifty-one year old version of "me", I pulled a cute dress that suited me off the clearance rack at JCPenney, donned some lip gloss that was floating around in the bottom of my "mom purse" and my comfortable shoes, and made sure my most important tool -- my smartphone -- was fully charged. You see, as a mom in my fifties I'm settling in to who I am, exactly as God made me.
This doesn't mean that I don't constantly second guess myself. I do, every day of the week. Even though my sons are off at college, I still fret about what I could be doing differently to more effectively parent them. Even though my husband and I will have been married for 28 years in just a few weeks, I still try to brush my hair and put on a smile when I hear the garage door opening. And even though I've been playing at this blogging gig since almost before mommy blogs were created, I still all too often judge myself professionally by what others are accomplishing.
On my very best days, I realize now that I am a mom not only to my sons Eric and Adam, but also to the rest of the world around me. As my own mom has taught me, our vocation doesn't end when our children move out of our homes. She's a mom to five who still packs around a fully-charged cell phone to ensure she doesn't miss the calls her kids make to her every day. We need her: her advice, her wisdom, her occasional reprimands when we're on the wrong track, and most of all the sound of her voice when she says, "I Love You!" and means it for each of us, uniquely as we are. My own mom has taught me that it's my role to continue to be "mom" to my boys and "wife" to Greg, but also to be an ever-more active nurturer to the world around me.
Motherhood these days has me constantly on the move. My empty nest has given me permission to work crazy hours, to travel to amazing places, and to meet new people who are hopefully becoming lifelong friends. Along the road, wherever I am, I'm reminded daily of the amazing work every mom does. We may never get the "Wow, mom, you changed that diaper perfectly" kudos we deserve, but the work we do in our homes is God's work. In loving those around us, whether they are five months old or fifty-one, we moms are God's hands and feet, caring for the world around us.
The work of being a mom is hard, unrelenting, and often physically and emotionally demanding. But never let yourself forget that the work we do as moms is critically important. When I'm frustrated, burned out or feeling like I could use a break, I try to remember to see Christ in the faces of those closest to me. In feeding them, in caring for their physical and emotional needs, and in praying with and for them, I am in a very tangible way loving my Creator.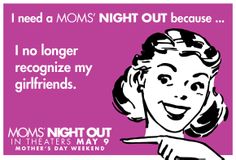 Does it get easier to be a mom as you get older? In a sense yes, and in another sense no. If I had it to "do over" again would I change a thing? Absolutely not! My life as a mom has never been perfect, but my life is perfect for me.
Now, because I know some of you out there will need a small bit of "encouragement" to take a night to yourself and go on your own Moms' Night Out, I've brought along my friend Sarah Drew to give you a few words of encouragement. Please go see this movie. It will remind you of who you are and exactly why you do what you do. Give yourself permission to laugh, to cry, and to remember how amazing it is to be a mom -- just as you are! Grab your girlfriends -- or your kids and husband (because they will LOVE this movie too!) and treat yourself to a Moms' Night Out.
Tune in tomorrow for another installment of our Moms' Night Out: A Real Life Look series!
Copyright 2014, Lisa Hendey
About the Author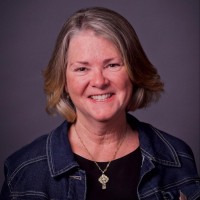 Lisa M. Hendey is the founder of CatholicMom.com, a bestselling author and an international speaker. A frequent radio and television guest, Hendey travels internationally giving workshops on faith, family, and communications. Visit Lisa at LisaHendey.com or on social media @LisaHendey for information on her speaking schedule or to invite her to visit your group, parish, school or organization. Visit Lisa's author page on Amazon.com.