Are you looking for new ways to pass along the Catholic Faith? I like to consider activities and crafts that my kids enjoy already, and infuse some Catechism ...or involve the Saints for fun, Faith formation!
Over the years, I have repurposed (or converted to Catholic!) some classic paper crafts and favorite family games.
Guess Who?! The Saints! has been one of our most popular templates.
We also have Guess Who?! The Popes! (popular last weekend!)
...and Guess Who?! 116 Cardinals! helped us to recognize some of the Cardinals attending the canonization!
All three of these templates are FREE for you to download and use with your family game of Guess Who?®
Another one of our favorite family games is Tower Tumble or Jenga®.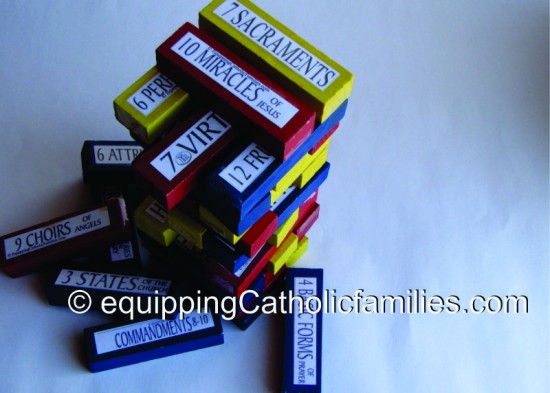 I have created a special Tower Tumble Template with Catechism categories and answers, formatted to fit to the neat little blocks. The game becomes a Catholic quizzing game, where players must list one (or all) of the terms corresponding with the category. The category is taped to the top of the block; the answers are taped to the bottom. If the player answers correctly, he keeps the block. The player who retains the most blocks wins! This game works well at home or even in the classroom!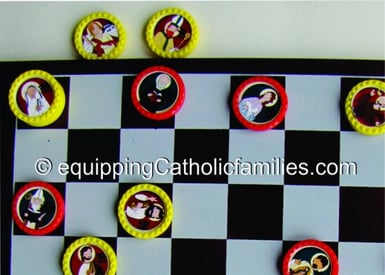 Our most recent Cathletics Craft Kit, converts a number of classic games to be Catholic with our own Kelly Saints Stamps. We think that the more our kids are familiarized with these fun pictures of the Saints and details about their lives, the more likely the Saints will become extended family to us ...and mentors in our Faith journeys.
Our newest discovery is how fun Connect 4® is, with our own Dream Team of Saints!


What classic game would YOU like to see converted to Catholic?
(c) Copyright Monica McConkey 2014
About the Author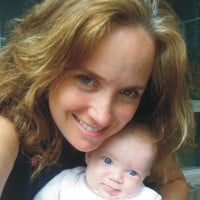 Monica, mom of 5, blogs about Catholic crafts and family traditions at EquippingCatholicfamilies.com. She is an author and creator of Super Saints quizzing cards and over 45 Saint, Sacrament, Catechism and Prayer-packed Craft Kits to help teach the Catholic Faith. The Catholic teaching tools and gifts are available through Arma Dei, the Catholic family publishing company founded with her husband Bill.