My grandma has a saying about May. "A cold, wet May means a barn-full of hay." It was accurate last year, and at the rate May's started here in Ohio, it's going to be another barn-full-of-hay year.
But I have to admit that I don't really mind mowing any more than I mind dessert. I don't like making the time for either one (so! much! else! to do!), but once I'm there, I'm smiling.
If only I could see sweeping my floor as the same sort of satisfying as I see mowing my lawn...hmm. Maybe what I need is green carpet and a riding vacuum...
I'm feeling my burst of reading energy, inspired by the great titles all around me and invigorated by the sunshine we're now seeing (even if it's still not as warm as it should be in May!).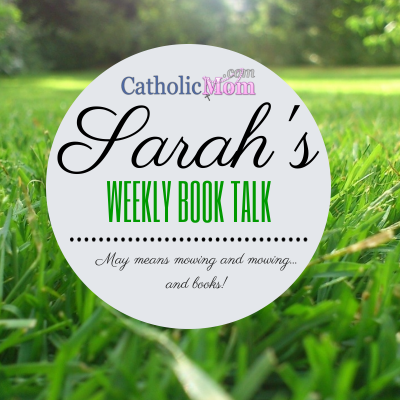 Recent Reads

Everywhere in Chains, by James Casper (fiction, Ignatius Press, 2013)
My rating: 5 out of 5 stars
Admittedly, I'm a sucker for a good character novel. And this is that. It's a story woven in time, with people, in a way that will carry you along. It's like riding in a canoe or a raft down a gentle stream.
It's all too easy to get invested with these characters, because they're real. They're people.
Something else I loved about this novel: it demonstrates a few concepts, such as why visiting prisoners is a work of mercy, that are very hard to relate to. And it does it in a way that's relatable, with people who are...well, I had to look over my shoulder, because maybe they were me.
Great book. Highly recommended.

Angels and Saints: A Biblical Guide to Friendship with God's Holy Ones, by Scott Hahn (Image Books, 2014)
My rating: 5 out of 5 stars
You know, I half expected to find this book annoying. I don't know if it's a general snarkiness in my mindset or a reluctance to read nonfiction of late, but I found myself delighted even more.
I was especially touched by how Hahn bares himself a bit in the beginning and then ties it all together at the end. This becomes, instead of a scholarly look at some of the more inaccessible saints I could name, rather a personal journey to meet some good friends of another good friend.
I did find myself pondering in my heart, and I've had parts of it just sort of stuck in my head.
Really, this was a good book. I recommend it.
Current Reads

The Ten Commandments of Kissing Gloria Jean, by Britt Leigh (YA fiction, Pauline Books & Media, 2014)
I'm at about the halfway point right now with this book and really struggling with what to say. On the one hand, I'm feeling rather underwhelmed. On the other hand, I have to wonder if I'm just not getting it. I read enough YA and middle grade to be familiar with the voices that are common there, and this has that. But it also has...well, let's see how it finishes.
The main character's a real person, that's for sure. And it's definitely told through her viewpoint. I just haven't figured out if what I'm not jiving with is the writing or the plot or the fact that, ha, I'm just not the person it's written for. More next week.
Jesus: A Pilgrimage, by James Martin, S.J. (HarperOne, 2014)
I've read the Introduction so far, and I have my sights set hiiiiiigh with this one. I started reading it because one of our writers here at CatholicMom suggested starting a book discussion group here. (How could we say no?) I'm hooked already. Fr. Martin's description of sharing a friend with a friend and getting to know them better by visiting their home just has me. (There's a reason he's a best-selling author, methinks.)
If you're interested in joining us, we'll be posting a chapter a week, starting with the introduction, on Sundays beginning May 18. (And yes, we'll do an official announcement too, but you can say you heard it here first.)
Up Next

City of Bones (The Mortal Instruments, Book 1), by Cassandra Clare (YA fiction, Simon Pulse, 2008)
You know what trumps best-selling authors sending me their books? I'll tell you: family members asking me to read a book. Boom. Bam. Done.
This is a book that I've seen around and it makes me wonder...hey, I read Twilight! (And, ahem.) I also read all three of the Hunger Games books, and I'm baiting myself with the next books in the Divergent series. I can take YA fiction like a boss, people, like. a. boss.
This one has me already raising my eyebrows (but that's not so uncommon: I'm a grumpy old bird, I am) just with what the back cover says.
What have YOU been reading lately?
*Are you on Goodreads? I'll see you there! Curious about what my ratings mean? Here's an explanation of what the stars mean to me. Be sure to check out our Book Notes archive. Copyright 2014, Sarah Reinhard
About the Author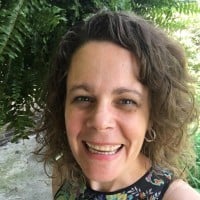 When she's not chasing kids, chugging coffee, or juggling work, Sarah Reinhard's usually trying to stay up read just one…more…chapter. She writes and works in the midst of rural farm life with little ones underfoot. She is part of the team for the award-winning Catholic Mom's Prayer Companion, as well as the author of a number of books. You can join her for a weekday take on Catholic life by subscribing to Three Shots and follow her writing at Snoring Scholar.