We ducked into one of the many little shops around St. Peter's. Rosaries hung from the walls, statues and figurines glittered on shelves, and then I spotted an image of Our Lady and Baby Jesus on a wooden plaque.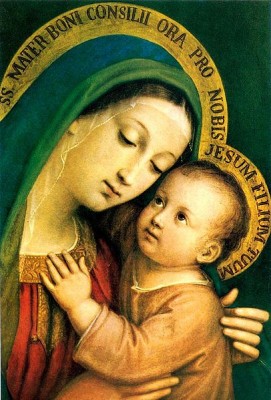 It was a painting I'd seen before. Our Lady, looking so beautiful and peaceful, gently holds Baby Jesus on her lap. He's got a chubby paw on her chest and is gazing lovingly up at her knowing that he's got the very best mom in the world. His little arm is around her neck, even looking a little protective of her.
"SS. Mater Boni Consilii Ora Pro Nobis Jesum Fillium Tuum" is printed in gold in the halos surrounding Mary and Jesus. I check with my husband who clarifies, "Most Holy Mother of Good Counsel, Pray for Us to Your Son Jesus."
Good counsel. I really liked that. Ever in need of direction and advice, I was delighted to have my own reminder of Our Lady's help in that department. When we returned home, I hung it over my bed and only recently discovered the miraculous nature of the original image.
When times are difficult and all paths seem uncertain, we should never forget that we have the best mom in the whole world at our disposal—as close to us as we hold her—to help guide us and our loved ones back to her Son.
Below is a prayer penned by Pope Venerable Pius XII, no stranger to making right decisions in difficult times, that can be used as a novena.
Prayer to Our Lady of Good Counsel by Pope Pius XII
O Holy Virgin, to whose feet we are led by our anxious uncertainty in our search for and attainment of what is true and good, invoking you by the sweet title of Mother of Good Counsel, we beseech you to come to our assistance, when, along the road of this life, the darkness of error and of evil conspires towards our ruin by leading our minds and our hearts astray.

O Seat of Wisdom and Star of the Sea, enlighten the doubtful and the erring, that they be not seduced by the false appearances of good; render them steadfast in the face of the hostile and corrupting influences of passion and of sin.

O Mother of Good Counsel, obtain for us from your Divine Son a great love of virtue, and, in the hour of uncertainty and trial, the strength to embrace the way that leads to our salvation.

If your hand sustains us, we shall walk unmolested along the path indicated to us by the life and words of Jesus, our Redeemer; and having followed freely and securely, even in the midst of this world's strife, the Sun of Truth and Justice under your maternal Star, we shall come to the enjoyment of full and eternal peace with you in the haven of salvation. Amen.
You can read the other posts in Meg's Titles of Mary series by clicking here.
Copyright 2014, Meg Matenaer
About the Author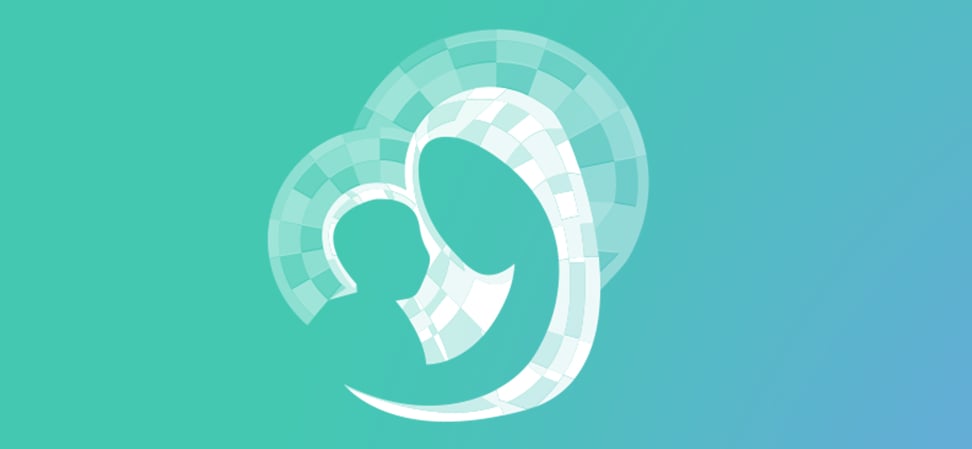 We welcome guest contributors who graciously volunteer their writing for our readers. Please support our guest writers by visiting their sites, purchasing their work, and leaving comments to thank them for sharing their gifts here on CatholicMom.com. To inquire about serving as a guest contributor, contact editor@CatholicMom.com.