Today, we welcome a guest post from John C. Acquaviva, author of Improving Your Body Image Through Catholic Teaching. LMH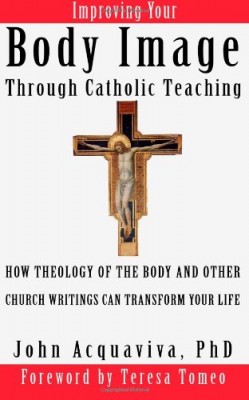 Jillian was a good girl in high school. Her grades were excellent, she kept out of trouble, and she attended Mass weekly with her family. So when she failed at her attempt in college, everyone was surprised. She attended an out-of-state, warm weather university, and like so many young people, she discovered the freedom of college life was too much to handle. She was on the college's meal plan and couldn't resist the rich foods offered to her daily. To complicate things, it seemed to her that everyone was tan, prettier than she was, and amazingly thin. She soon struggled with her weight and body image.
But that was just the beginning of her ordeal. She developed an obsession with her body size and became overly fearful of additional weight gain, and in time became anorexic. In the midst of this, her father became very ill with cancer and the prognosis was grave. Her life spiraled downward. Depression set in, she started to attend parties at an alarming rate, began skipping class, and quickly gave up on school.
In a matter of weeks when Jillian ran out of money and the energy to live the life of a full-time partier, she cleaned herself up, and went home to regroup. After a semester off, she returned to a college near her home and started in a new direction. When asked if she feared relapsing into alcohol and the prospect of failing again at school, she didn't hesitate to say, "No, not really. I fear going back to being anorexic."
Our fear, as was with Jillian, is that we aren't good enough as we are. The fear for many, especially young people, is that life and happiness will pass them by unless a certain body type or a particular level of beauty is attained.
So, what causes such an obsession with our bodies? What creates the all-too frequent thought of not being accepted and not being attractive when the right look, the right size or the perfect weight cannot be attained?
Studies have shown that virtually all of this anxiety is caused, or at least magnified, by various forms of the media. Provocative TV commercials, glossy magazine photos, reality shows and imaginative internet ads top the list. The result is that we allow others to dictate the worth of our bodies. Indeed, with enough stimuli, anyone could surrender to that.
Not surprisingly, the blatant effort by culture has taken its toll. Over 50% of women and 33% of men suffer from some type of body distortion, thus leading to eating disorders, an enormous rise in cosmetic surgery and the billions of dollars spent on beauty products – by both women and men. Such data is common and abundant given that there is a constant reminder of what everyone but God says we should look like. Unless we give ourselves to the Lord and allow him to determine our real value, we must concede that our soul and emotional health are in danger. Jillian probably saw this danger looming, and with God's help, was brought back to a good place. She returned to the sacraments, and without ever saying it, her new attitude a couple of years later spoke the words of "This didn't beat me."
While Jillian admitted that her return to grace was due to a combination of the sacraments and pure discipline, she probably would have been further assisted in another distinct way. John Paul II's Theology of the Body can be used to gain a unique and powerful perspective on the meaning of the human body – something not usually pondered or something very different from what we think the human body is for.
The centering messages of Theology of the Body, a series of 129 brief talks presented in the first five years of John Paul II's papacy, are 1) God created the body as a "sign" of his own divine mystery, and 2) an appropriate use of the body is at the core of God's divine plan. This is why the former pope speaks of the body as a "theology," a way to come to know God.
Our bodies clarify the mystery of our existence. John Paul II says "The body, and it alone, is capable of making visible what is invisible, the spiritual and divine. [The body] was created to transfer into the visible reality, the invisible mystery hidden in God from time immemorial, and thus to be a sign of it. [The body] is the fundamental fact of human existence".
Without this insight, we allow ourselves to be distracted which leads us away from the true meaning of our bodies; something is needed to draw us back. The answer lies within our Catholic faith. A deeper understanding of our faith results in a greater understanding of this mystery: that the human body is the greatest gift from God.
So, how can our faith help? The fact is God often appears to us in ways that are non-eventful and even mundane. But he is there, always reaching his hand to us. Our responsibility is to reach back. We have been catechized to trust in God, and in particular, to use what the Church offers such as prayer, the sacraments, and Holy Mass as the means to deepen our relationship with him and grow in likeness to Christ. Here's a brief look at how the Catholic faith assists in our efforts to heal a poor body image.
Prayer
Expressing gratitude for what we have, for life itself, and for a body to live that life, is how we begin to develop peace with our bodies. Conversely, when we fail to recognize this gift, and are often ungrateful for it, it is a failure to recognize God's love and thus we deprive ourselves of the very graces he wills us to have. Being able to kneel, fold our hands and head slightly forward are ways that we demonstrate that we are in prayer, thus making it obvious that this most basic form of communicating with God is not even possible without the body.
In the anxious-ridden life of body obsession, peace may appear out of reach, and further, may be so powerful that it seems no one could possibly understand the depth of the problem. But God indeed does. He hears the cry of those who suffer and wants to help us (Job 24:28). Confession
Many know that confession is also referred to as penance or reconciliation, but few know it as a sacrament of healing and conversion. In one way or another, healing is what we need, and in particular, healing is essential when we struggle with body distortion. Few afflictions, especially when extreme, are more paralyzing to everyday life. The Catechism reminds us that the sacrament of Confession gradually peels away the barriers between sin and virtue, and allows us to be in full communion with God. In this state, body distortion, selfishness, and pride fade away. This is the grace of God at work. And this is how we will heal. The healing that occurs from this sacrament brings us to a new understanding of God and his love.
Eucharist
The greatest of all invitations is the one that Christ extended to us at the Last Supper. He offered us Holy Communion so we can be in union with him. By accepting his invitation, we can wipe away the burden of a poor body image and cure it with the Eucharist. We want and need our Lord to remain in us, literally, to manage the barrage of TV ads, movies, music videos, and countless other distractions that can lead to a poor body image. God knows the pain that body obsession brings, so let us bring our pain to him so he can do what he promises: healing.
Mass
Through the Mass we can petition God for the healing of our body issues, but also it is an understanding of how we use our bodies that will also make us grow in appreciation for this gift. God has given us the ability to see, hear, smell, touch and taste every aspect of the celebration. For instance, our encounter with Christ through the Mass is enriched when we see the Host being raised, when we hear the Word of God, when we smell the incense, when we touch the Eucharist, and when we taste his Blood. Without these senses, in fact without our bodies, we cannot develop this unique relationship with God.
Although many of us have received adequate instruction on the faith and enough grace to lead a Christian life, the world is complicated and can be relentless on our spirit. Unless we see the body for its true worth, we can succumb to society's ideals and even think of them as normal or even worse, as healthy.
From the day of our Confirmation, we became deeply embedded in Christ and should rely on the gifts of the Holy Spirit such as strength and wisdom to guide us to healing and conversion. Although we know the importance of turning to God, the allure of trying to be physically perfect is very powerful, and there's an ongoing battle within us about it. This is why God asks us to start fighting and to never give up. Persevering to the good will bring the greatest reward known to man: to see the face of God.
John Acquaviva holds a PhD in exercise science and teaches at Wingate University. His courses include anatomy & physiology, strength & conditioning, sports nutrition, exercise physiology, and weight loss, weight gain & body image. Over the years, he has given hundreds of presentations to fitness enthusiasts, prospective teachers, and Catholic Church adult congregations, youth groups, and campus ministries. His book, Improving Your Body Image Through Catholic Teaching is currently available on Amazon as an ebook and hardcopy. Dr. Acquaviva resides in Matthews, NC, with his wife Alecia and three children, Clare, Luke and Abigail.
Be sure to check out our Book Notes archive.
About the Author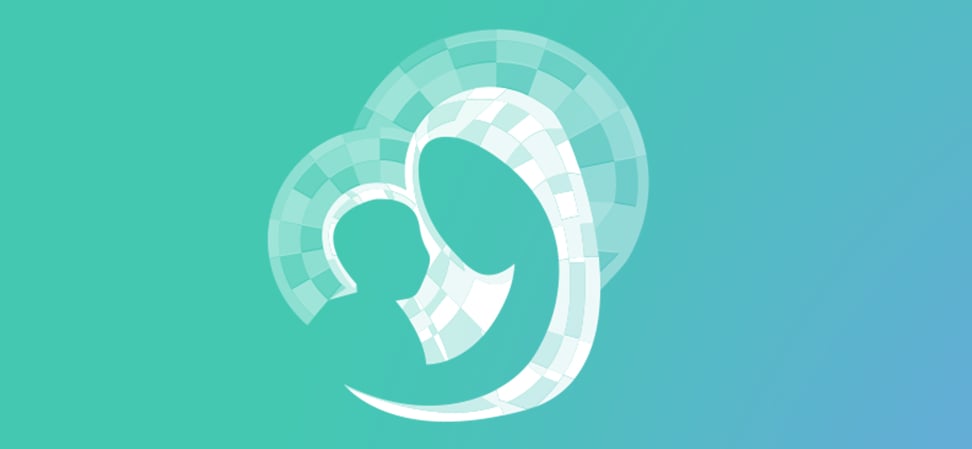 We welcome guest contributors who graciously volunteer their writing for our readers. Please support our guest writers by visiting their sites, purchasing their work, and leaving comments to thank them for sharing their gifts here on CatholicMom.com. To inquire about serving as a guest contributor, contact editor@CatholicMom.com.